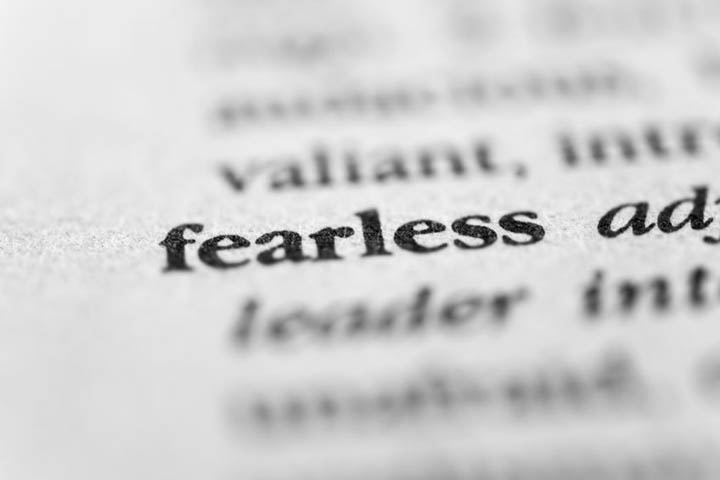 The words echoed back at me.
"Your mother was fearless."
It was a scene in Beauty and the Beast that stayed with me the entire night. And it made me realize something. Something big.
I want to be fearless again.
Oh, I used to be. We all used to be. Before we knew what we knew. Before we saw what we saw. Before we went through what we went through. We all remember that "used to be."
Where did it go? Where did we go?
I used to believe I could do anything because my do anything was tied to my youth, to my being what the popular culture said I should be.
How ironic that we wake up right when it feels like it's too late to do anything about it.
Society converts us into its ideology so quickly, so subtly. You can only do this if you meet this and this arbitrary criteria. Add to that the pressure of growing up being tied so much to what other people will think of you, and where do you go from there?
Most of my mentors are the fearless type. They climb mountains, hike trails, sail around the world, and don't let anything stop them from doing what they do.
But there's something else.
I've long come to see that I'm not them and pretending I am, or pretending I could be, isn't my answer. My own journey is different.
And so, Beautiful, is yours.
If you take only one thing away from this post today, it's this: That you are on your own journey. Your path is not someone else's. They may show you their way, but don't expect to find yourself there.
This is where we get so confused.
We find someone whose own journey and circumstances and history resonates so much with us, that in our hunger to get out of our own mess, we make them into more than they are – more than they should be – to us.
We try to do what works for them instead of allowing what they know, what they became, what they walked through, to inspire us instead of stop us.
Because isn't that what it does?
It stops us in our tracks, in our own progress when we can't measure up to them. When our own path falls short trying to follow theirs. When we find out the reality of our actual differences and where our similarities end and when we discover we aren't them, and we weren't the same  - and most importantly, that we were never meant to be.
The people whose lives we see ourselves in aren't there to give us copies of themselves to trace to make us into; they're there to inspire us to create our own realities, to create our own visions of what we want for ourselves and what we want to become.
When we don't measure up - or especially when it doesn't happen as quickly as it was supposed to - we throw up our arms and give up. We're done.
But why are we done?
Why do we feel like we want to give up? Because we missed the point of it all.
To be inspired to follow our own path. To come to a place we hadn't been able to see before. That's the point of why we need each other, why we're never meant to walk this path alone.
Not so that we become someone else, but so that we can truly become ourselves.
How about you, Beautiful? Do you want to become fearless again? Share your thoughts, fears, hopes, dreams and desires with us below in the comments!