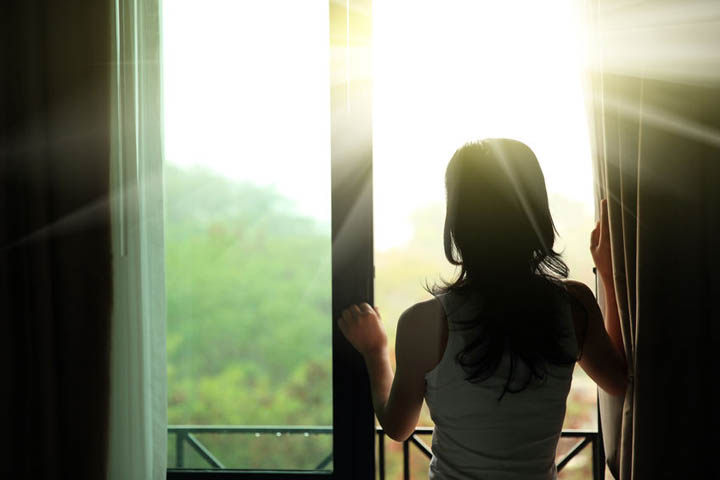 When your view of yourself is limited to the words you heard growing up as a child from people who had so many of their own issues, because they didn't know how to love themselves let alone love you, their words become your own.
You don't see yourself as lovable, beautiful, spirited, passionate, confident.
You see yourself as flawed, unlovable, clumsy, messy, stubborn, lazy or whatever other words were thrown at you.
As adults, when we don't understand these underlying roots of our assumed identities, we attract people who are familiar to us. People who remind us of our parents, who have a similar view of us as we're used to.
As much as we can hardly bear to hear those words spoken or implied again, it's the only thing we know.
That's why separating those early roots from our reality today is such an important part of creating healthy relationships. We have to first be attracted to healthy people before we can form healthy relationships!
And if all we're doing is attempting to recreate a scenario where we can convince someone of our inherent worth, someone who has all the same unhealthy characteristics as the ones who wounded us in the first place, we'll never get any closer to that love we're searching for.
I'm changing that here.
I'm on a mission to give you a view of yourself that's different from the one you've been given. I'm helping you see yourself through the eyes of someone who loves you and knows what it feels like to be human - yes, fully human with all your inherent shortcomings and imperfections and everything else you consider to be your flaws - and to give you a different response to them.
It's called unconditional acceptance.
Tell me your story, tell me just how bad it is, how heartbreaking, how heart wrenching it is and I'll find for you the reasons "why" behind it.
The reasons that will never have you running from that story, but embracing it, owning it and understanding why you couldn't have done anything different about it at that particular time. If you could, you would have. You know that, but having someone believe you is a whole other thing.
The reason why is never an excuse. It's the very thing that allows us to take responsibility for ourselves and the roles we play while understanding the factors that had us in such a desperate place at all.
See, at the root of all our dysfunctional relationships that we insist on working on even when it's obvious to everyone else what the outcome is going to be, is the issue of our worth. We can't fail unless we see it as failure instead of what it really is: choosing to walk away from something that's hurting us.
But failing or a failure is how we see it when everything is seen through the view of worthiness.
When all the love you've ever been loved with is conditional, you have no idea how to prove yourself worthy.
You can't. You've been set up.
And you'll fail every single time with a trail of relationships that didn't work out because at the root of your wanting to be with someone is this need to finally prove your worth. And with that being at the root, what we're really talking about here is you giving all your power away to someone who can now hold your worth over you.
But that's not something you can prove to someone, nor is there any reason to prove it to anyone in the first place because we're all worthy in our own right!
Whatever you have or haven't done in your past doesn't negate your worth because you did the best you could with what you knew at the time and your programming didn't allow you to have the insight you can have today to make those positive changes in your life.
It's such a lie we've been set-up with.
Someone doesn't make you worthy! You make yourself worthy. You recognize you were worthy from the start, you were worthy all along, and you would have been given that message if you had been raised by people who felt they were worthy themselves.
It's in creating a life that gives you those touchstone moments where you can see how far you've already come, where you can see the light you carry within yourself as a person who is worthy as you are - just by being you. These are the ways we create confidence in our value as a human being!
It's why I say that you find him by finding you.
You find the love of your life by finding the loves of your own life, the sparks that ignite the fires of your passions, the calls to action that give you your purpose - your reason for living - your worth!
Don't you dare entrust that to a mere human with their own blind spots!
Some of the people you choose are going to love you. Some of them are never going to and it will be to your own detriment to try to get them to.
But does this lack of capability in them ever reflect on you? No, never. But when you've been programmed all your life to believe this, to resist making it your reality is going to be one of the hardest things you'll ever do.
Look within to someone's heart. Look at the heart of a group, a company, a gathering you're considering joining.
Is it a heart like yours? Good. This might be a place you belong.
Is it not like yours? That's still good. That's your indicator this isn't a place for you.
It's never as personal as it feels. It's the lighting and darkening of your path. If it's light, it's a possibility, if it's dark, you don't even go there.
There is no worth to be found in places surrounded by people we were never meant to be with. Don't ever forget that it's only our deeply rooted programming that ever tells us otherwise.
Love,
Jane
Does this resonate with where you are right now? If it does, tell me "yes" in the comments below. It's a journey. Don't be discouraged because it isn't easier. Changing our patterns and our programming takes time. I'd love to hear from you and walk through this part with you!