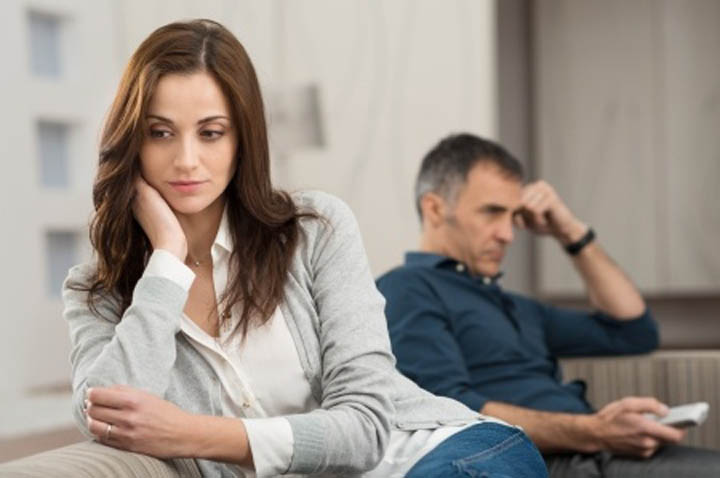 This week, beautiful Kimberly writes to tell us about her (very) long term relationship with a man who just can't seem to commit to marriage with her.
Here's what she wrote:
I've been in a relationship for over 8 years. Well there's been a lot of stuff that has happened between us.
Today we aren't getting along at all. He lives with his mother and has a daughter who had kids. His daughter is 30 and the fathers of these kids will not have anything to do with the kids.
This guy has said he wants to marry me over the years and something always seem to happen to him that he won't marry me.
He acts like all he wants to do is be with his grandchildren and will make no time to build a relationship with us. There's nothing wrong with his daughter that she can't take care of her 2 kids but over the past 1.5 years we fight about this all the time.
I tell him he we need to have couple time also and he doesn't make the time for it.
It's wierd.
He wants me to be there for him but yet won't be here for me so I stopped being there for him and told him I need time with him without babysitting for his grandchildren also.
He doesn't listen.
It's the weirdest kind of thing of thing I've ever seen. It's like he's married to his daughter and every time I confront him about something he gets mad and won't talk to me.
I want a family and husband.
I'm 46 and he's 53. I'm tired of his behavior towards me when it comes to his daughter and grandkids. I can't understand why he acts this way. I try to help him financially and help him with getting help for his health problems and I don't feel he recpricates that for me.
Trust me I have tried to tell him how I feel and what I think about things.
He does have health problems but yet tells me he's sick all the time and I have to go to his house and he's babysitting a one and five year old. I'm just sick of it but care for him.
What should I do?
-Kimberly
My Response:
You have to decide what matters more to you, Kimberly.
That you're sick of all this or that you care for him. If he doesn't reciprocate, then he doesn't reciprocate.
And it's when you say, "Trust me, I have tried to tell him how I feel", this concerns me the most. Because that tone says everything. You've tried, you're so tired of trying and mostly tired of him not listening to you.
You've got a guy who's trying to be a good guy for his kids and grandkids, and yet he's living with his mother. You try to take care of him and help him financially and with his health. I hear you on all that.
Kimberly, I talk all the time about the litmus test for any course of action or inaction, being whether you yourself can actually live with that action or inaction.
I especially say that to you here.
You're his nurse. You're his attendant. You're his financier. You're his caretaker. You're all these things to him but I'm having a hard time understanding what he is to you.
I'm so curious to know why you care so much about him. Is it because of him really? Or is it more about who or what he represents to you?
There are so many deeper things here you need to ask yourself. You need to know your own answers. You need to know your boundaries, your terms, your anything at this point.
It's all him right now. He's running the show.
You're jumping in to provide whatever he needs, but what about you? You're not paid for this role. You're in a love relationship, not an employer/employee relationship. You've got to look deep here.
There's a "why" that's just screaming out at you to be recognized that's going to explain a whole lot of other things, too. Don't miss this opportunity to find out what that is and change this once and for all.
Something doesn't just happen to someone so they can't marry you. If they really want to marry you, they, not just you, figure out a way to still marry you.
Again, this is only if they want to.
But don't you dare take this to mean that there's something wrong with you that he doesn't want to marry you! This guy is in so deep with so many things going on for him, there's no way this is somehow all about you.
There are so many warning signs here, Kimberly, I'm not surprised you reached out to me. And yet while I've got perspective by not being emotionally attached to this man you've built some kind of a relationship with over the last eight years, I know this isn't the case for you.
You're invested.
You care.
That's why I can't stress enough knowing how to spot red flags early on, and most importantly, learning to trust ourselves to recognize them. This is so much harder to do eight years down the road after we've built a relationship with someone around so much potential.
You don't have to go to his house. You don't have to financially support him.
It's not weird that you tell him you want couple time and he doesn't do anything to make that time actually happen. It's the reality of what he's showing you by his actions that you need to pay attention to.
It's him showing you who he is every single day.
If you want a man who keeps dragging his heels on marrying you because of life circumstances he's not choosing to overcome, if you want someone who's more devoted to his daughter and her kids than you, if you want someone who's got so much going on with his health and finances that he doesn't have room for you unless you insert yourself financially and as his care giver, then you're with the right man for you.
But if you can't find it anywhere within yourself to truly accept this man, your resentment towards him isn't going to get any better.
Only you can answer your own question, Kimberly.
I'm pretty sure this wasn't just one bad day when you wrote everything down here and decided to hit send.
Can you live with this reality, this person who so clearly lives life on his terms with such little regard or even comprehension of your own? That's what you need to answer.
I hope this helps. Kow that I'm always here for you if you need me.
Love,
Jane
So how about you? I know you've got something to say to Kimberly. Tell her what she needs to hear in the comments below!