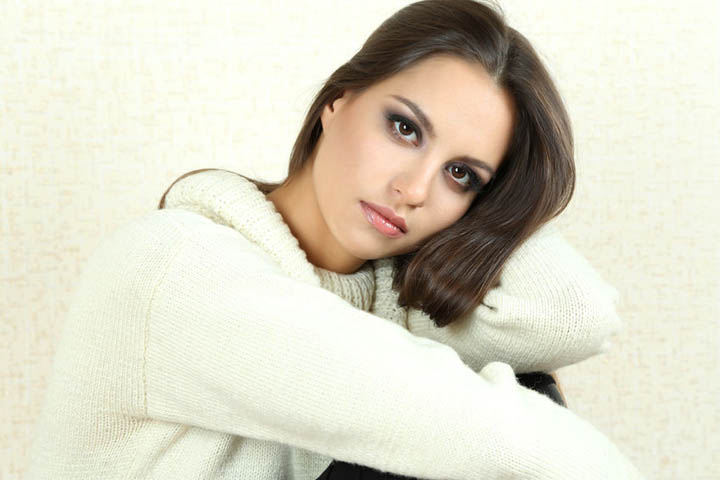 The letter I want to share with you this week comes from one of our beautiful readers who has asked to remain anonymous. I'll simply call her "Beautiful".
Here's what she shared:
Hi Jane,
I thought l'd share my story with you as right now l'm so devastated and feel this pain won't go away.
It's killing me.
I have been sleeping with a guy for years. l fell so in love with him and thought he definitely had feelings for me. He'd tell me we would never be together but l never believed him as when we were together it felt real.
He'd give me that impression that there was something there, we got on so well together.
But l know now after seeing him on a dating site that it was all a lie, the kisses, the cuddles was all a lie. It really was just sex on his part but l thought there was feelings there.
l thought we had something.
He knew how l felt but he kept using me. He didn't care. I feel so worthless - for years l've given him my all.
He has now totally blocked me out of his life, no answers, nothing, which l believe is the hardest l feel of everything we've been through, the years we've been doing this and now l get nothing.
Some advice would be great, thank you.
- Anonymous
My Response:
I'm so glad you shared your story, Beautiful.
This is far too great a burden to bear all alone. There's no one in the world who can understand the depths of a love like the one you describe like those of us who've been there, who've walked in your shoes, who know what it's like to push aside all evidence to the contrary for that feeling that we can't deny seems so real.
We're the ones who feel something real and true and believable even when it flies in the face of what everyone else sees.
We're the ones who refuse to listen to everyone else around us who tries to save us from this pain we inevitably have to go through ourselves.
We remember.
And we never, ever forget. We can't.
He's the one who never leaves our memory. He's the one we can't just get over and move on from. Why else would we ever stick around than for someone who we connected with body, heart and soul like this?
For every woman who tells you to move on, who insists you have to let him go, cut him off, be done with him, there's another woman waiting in the shadows to tell her own story that she's too ashamed, too embarrassed to admit to.
Yes, it feels like it's killing us when the truth comes to light, when the revelation of who he actually is and what he wasn't and what you weren't to him makes it's way into that light.
I wish I could say something here to make this feel less painful, Beautiful.
But even if I tell you that you did mean something to him or he wouldn't have made the effort to give you that sense that there was something more there than he was capable of, it doesn't do much to soothe your aching heart.
When we give away our bodies, our hearts, and our very souls away to men like this there are very few words that can make the pain go away other than to know you're not alone, that there are those of us who've been there who understand, and have no judgement for you because of what we ourselves have been through.
So, Beautiful, I'm not going to try to fix this for you because I can't.
But I can wrap my arms around you and help you hold your head up high. I can walk with you through your pain and serve as a reminder that there is another side to this and you will feel whole again.
I can look at you through eyes of love that see through whatever image you project on the surface to the beautiful heart and soul underneath and tell you that you will rise again, that you will get through this, too, no matter how much you can't see this right now.
You believed in him because he gave you something to believe in. Don't forget that part.
You wouldn't do this for just anyone. You wouldn't have stayed and given so much of yourself like you did unless there was some potential there in the first place.
You're so beautifully wired to believe the best in someone regardless of what they show you, Beautiful. And that's such a wonderful quality when you're with someone capable of showing you something more, of becoming something more.
He couldn't get there, but that doesn't mean you didn't give him the inspiration to try. Don't carry that part around with you.
He couldn't, but that wasn't up to you.
I know this feels so cold to have him give you nothing now, to be left with no answers from him, to be blocked completely out of his life.
He knows what he's done. He knows what he couldn't do. He knows what he wasn't capable of. And so he cowardly can't admit to any of this.
The silence is always deafening, Beautiful, but it's in that silence that we finally see the sad, cold reality that wakes us up to the truth.
We can't go on forever like this. We can't keep giving ourselves away like this. At some point, we have to wake up.
We have to see, we have to look deeper than our feelings. We have to look at what we need.
To be loved in return. To be respected. To be cherished. To be held by arms that have the ability to hold us, by eyes that are capable of seeing us, by someone capable of loving themselves enough to love us.
That's worth waking up for, Beautiful. You're worth that.
Love,
Jane
What about you? I know so many of us on here can relate in some way to what our Beautiful sister is going through. She's reached out to hear from you. Please share your thoughts with her, and the rest of us here on the blog below in the comments.