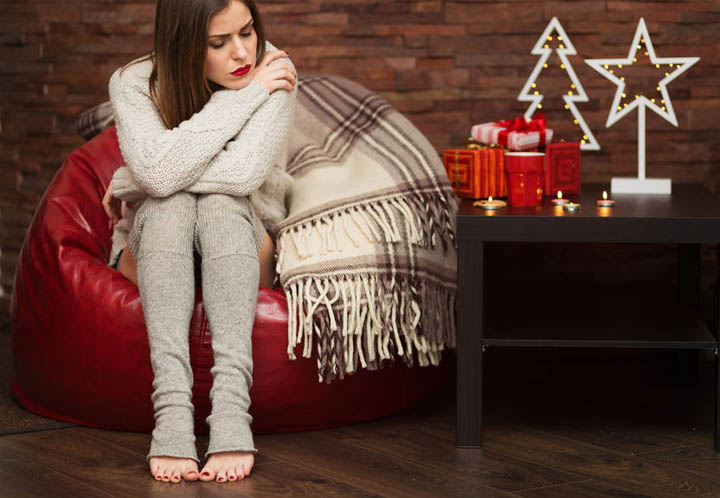 It's that time of year again. For those of us in the happiest of relationships, with families and friends and all kinds of places to go and things to do, we get why the song says "it's the most wonderful time of the year." 
But there was a time not too long ago when this wasn't at all how it felt for me.
When all my friends who had those things – those people, those relationships, that special romance – in their lives, seemed such a contrast to what I had.
While I may have had the most beautiful hopes and dreams, what I didn't have was anything real.
Someone real. Someone to share the holidays with. Someone to experience the holidays with. Someone to make it the most wonderful time of the year for me.
As the calendar moved closer and closer to that big season between Thanksgiving and New Year's, I would try that much harder to find that special someone to go through all the special events of the holiday season with.
But, as usual, trying harder didn't make it any easier.
In fact, for all my trying, I often ended up with someone who wasn't holiday material, let alone boyfriend material.
Or I found that in my nostalgia that often comes with the season, I conjured up an image of someone enough to reach out and then find he was nothing like I had remembered him to be.
You see, there are two things going on here.
First, it's the pressure. Then, it's our very own feelings of loneliness.
Both are very real so I'm not going to try to deny or pretend that they're not. There is no meme to make you feel better when you feel this way. Loneliness is awful. Case closed.
But there is hope.
So here, Beautiful, is your holiday plan of hope. So you can enjoy dating during the holidays, so that you can feel the most wonderful time of the year for yourself, even just a little bit, instead of  just getting through.
Wherever you are right now, whatever kind of relationship (or non-relationship) you find yourself in, here are a few tips I'll share with you to help you get through this tricky dating season in the most elegant way possible.
1. Relax
First of all, relax. Yes, Beautiful, I'm talking to you.
I know (oh how I know!) just how hard it is to relax when you feel like you're running out of time, like you've been through this too many times to have to go through this again, when you've got your biological or other clock ticking, when you're so sick and tired of hearing "the positive side of being single" from yet another person, and when you're all but ready to crawl under the covers and not come out until after New Year's Day.
Yes, it's especially you I'm talking to!
2. Have some fun
This – THIS! – is the part we get so confused about. We go through the motions of going out, hoping it will be different, but then become so discouraged when we get there and there's no one there for us. Or the guy we were set up with doesn't do it for us.
It's these expectations around our social outings that make it so difficult to just go out and have some fun!
3. Don't glamorize the lives of everyone except your own
Yes, a lot of people in relationships appear to have everything you want – but the truth is a lot of them don't.
There are a lot of people going through the motions, pretending to be happy for appearances sake – especially around the holidays. Yet we automatically assume they have everything we don't by the fact that they're not alone.
This is where a dose of reality really helps, especially at those holiday parties where it seems like you're the only single person there.
Don't go there!
It's so much lonelier in a relationship where you're lonely because you're miserable than out of one when you're simply alone. Understand that difference. It's a big one!
4. Remember that lots of people feel lonely during the holidays
Just remembering this one can have such an effect on our mindsets. I remember growing up how my mom would cry every time the song "I'll be home for Christmas" was played. She had her family – me, my dad and my sister at least – but because the rest of her family was 3000 miles away, no matter how much we tried, she still felt lonely.
And I hear this from so many people, single and married.
The holidays are just that nostalgic time when a lot of memories come up for us – and a lot of longings for things to be different. If you can remind yourself of this, you can see this time not so much as two sides – the singles and the togethers – but a whole bunch of people who can connect on a theme of loneliness in one way or another.
See? You're not so alone after all.
5. Surround yourself with people who you can give back to
When I was single, one of my favorite things to do to deal with my own feelings around dating and the holidays was to volunteer to staff the Crisis Center hotlines on Christmas and New Year's. It's unfortunately one of their busiest times of the year (see number 4).
Not only did I get to be there for others who were even lonelier than I was, but I also found that the rest of the volunteers during those times were almost always single like me – and had other things in common like the very fact of why we were there in the first place!
Find your place to give back, to feel good about contributing some of that beautiful, passionate heart of yours to, and you'll find others in those places who share that heart, too.
You can do this, Beautiful.
Don't just "get through"! Look for the little miracles that are happening every day all around you. Look for what unites you with the people you long after, wishing you had their lives. Look at what you can do this holiday season to move those mountains, get in on the magic that's for everyone, not just a chosen few.
And feel your way to the heart of the season.
It doesn't matter what anyone else says about being single or lonely or dating or being alone, this is the season for love, however you make it. Find it in the unwanted animal from your shelter that brings you to tears. Find it in the foster children who've never known a loving home. Find it in the defenseless elephants or giraffes who've never had a say in their fate.
Find it in your tears.
I know of no other place where the truth of who we are shines so brightly for us  - and for the ones who belong with us – to see.
How about you? What are your plans for doing more this season than just "getting through"? I want to hear from you! Share your story with us below in the comments.
Wherever you've been, whatever you've been through that's brought you here, I'm holding you in my thoughts. Together, we're going to feel the love that's out there for you this holiday season. You're never alone!