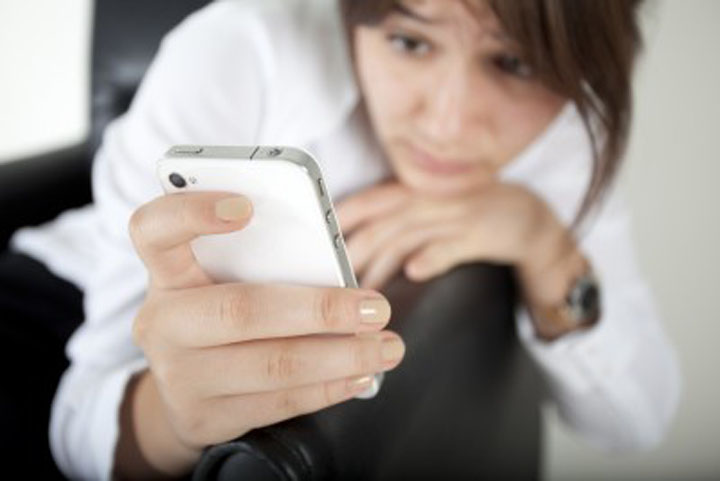 Our beautiful friend, Dani, has been texting a man for six weeks on Tinder, but now he's pulling away. She's wondering what's going on.
Here's her email:
I met a guy on Tinder. We have been texting for about 6 weeks.
We had plans to meet twice but he couldn't make it either time...once he said his daughter's mother's family had a family emergency and he had to get his daughter. The second time he said he lost his phone and couldn't contact me.
Recently, he never initiates conversations.
He says he's been sick. I feel like I am bugging him but he told me he doesn't mean to make me feel unwanted by him. I already asked him not to waste our time...if he's not interested, just tell me.
Can you help me understand what he's doing?
- Dani
My Response:
Dear Dani,
His deal is that he's not sure, he doesn't know, he's changed his mind, he's got cold feet, or he's texting more than just you and goes back and forth about how real he wants to make this. Maybe all of those.
And you know why? Because he can.
Because, Dani, for every man who goes back and forth like this with us, giving us just enough to keep us interested but never enough to really know what's going on, there's a line-up of women who will allow him to do this.
He doesn't have to do anything different if he doesn't want to.
If he's giving mixed signals, there's a reason. He's got mixed feelings.
Words don't mean anything without actions to back them up. Texting is nothing.
I'll say that again.
Texting is absolutely nothing.
It means nothing. It gives you nothing. It shows zero effort on his part. And yet, because we've allowed texting to become the way we communicate, whether we like it or not, it's become socially and relationally, acceptable.
I've talked to so many women who hate texting and yet they feel like they have to settle for a text message if they want any kind of communication at all.
What would happen if we actually made it a requirement that someone communicate with us verbally, over the phone, if they wanted to communicate?
What would happen if instead of making ourselves get comfortable with texting because it's "just the way men communicate these days", what if we said to ourselves, no, I want someone who I can get a feel for, who I can actually talk to, who  wants to talk to me enough that he's willing to put some effort into it rather than the impersonal, so low on the effort scale that texting is?
Because that's what I want us all to do. To recognize that if we're going to change just how much effort he makes, we have to stop making this all so easy for him.
I know it's become the standard. But it's become the standard because we've allowed it to be.
You know what happened when I found out someone in one of my circles doesn't text? As in, we were exchanging contact info and someone mentioned this other women and someone said, oh,  you'll have to call her because she doesn't text.
My initial response was I felt like "Wow, how does she get away with that? We all have to text these days."
Because honestly, I HATE texting. It's so impersonal. It's so distancing. It makes communication so difficult because you can't say much at all. I totally get it if you're in a meeting or at a public place where you can't talk, but at this point we've almost replaced all talking with texting!
But you know what happened next? After my initial thoughts on how she could get away with NOT texting in this day and age where it's become such an expected social norm, my next thought was one of curiosity. Who IS this woman who dares to require a phone call instead of a text?
Such a little thing, maybe, but on another level, it's not.
Because the woman who says "call me", instead of "text me" is a women who makes us curious. And the woman who gives out her number and says "I don't text, but here's my phone number" gets noticed.
She's different. She's strong in her own power.
She's confident of who she is and what she has to offer.
And there's something even more … she's filtering out her men. She's separating out the men from the boys.
The ones who will call her will be that much more likely to be the ones who are actually interested in getting to know her, and that much more likely to be looking for a real relationship and not just a casual "I'll text you when I can, when I'm not texting someone else" kind of thing.
You want that filter!
So for now, let's not pursue Mr. "Not Sure What He Wants" so you don't have to spend any more of your beautiful time and energy wondering what's going on with someone who's showing you he isn't really worth your time right now.
Instead, let's take a step back from Tinder and everything else and redefine what your "must haves" are, what your deal breakers are and create a clear vision of how the confident women you are lives her life.
She doesn't bow to someone else's terms if they're not terms she can live with. She thinks of dating as a necessary part of simply getting to know different people and learning more about herself in the process, instead of looking to prove herself worthy in the eyes of a mere mortal guy.
A guy who needs to be proving why she should even make time for him.
Men are wired for the chase, Dani. They need someone to hold them to higher standards than the ones we've been letting them get away with.
The irony of all of this is that while we think there won't be anyone left if we stick to our standards, it's actually the opposite that's true. The ones you'll be left with will be the ones who actually will be on the same page as you!
I  hope this helps!
Love,
Jane
What do you think? Can you help Dani understand what's going on with him? Share your thoughts with us below in the comments!