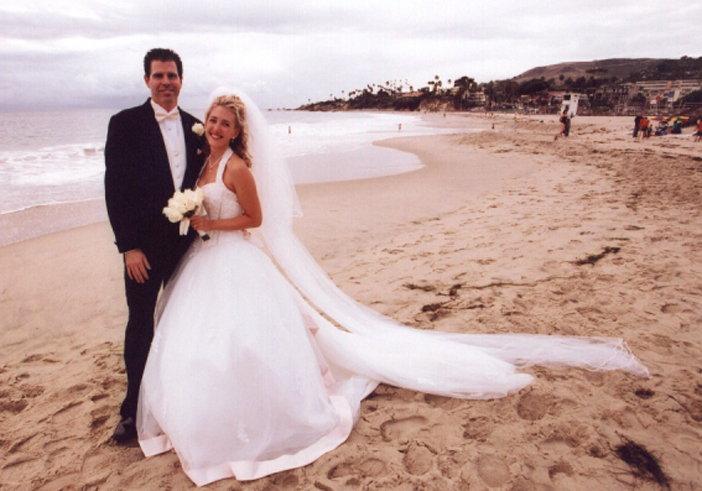 It was our anniversary last week. We've been married 14 years now.
When I posted a picture of my wedding day to Facebook, I was so grateful for the wonderful responses I got from so many of you, but I felt like there was something missing.
I felt like that picture said so little and for you, for every one of you who I've gotten to know so well here in our Internet community, I was left feeling like there was so much more I wanted to say.
To anyone who doesn't know me, it was just another picture of one more happy couple who met and found the kind of love we all long for. It looks perfect.
The perfect couple on their wedding day. The perfect location. The perfect everything.
And yes, that day was just about as close to perfect as a day has ever been for me.
But there's something else I need to tell you. Another part of this you won't usually hear; the part you can't see in the picture.
You see, we share our pictures, we hold up those parts of our lives that we want everyone to see, and that's as far as we usually go. We don't talk about how we got there or how very real it's been ever since that magical day.
Real.
This is the reality check I often give to my clients when they're so focused on the goal of getting married. Because here's the thing: it's a beginning, not an ending. This is where I remind you that when you finally get him to settle down, to make that commitment, to marry you, that's when the real relationship starts.
Soon you'll find that things can change quickly when you're pregnant, and then you have kids, maybe a mortgage, and lots of bills.
Suddenly you find yourself having to make those big decisions about how to raise those kids or deal with those relatives or reconcile your religious differences. You have to decide whether you're going to stay home with the kids or if you'd rather continue to have two incomes.
You have to figure out what to do with those two incomes (which can be particularly difficult when one is much larger than the other). Maybe you want to start your own business or go back to school, and you find that it's not just your decision anymore. You may be surprised to find each one of you has your own opinion and programming about things.
THIS is the reality part that isn't in that picture.
It's about how you communicate. It's about how you deal with the inevitable bumps in the road that come up at the worst possible times. It's about how you fight. And it's about how you make up.
It's how you deal with Both Of You.
It's messy, it's unpredictable, and it's almost guaranteed to catch you off guard. Because he comes from one place and you come from another. With his own programming, his own triggers based on what he doesn't even know. And you have yours that you don't even understand.
I've got something to tell you.
You don't want the one who isn't capable of commitment now. You don't want someone who doesn't care, who can take you or leave you, who's never home or anywhere he says he's going to be, who isn't anywhere you can find him. You don't want the one who doesn't call you, who only gives you crumbs.
You don't want him! Trust me on this one, you don't, you don't, you don't!
Marriage is real.
Marriage is about two real imperfect human beings coming together bringing each and every bit of their past baggage with them.
You think the fact that he only communicates with you on his terms matters now? Just watch and see what that looks like after he's not on his best behavior anymore. If you can't communicate with him now, it doesn't get better; it gets much, much worse.
When you're sick and he's nowhere to be found. When he's too busy to show up at your kids' soccer games. When he's missing birthdays or anniversaries or whatever because of work or because his buddies are more important. When you feel more alone with him then you did on your own.
It gets real, and real fast. You want to make sure you're with someone who's going to be there for you.
"For better or worse" isn't just a nice sounding wedding vow, it's going to happen.
Whether your "worse" is the whole family coming down with the flu at the same time, your in-laws trying to drive a wedge in between the two of you because you're not good enough for their son, or both of you losing your jobs at the same time during an economic downturn, you want to make sure you're with someone who's going to be on your side. 
If he's not there for you now, when things are easy and uncomplicated, what does that tell you about where he'll be when the going really does get tough?
Every couple who gets divorced had a beautiful wedding picture of their perfect day. But what happens after that picture was taken is what really matters. What happens after that makes all the difference in the world!
It's now, when you're getting to know someone in the beginning stages of a relationship, now is the time you need to be paying close attention to what really matters.
Because down the road, whether you think it will matter or not, it's all  the real stuff that matters. Like how he treats you. Like how he communicates with you. Like how he treats women in general. Like how he treats people in general. Like how much he can look inward at himself or how much he deflects everything onto someone else so he doesn't have to look within.
What matters becomes how aligned you are on what you really want in life. And whether or not you share the same values.
If he's not treating you right, if he's got a problem with women passed down from his father that he won't or can't recognize, if he's so bought into the culture that he can't see you or appreciate your beautiful feeling heart and soul that are pure gold, you've got some big questions to ask yourself.
Don't stop when you're just getting started here! Don't stop when there's someone who's going to share your heart and your life coming on down the road.
I know you're scared. I know you're struggling to believe there actually might be someone else who could possibly be different than all you've ever known. But things are changing. The truth is coming out.
The good ones don't finish last anymore. They win. Love finds a way.
Love is coming through. And never, ever, in a million years has love played such a cruel joke on you to forget you! You were made to love, Beautiful. Don't stop now. This is how it begins!
On my 14th wedding anniversary, I feel very fortunate that none of my previous relationships worked out. Because when I finally did get it right, I knew what I really wanted in life, and I knew what to really look for in a partner to share that life with.
It took a while, but I found him. And he found me. And he's been on my side through all of our "worse".
That's what true love really is.
What do you think matters the most in a "real relationship"? Share your thoughts with all of us below in the comments!
PS: Here's a pic of the "real" before the pic at the top of the post was taken 🙂