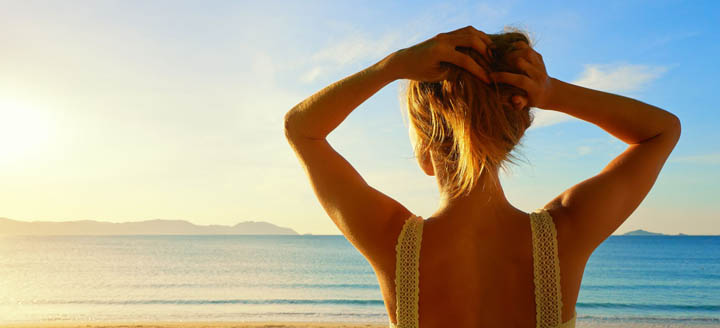 It's the simplest thing.
It all begins simply by noticing. Noticing.
You have to stop long enough to notice if you're going to see anything different at all. Your soft skin, your silky hair, your beautiful eyes.
Your strong arms. Your long legs.
Brushing each strand of your gorgeous, sensuous hair in long, broad, strokes.
Consciously noticing.
Applying moisturizer to your beautiful soft, skin. Feeling the lotion on your body.
It feels different from your usual routine when you leave a little extra time for the process instead of the duty.
Each and every act sends the same subtle message; you matter.
Every time you consciously wash your beautiful skin instead of simply showering.
Every time you allow yourself to linger in the bath with a little music and essential oils instead of jumping out.
Every time you choose something pretty to wear instead of something you've gotten so used to picking out that "works".
Every time you choose to nourish your body with fresh, healthy, organic food instead of reaching for the old standby box of processed, packaged snacks.
Every time you choose to take a walk in nature, and inhale into your lungs the gift of fresh air instead of rushing through life.
Every time you choose to exercise your strong muscles in all your beautiful body parts instead of sitting in your favorite spot in front of the TV.
Each and every time you make a conscious effort in your busy day to make a moment or two just for you, instead of forgetting that you matter, too.
And every night when you make time to give yourself the nurturing gift of sleep, instead of staying up late again to compare yourself to what everyone else is doing on social media.
Every time you do any one of these things and so many others, you send yourself the most powerful message of all: "You're worth taking care of".
You're worth the time.
You're worth the effort.
You're worth the energy.
You're worth everything.
It's the opposite of most of the messages we hear. Hurry. Rush. Get up. Get out. Get going. Quick. Go. No time for that now; it'll have to wait. There's just not enough time.
Take a minute right now to think of how ingrained those messages are. Subtle, maybe. But always there.
There's no time for you.
There's only time for everyone else.
It's time to change this. It's time to give ourselves better than we've been doing. It's time to nourish, nurture and notice our own self-care needs for a change.
You matter, Beautiful. More than you ever think you do.
Count it a privilege to be able to take care of yourself like this. An honor. A pleasure. No, you're not second-class or second-rate or anybody's second-best. You're beautiful. You're worth everything. Because you're you.
We're so good at taking care of everyone else but ourselves! Are you seeing this? I'd love to hear how this resonated with you. Tell us about it in the comments!