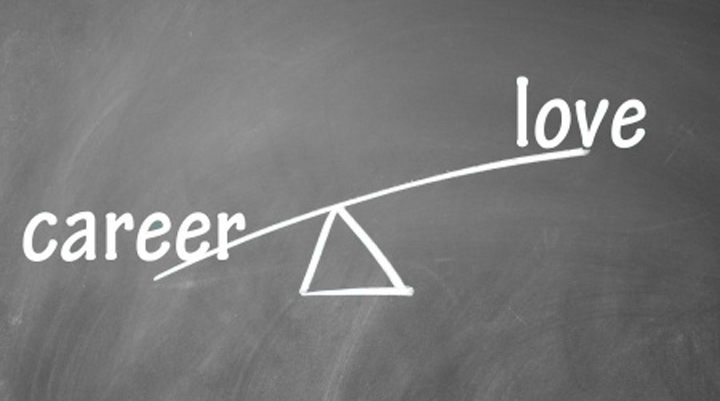 One of our beautiful readers, Emily, is in a relationship with a man who is choosing his career over her.
Here's her story:
I am a fifty-three (year old) single woman, never been married with no children. I have not had a relationship with a man for ten years.
I haven't been attracted to a man in that time; that part of my life didn't exist.
Over eight months ago I met a man through my work that attracted me deeply. He is an executive of a global company and is committed to his work. I have been passionate about my work so find that part of him attractive as well. I have been independent for so long myself.
We work in similar fields so have a lot in common.
Due to his work, he mainly communicates with me by text and there was a time, I may not hear from him for weeks. He was very direct in contacting me and in saying how he feels.
Having a man find me attractive is new to me. When we meet it is wonderful. I love talking to him and feel overcome by how he makes me feel. He is a kind and intelligent man. Over the past year, I have changed.
He has changed me. I now recognize I am a sexual attractive woman.
Over the past few months we have become closer. He is in contact more and says he loves me. I can feel that when I see him. We also live in different cities, which makes it harder. However, as he lives in a city where my family live I visit often. It is usually his work that hinders us in meeting. He travels overseas regularly and works nights.
Last week I visited him to catch up before he traveled overseas again.
I hadn't seen him in months, although he sends me regular texts, recently saying he loves me. I began to feel deeply for him and that I could love him too.
I had arranged to stay overnight to have dinner. He met me for breakfast, but then later text me that a crisis at his work meant he had to cancel dinner and see me at lunch. I was disappointed, as I had booked a hotel for myself to stay overnight in the city and took time off. I said this at lunch and let him know I was annoyed.
His reply was that this is what happens. He constantly lets people down due to his work and that he didn't want to do that to me. His work will get busier not easier.
I am not good at these sorts of discussions and didn't really respond, just listened. I tend to shut down.
I wasn't sure whether he was ending it. I did say I was still attracted to him. He talked deeply about his work. This was the first time we had talked like this and although not easy I understood him better.
However, when he left to go back to work I wasn't sure whether that meant he had ended our relationship. It is a pity that one can't be annoyed and not talk things through - That the response is all or nothing.
Although I recognized after, that this was probably a big issue for him in the past. I don't feel I responded well myself. When he talked I shut down in myself in a way. I wanted to have been adamant about how I felt and we could work around his work.
Later I texted him my feelings but had no response. He is travelling once again and this may be why.
I know I need to focus on me and get on and live my life and if he wants to see me he will. But, right now I feel bereft and in limbo, not knowing where we stand.
His relationship is very important to me. He opened up a new world, one I had closed down for many years. He was open and kind. I haven't met a man who made me feel safe, able to be honest with.
I feel that makes him a special person and I want to keep working at our relationship. I don't know where it would have gone, but I feel we had more. I know intuitively that if he wants the same, he will contact me. Although, I want him to understand that I would work things through with him. I don't know if he does understand this.
What do I do now? I hate not knowing.
- Emily
My Response:
Dear Emily,
I'm so glad you wrote to me. We're not meant to go through these ambiguous situations alone.
It's never easy to feel like someone just slipped through your fingers by a single conversation, leaving you without a reference point. You never intended for such a benign conversation to end up here, and you're at a loss to understand how something like expressing your feelings could have come to this.
And for good reason.
Until you take a closer look at what your relationship has been all about.
Distance. Space. Texting – the most disconnected, yet convenient, form of communication.
Has he ever come to see you?
You've described a man who for the past year has been showing you what he's comfortable with. He's been letting you know what he wants – what he needs – and up to this point it had been working well for both of you.
It's no coincidence that you're such an independent, passionate woman with your work being such a big part of your life and he's the same.
It's why this has worked so well.
You allow it to be by not actually being with him. Physically, emotionally. He's allowed to have his space.
You understand him. You have your own full life without him. And so he doesn't have to give you more than he's comfortable with. It's why he told you he loves you, and why he felt so comfortable saying this to you over text.
Until you did the one thing that he wasn't ready for.
You showed him your own emotional side of you. You showed him your feelings, that you can feel annoyed with him, that you can feel disappointed with him and the way his work always comes first.
That you are more than a woman on the other end of a cell phone; you're a real, living, breathing – and yes, that means feeling – human being, and you don't always say and do the most perfect thing.
But why wouldn't you respond like this or something similar, even if you had thought out more clearly what you wanted to say? You took time off from work, made hotel reservations so you could make plans for dinner with him. After months of not seeing him, and especially after hearing him tell you he loves you, of course you would assume he was looking as forward to this as much as you were.
Would you judge him for that? Would you end this relationship you had with him over that?
Of course you wouldn't.
And neither would he. Unless it was too much for him. Too close. Too real. Too messy. But if that is the case, let me ask you what you've really lost?
You do know what's true in your heart of hearts. Intuitively, as you say, that if he wants the same, he will contact you. He understands, he knows – you made sure of that when you texted him after about your feelings. And then he didn't respond.
What does that say?
You see, it's not "a pity that one can't be annoyed and not talk things through - That the response is all or nothing."
It's a choice.
For both of you. You can either choose to end it like this, or you can choose to reach out like you did with your text because you felt there was too much left unsaid. And he can choose to respond or not. Whether he's traveling and this is typical is another thing. But again, that's for you to decide if you can live with that as your norm.
Because if someone is open to real communication about feelings, about emotional expressions, about the reality that we don't always say the things in the moment in the same way we would say them later with the gift of hindsight, there's always another chance.
Isn't that what you're giving him - another chance? Then why can't there be one for you? Especially from someone who's saying that he loves you.
Does this feel loving to you? You have that for him. Why not for you?
Take him down off that pedestal, Emily. Put yourself on an equal footing with him. It's where you belong. Equals. Embrace the beautiful, sexual, attractive woman you discovered for yourself. Run with that! There's no telling what a woman who discovers the truth about herself can do!
He didn't change you - you ARE a sexy, attractive woman! He didn't make you into that!
Find what you got from him in you.
Why him? Why was he the one you let your guard down? You're always the one doing the choosing. If it's him you really want, can you accept him the way he is? He's a man that's married to his work, and his career will always be a higher priority than you are. Can you live with that? That's the real question.
What do you need to do to give yourself a sense of peace and calm here? What will leave you with the least amount of regrets?
He's going to do what he's going to do. You need to do whatever it is that you need to do for you.
When you do what you need to do for yourself, the outcome will always be the right thing for you. It works every time.
Love,
Jane
What do you think Emily should do in this situation? Tell us in the comments!