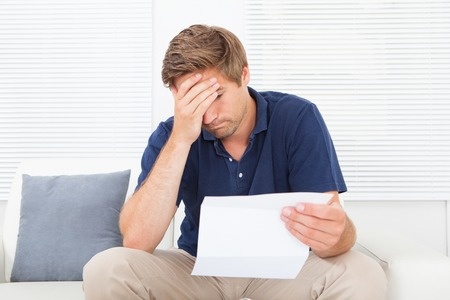 One of our wonderful readers, Liam, has just received the break up letter from his girlfriend of 2 years. He has written me asking how he's going to survive this break up.
Here's his email:
First, these articles are mostly written for young, single women.
I am a divorced man in my 50's, a great and successful guy, sensitive, intelligent, fit and attractive and thought I found my true love.  She keeps abruptly breaking things off after two years when we get close, and stopped being romantic yet she calls me her best friend.
I feel stuck.
I have stepped back without contact but this situation also happened with my ex-wife of fourteen years.  I'm afraid I am too good of guy sometimes or just keep picking the wrong person.  I thought this person was different.
What do I do?
I just wrote you and just after that I received the dreaded break up letter after two years.  Although we were on the same page in many ways, for whatever reason she lost the romantic desire for me yet cherished the friendship.
I am sad, relieved but frankly scared to face the void and loss even though I know I will get through it.  I will miss her deeply.  My question is how does one survive the loss of of a loved one without glamorizing things yet not minimizing it either?  I've been through one of these with my divorce and not looking forward to going through this again.
- Liam
My Response:
Dear Liam,
However you found my website, I'm so glad you did. You're always welcome here, regardless of gender, age, status, or if you fit any particular description. While I write from the perspective of my own experiences which are, by default, that of a woman, the issues I embrace, and the passion that drives me are universal that everyone can benefit from.
There are many other men just like you who also have found themselves here so you will find you are not at all alone.
These men are just like you –sensitive, caring, intelligent, attractive men who have found themselves with women who aren't in a space where they can appreciate someone like you with all your wonderful qualities when they find you.
It's not by accident you find these women, and as you alluded to your own understanding of this fact when you said, "… or just keep picking the wrong person.", this is exactly what often happens.
Because, Liam, the fact of the matter is you're not "too good of a guy sometimes".
You've actually described the very qualities that almost every woman professes to be looking for. Unfortunately so often so many of us aren't actually open to seeing it until we finally come to realize that a love relationship isn't about trying to make someone love us who isn't capable of loving us the way we want, but about finding someone who's on the same page, who actually embodies all the "nice guy" qualities we're actually looking for once we get clear enough about this.
But before we can get there, a part of this same reality is that so many of us have subconsciously or otherwise bought into the popular cultural notion that it's our role as women to find a guy who's aloof, who has an attitude that he's not that into us, who exudes a false type of macho confidence that is anything but real, authentic confidence, and try to change him and make him love us.
And so, there is nothing wrong with you in the sense that you have to be or do anything different that be true to your authentic self.
What you do need to "do" if you want to change this, is to become aware of this pattern of attracting and being attracted to someone who is like these woman who don't seem to value or appreciate all that you are and all that you have to offer them. There is someone who will adore these qualities in you, who will want to be romantic with you, who won't want you to be anything but the wonderful man you are.
And she's out there, no matter how much it might not feel like there's anything more than who you've already found.
But noticing her, recognizing her is a whole other matter.
Because why we're attracted to who we are has everything to do with our own preconceptions of how it should be with someone we're with. So while so many of us woman may try to change our men, so many men may try to save, and help, and rescue a woman by doting on her, loving on her so that you can feel your own worth of being her knight in shining armor, or another version that our culture aspires for you to be.
To prove your own worth as a man.
Just like two sides of the same coin, there's always a little boy in the man and a little girl in the woman who's bought into the cultural ideal of how they're each supposed to "perform" in order to be loved, and accepted, and worthy.
That is your own work, Liam, and what that path will look like to you and what form it will take is something for you to discover by listening to your true self, by refusing to take on what isn't yours, and by letting go of the "should" and "rules" that aren't your own.
Because, you, like every single one of us, deserve to be loved for you.
So to your question, where do you go from here?
How you do move past this break up, without glamorizing the parts of your relationship that were never as glamorous as we can remember them when we look back, yet, as you so aptly say, without minimizing it either?
You do this by being grateful for the experience of love, for being part of something that allowed you to grow into the person you are now. Be so proud of yourself for being willing to take another chance on love, and to now accept that you did the best you could with what you knew throughout  your relationship with her, and in your relationships past.
Today is a new day, Liam.
A time to cherish the good times that showed your ability to love and be loved, as well as a time to accept the reality that you are always the one doing the choosing and a letter informing that someone feels differently is not to be taken as a dreaded letter of rejection of who you are and what you offer, but of two people on two different pages with more to both their stories than the one that ends with each other.
Oh I know all too well how hard it is to see it in this practical, logical way when you have such a beautiful sensitive heart and soul. But this is one time you need to look at it this way because any other way will only keep you hanging onto something that you want for all the wrong reasons. It's in this acceptance of the reality of "what is" and not the fantasy of what you want it to be, that you'll find your peace, Liam.
And on some level, as painful as it is to accept her decision like this, there is a part of you that does get this. It's the part that you wrote about here where within the sadness and the heartbreak, you also feel some "relief".
Hold onto that part. There is a relief. A relief that comes from knowing you don't have to pretend anymore, that you won't be the only one anymore trying to make something back into what it used to be or what you saw the potential of what more it could be. Because now, no matter what else it feels like, you are truly free!
Grieve the loss in whatever way speaks to you. Find a place to express your creative self. Write, paint, draw, find the music that brings the healing tears of loss, and then discover a new passion within yourself to embrace this chance to grow into who you are now ready to become.
Not for anyone else. Not for what you "should" be. But for you!
Write a letter to her – and your ex as well if you never wrote one – putting everything down in writing that you never got the chance to say. But don't send it; this one's for you. Pour out your heart and soul like this and you will find a way to heal, and more importantly, a way back to the you that you never knew before.
Surround yourself with people who love and support you, with the hobbies and interests and passions that speak to you, and feel every single feeling that comes up for you along the way. This is not a process to be fought, because like nothing else, it is here in our losses, in our feelings of "rejection", that we do our greatest life's work, where we get in touch with ourselves in a way we can only do when we are at our most vulnerable, at a time when we need our own self-love and compassion more than any other time in our lives.
Don't fight the going through; there's gold here. And when you get to the other side of this, you will find a type of picking up the pieces. And you'll realize that you never could have put together the rest of puzzle without these pieces being broken in the first place.
Don't stop reaching out and asking the questions, Liam. It's in the answers you discover for yourself that you will find the love you have been searching for not outside of yourself, but right there within you. The last place we look but the place where it all begins.
I hope my words have helped some. I'm glad you're here.
Love,
Jane
Do you have a similar story to share? Or any words of advice for Liam as he goes through this heartbreak? Please share them with him in the comments!