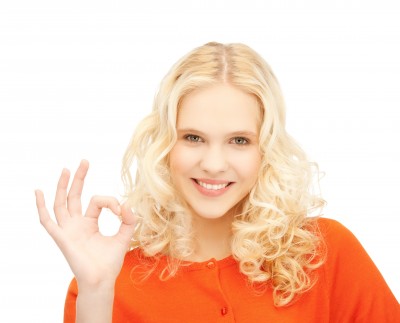 I received the most inspiring email the other day from one of our beautiful readers who initially wrote to me just over a year ago, heartbroken over yet another guy. At the time she was wondering, like so many of us have, what to do about a guy who just isn't ready for that commitment, someone who was giving her mixed signals and suddenly turned cold and distant.
It took a while, but she finally let go and was eventually able to leave that all behind.
Now, about a year later, she was writing to tell me that this time around she decided to try something different. She gave someone a chance who she normally wouldn't have, someone she previously didn't consider her type, to see what might happen with a different kind of guy. Essentially she changed her thinking about what to look for in a guy.
I'm happy to tell you that she's fallen in love and now they're getting married.
Since her initial story was so familiar, one I've heard countless times (and experienced myself) I realized that it could have been any one of us. It really got me thinking about how important it is to simply choose the right kind of guy, and often that means veering away from the types of guys we are typically drawn towards.
When considering what to look for in a guy, it's not about how tall he is, or the fireworks or butterflies in your stomach. It's not about whether he has that certain look that you really go for.
It's about whether you'll be happy in a relationship with him in the long term, which is what we're really looking for after all. While I totally agree that physical attraction is important in a relationship, you'll be absolutely amazed at how attractive a guy with these qualities will become if you give him a chance.
What to Look For in a Guy: 10 Essential Qualities
1.) He's grounded.
He doesn't need the thrill of the chase, the challenge of the conquest. He's a down to earth kind of guy who isn't flashy with his money, his adventures, or his lifestyle. He isn't looking for drama and doesn't bring his own drama; he's not into a roller coaster kind of relationship. You'll know him by the fact that he'll act just like a regular guy - because that's exactly what he is.
2.) He's real.
What you see is what you get, he doesn't hide behind a facade of insecurities and over achievements. You'll know him by the fact that he doesn't try to impress you or show you what he's all about. There's nothing to reveal except the real him. He's authentic.
3.) He's reliable.
He does what he says and says what he does. He means what he says. If he says he's going to be there, he's there. If he says he's going to call, he does. You'll know him by the fact that everything he says meshes with what he does and the person he's shows himself to be. He  doesn't play games with your heart or your mind. You'll know him because time and time again, it's the same; he always honors his word.
4.) He's open-minded.
He's open to hearing your point of view and doesn't try to impose his own views on you. He can accept your differences without trying to change you. While he has his own opinions, he's open to hearing yours. You'll know him by the fact that conversations with him are easy because he's just as open to what you're saying as what he's saying.
5.) He's flexible.
He's easy - in the ways that matter! From plans that need to be changed, to the real life challenges that life sometimes throws our way, he know how to swim with the current and go with the flow. You'll know him by how effortless the relationship really is; it's easy because he's learned that life is too short to get caught up in ego trips.
6.) He's honest.
He's never given you any reason to question what he says, or wonder if he's really telling you the whole story. You know that you can trust him because everything he says syncs up with everything he's said before, and everything you've heard from others. You're never left wondering why some of his story doesn't make sense.
7.) He's romantic.
Not the extravagant, flashy, superficial kind, but the little gestures, the small surprises, the kind that says he likes to see you smile. The kind of little things that let you know he actually thinks about you, actually cares about you. Not the over the top kind that screams I'm a romantic guy. You'll know because it will feel like he's doing it for you, not for everyone else! Flashy romance is when he sees that you've had a stressful week, and he sends you off to a $300 an hour exclusive spa for a massage. Real romance is when he sees that you've had a stressful week and he wants to stay in for a quiet evening, makes dinner for you and gives you a shoulder rub himself.
8.) He's committed.
He knows what he's looking for and lets you know as you get to know him better that he's on the same page and looking for the same thing as you – that same committed relationship that you are. You'll know because he doesn't have to come right out and say it, he tells you by his actions and his behavior.
9.) He's nice.
This isn't any bad boy, or player or someone who's only looking for one thing. This is a genuinely nice guy who isn't afraid of treating you well and being your friend as much as he's your lover. This is the guy who isn't afraid of being called nice, in fact, he's comfortable enough in his own skin to be OK with being known as the nice guy - in fact, unlike his player counterpart, he considers it a compliment.
10.) He's available.
Emotionally, Mentally, Physically. In every way, this guy is available to you and ready for a relationship to develop between the two of you as you get to know each other better. You'll know him because he doesn't constantly talk about his past loves, has had enough time to get over his ex, and doesn't keep dropping hints (or worse, comes right out and tells you!) that he's not ready for a relationship or a commitment.
While the player and the bad boy might provide a lot of excitement and drama (and possibly material for that dating misadventures book you think you should write) what your heart and soul are really longing for is a genuinely nice guy who's looking for the same kind of committed relationship you are and knows what it means to be in a real relationship with a real person.
He might not set off the fireworks from the first time your eyes meet, but when you take the time to get to know a guy with these qualities instead of the ones you're used to, you'll find that he just gets more and more attractive. So the next time you're wondering what to look for in a guy, think back to this list and find yourself a guy that's a keeper. These guys are out there, and there's a lot of them. They're just not necessarily the guys that grab your attention with their outward looks, stylish clothes and outwardly charming personalities.
It takes a little work, but once you dig under the surface a bit you'll find him there.
How about you – what do you think is the most important quality when considering what to look for in a guy? Tell us about it in the comments!