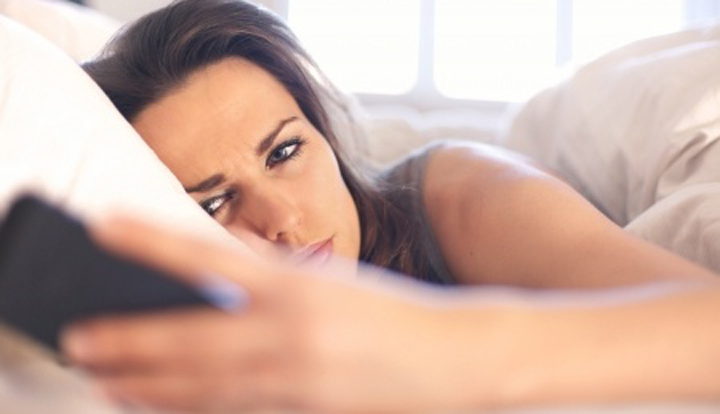 Our letter this week comes from beautiful Dawn, who says her boyfriend doesn't want to call or text her.
Here's her letter:
Jane,
So my boyfriend will talk to me in person but never messages me or starts the conversation, and when I dont text him he get worried, but he says he doesn't like talking on the phone or texting.
And when I want to plan something with him I can never get a hold of him long enough to ask what we should do together - I mostly get hung up on in the first minute of talking, or he puts himself on mute so I can't hear him.
How can I fix this issue, if possible, or cope with it?
-Dawn
My response:
Dear Dawn,
I'm so glad you reached out to me.
When you're in it, it's hard to have an outside perspective, so I hope this is going to be eye-opening for you.
You call him your boyfriend. So my obvious first question is what makes him your boyfriend?
What actions, what behaviors on his part give you reason to believe he's your boyfriend? Because if the bar you've set for what it means to be in a relationship with someone is so low that this kind of non-communication and lack of participation still counts as a relationship to you, then I think you need to re-consider your definition of boyfriend.
Is it okay with you that he never messages you or starts the conversation? And that he doesn't like talking on the phone or texting?
And that when you want to plan something with him, you can never get a hold of him long enought to ask what you should do together? And that he hangs up on your in the first minute of talking? And that he puts himself on mute so you can't hear him?
Honestly, I'm really having a hard time here figuring out why you're with him.
Clearly, this isn't okay with you on some level as you're reaching out for some advice.
I would offer to you that this isn't normal boyfriend behavior. This isn't even "friend" behavior. This isn't even acquaintance behavior. This is about what you'd expect from someone who really doesn't want to have anything much to do with you except in name only.
To be clear, this isn't because you're not good enough or whatever else to deserve better from him; this is about him. But you are allowing him to treat you like this by maintaining a relationship on these kinds of terms.
Now let's talk coping with it.
If you want something to change, you have to let him know you're not okay with this. Without being able to have a back and forth conversation with you, I don't know if you've already tried this before or what you have tried. But having a beginning conversation with him is important because it gives him a chance to hear directly from you that this isn't working for you and what you want from him.
It gives him an opportunity to change it, to give him the benefit of the doubt (which, honestly, in this case is a stretch at best), and to show you he cares enough to even be willing to.  It tells him what needs to change if you are to continue calling him your boyfriend and being in a relationship with him.
Use "I" statements, telling him something along the lines of "I care about you, I like you, I want to be with you, but also know I want to be with someone who communicates with me, who initiates contact with me, who doesn't hang up on me, who doesn't mute himself when I'm talking to him, who shows me by the effort he puts into our relationship that he actually wants to be here with me. If you're not in this with me, if what I'm telling you I'm looking for in a relationship with you isn't something you want to, then I need to know that from you." Put in your words, but this if the tone you're going for. Clarity, and owning that clarity. If you're the prize, if you're worth a real relationship with someone who thinks the world of you, how do you say this to him? If you're not afraid to find out the truth from him, to save yourself greater heartbreak in the long run, what would you say?
I'm going to hope that this is going to be the turning point in your relationship and he starts contributing and communicating more and the old behaviors begin to change. Maybe not overnight, but enough for you to see a shift and effort. But if it isn't, if nothing changes after communicating this with him, then it's pretty clear he's showing you who he is, what he's capable of, what he's willing to do to make this relationship work, and what he isn't.
Then you have a choice.
You accept him for who he is and know that you're choosing to be with him in spite of what he hasn't shown you he's capable of changing.
Or you don't.
You recognize you deserve more, you step back far enough to see that whatever you're getting from him, the reality of how little he offers you in return is the point here.
The thing about relationships like this is that you can only cope with his behavior if you can excuse it, overlook it, or put it into some kind of perspective that enables you to. But once you can't do that anymore - or if you can't do that at all in the first place, this isn't going to work anymore.
That's your reality.
You can't live with - or cope with - something that doesn't sit right with you, Dawn, something that you know in your heart of hearts isn't right for you, something you're trying to make work that isn't working. None of us can!
We can never lie to ourselves.
My best advice here to you?
If you haven't already, have that talk with him to let him know where you're coming from and what you're looking for. Regardless of the outcome, at least you'll know you tried. The fact that you're writing to me at all, tells me there's something here you want to try to salvage. Based on his response, show him with your actions that you deserve more and won't accept this. Back up your words with consistent actions so there's no misunderstanding about what you want - and deserve to have in a relationship!
That matters more than anything he does or doesn't do, because ultimately you can't change him, you can only change what you choose to do in response to him.
I hope this helps.
Love,
Jane
How about you, Gorgeous? Do you have any other thoughts you'd like to share with our beautiful friend, Dawn? Share them with her and the rest of us in the comments below!