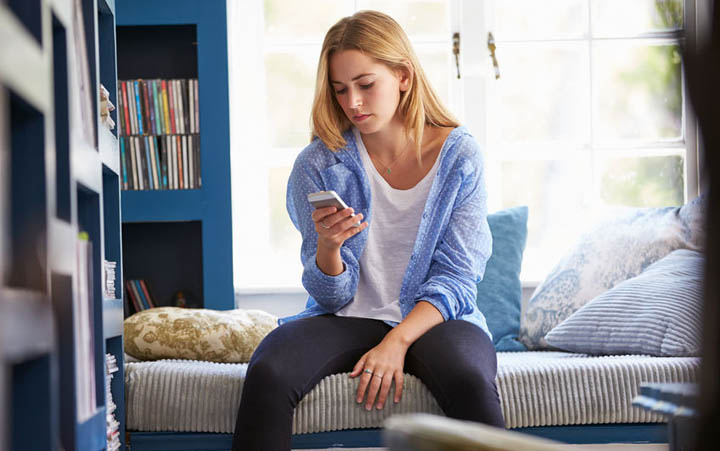 It was Julia's letter that showed up in my inbox the other day, and like so many of you, she found reassurance in knowing she wasn't alone in dealing with her current heartbreak; dealing with a guy who once was at first so responsive, now not responding at all.
Here's her story.
Hi Jane,
I came across this website so thought I'd try to find some reassurance here.
I've been divorced for a short time after a long marriage. I reunited with an old boyfriend I hadn't seen since my early twenties. We got along so well, like we'd been together for years.
I've always believed that we were made for each other.
He lives interstate but we kept in touch; he's also divorced and was making plans to come see me.
I'd contact him and he was slow to reply, always an apology and saying he was busy. He called a few times and we talked for a long time.  I thought I would see him again based on our talks but now he's completely disappeared. We spoke  a few weeks ago but he's not replied to my texts. I tried to call him but no response.
I don't understand what could have changed and without him telling me it's really bothering me. I feel I need to know what went wrong.
I'm too old for these games now and can't believe that I'm feeling so bad about this. I also can't believe I let him do this to me again.
Do I contact him one more time to say that I don't know what's happened but really need to for my own peace of mind.
My self esteem is gone, I'm sure I've said or done something to put him off.
It's really bothering me no matter how I try to get my mind off of it. I know that if I've contacted him a few times without a response - that's pretty much the response - but it's difficult to accept that it could all change so quickly.
-Julia
My Response:
Dear Julia,
I can't tell you how many women have come to me with a simliar story.
Usually, just like you, it begins with connecting up with an old highschool friend/former love interest on Facebook, now both divorced, and thus begins a whirlwind romance in search of reclaiming all those years they lost.
It's a fantasy, Julia.
That's why he can't tell you why, and that's why there's nothing you can do to change it back.
It's not about you. It's not about anything you did or didn't do.
It's only about what he thought it was going to be in his own mind and when he found out he'd brought himself with him to this one, too - and that simply mixing up the characters in this fantasy and replacing the women of the past with you won't make it any more real,  the reality slowly began to sink in.
He'd done it again.
He can't tell you this, though, because then he'd have to admit he did this to both of you. He'd have to admit it was never about you, it was about the lens he was looking through that had him believing – erroneously of course - but believing that to save face for everything he's failed at before you, all he had to do was find the one magical women who could change all this for him.
Someone who could make it all better and restore to him the faith in himself that he really is capable of having a real, authentic, lasting relationship with a woman who has as much to offer as you.
The catch is that he can't admit this to himself because that would only unearth a deeply hidden shame within himself that he's not good enough, that there's something wrong with him.
If only these men would realize that it's only in admitting their worst fears they allow themselves to heal those parts of themselves they were brought up to hide instead of admit to!
If he could allow himself to be human, to admit the appeal of the fantasy is there precisely because he is looking for something so the opposite of human to restore him to a position of power within himself.
You were the fantasy, Julia. You and him. Together.
The idea of the two of you. The memory of who you were and who he was in a different place and time that you couldn't realistically go back to.
It doesn't take much for us to go along with that fantasy when we've been programmed since we were little girls to look for the one who we always felt was the one "who was meant to be."
It lasted as long as it felt that way to him, as long as you fit the image of the magical, fantasy woman he imagined you were and what finding you would be like, in his own mind.
But when you were human (and how could you be anything but human unless you were nothing but a fantasy image?!) the reality of another relationship that takes effort, that requires mutual contribution and most of all, can settle for nothing less than two people on the same page committed to making it work, yes, even when one or both of those two people don't feel like making the effort, was too real for him.
That's what makes two people "meant to be."
And it's why he couldn't do it. Not because of you or what you were or what you weren't, but because of him and what he was and what he wasn't and what he needed himself and you and all the parts of your relationship to be.
Don't contact him again. Don't put yourself through this again. You've tried, you've kept trying. In fact, you've been the only one reaching out.
The reason why he doesn't answer is because he can't answer you. He has nothing to say, nothing to defend himself with, and nothing more to give you.
Your self-esteem is only gone because you made the fatal mistake we all do, Julia; we look to him for our answers to give us closure, to set the record straight, to somehow make us feel better hearing it from him, but in the end, he can't even do this.
But you can.
And you will. Because now, you know more.
And most of all, you know why.
I hope this helps.
Love,
Jane
Do you have any words of advice or can identify with what Julia's going through? Share with her what you want her to know in the comments below.