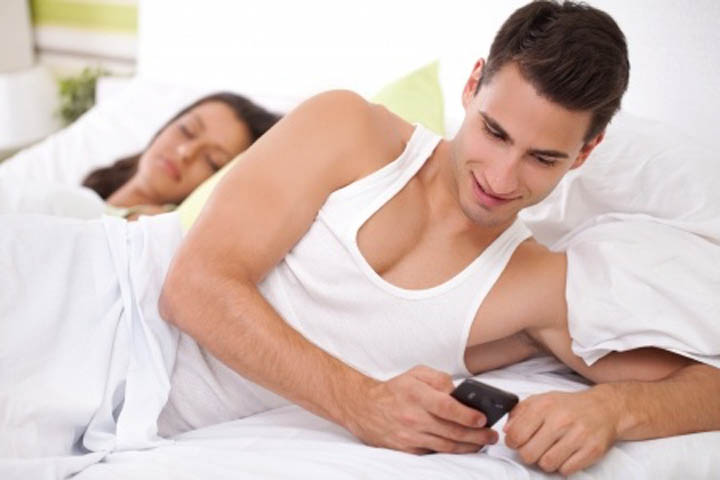 Our gorgeous friend Rachel is asking for our help.
Here's what she wrote:
Please help.
I had been talking to this guy for the past 3 months online, then we met up and had 3 wonderful dates. He had to go away to work for 5 weeks in another country, but we stayed in touch for the first 3 weeks until I noticed that he had been spending a lot of time on WhatsApp.
I had my suspicions that he was talking to other girls, so I started to check the website and he had been active daily.
I asked him about this, and he said he's not speaking to anybody else and would like to get to know me better when he's home. Anyway, this continued for over a week, but I was noticing he was on WhatsApp late at night and on a dating site.
I asked him to just be honest with me so I knew where I stood, and he said he would remove himself from the dating site to give me peace of mind. I told him it wasn't the fact he was on the dating site, it was the lies.
The following day he was active again and even had added a new picture. I tried to call him, but he didn't answer so I sent him a text to say I wouldn't be seeing him again, he's a player and I'm gonna start dating somebody else.
I didn't get a reply for 6 days then he replied saying sorry that he was only just getting back to me, but he had been in the hospital. I replied that I was sorry that he had been in the hospital and hoped he was OK and not to worry about not replying as I wasn't expecting one.
His replies were all just about how unwell he felt but was returning to work the following day and that was it. I just said that I hoped he felt better soon.
I didn't want to address what had happened because I felt that the last few times I had spoken to him all I did was moan about the dating site and I suppose I was playing it cool.
Anyway, it's now 3 days later I haven't heard from him although he's active on WhatsApp numerous times throughout the day. I miss him terribly and I just want him to call me and make this better.
Part of me thinks I'm in the wrong as we weren't exclusive but all I asked for was the truth. He's home soon and I just don't know how to deal with this. Please help.
-Rachel
My Response:
There's a pattern here, Rachel.
And it doesn't matter if you're not exclusive or anything, the issue is that when you ask him to be honest with you about something as clear as whether or not he's on a dating site, he lies to you.
That's a problem! Asking him to be honest with you is not asking for too much!
If he's just interested in dating around and wants to keep his options open, at least when you confronted him he could have let you know and then you could decide whether or not that scenario was one you were willing to be a part of as you get to know him better.
You could decide if he was worth it. But he didn't give you that.
So what effect does this have on you? You waver back and forth between wanting to play it cool and coming down on yourself for not being chill enough, as if you didn't have the same rights to your feelings as you would if you were exclusive.
But what's clearly tugging at your senses is the bigger picture that you're on two different pages. That part is clear even if he wants to try to pretend he's right there with you.
You've seen him on the dating site. You know he's active on WhatsApp!
Rachel, what he's showing you by his actions and his behavior is telling you far more about him than anything else you've learned about him in the 3 or 4 months you've been getting to know him. This is the very beginning when everyone is on their best behavior. Now he's gone MIA but he has time and energy for WhatsApp and online dating.
And you're the one blaming yourself because you're not being understanding enough or because you're expecting too much?
Let's go there then.
You're not exclusive, you don't have any rights to him, all you're doing is collecting information about him so you can choose what you want to do with that information. Like whether you want to spend any more of your own time and energy on him.
So what is that information telling you? What's he like? What do his actions and his behavior tell you about his character? What does his pattern of being online while telling you he'll get off without addressing the fact that he's not telling you the truth because he just goes right back on line, tell you about him? What does all this tell you about how he's going to be if the two of you were actually dating?
See, we're so quick to excuse bad behavior and blame ourselves for reading too much into his, or to blame ourselves for not playing it cool enough or whatever it may be, that we don't properly look at what we should  be looking at; that bad behavior.
This goes back to our long-established patterns of not allowing ourselves to trust what we feel while we're trying to trust him when he's giving us no reason to! And then when we find we can't reconcile his behavior with that trust we're giving him, we look again to ourselves to blame instead of staying on his behavior.
You called it, Rachel. You said he's a player.
And then backtracked because when we confront someone like that, we're stepping outside of that programmed "good girl" behavior we're supposed to be on, and confronting someone with someone that "isn't nice" isn't what we're supposed to do.
That's why it feels uncomfortable and awful.
But instead of recognizing why – because you just called out what you saw and it was outside that comfort zone, you backtrack and get back to letting him off the hook while putting it back on you.
That's the hard part here, Rachel. And it's the part that underlies even the most typical situation like this one. It's only typical because it's how programmed we are to behave like this. We don't even notice what's going on.
Trust yourself.
Believe what you're seeing with your own eyes and ears. Don't let him distract you from what's real and what isn't. You didn't say anything wrong in asking for the truth. You didn't do anything wrong in calling it what it was. There isn't anything more to say to him because he's already shown you who he is and how he behaves.
Sure, you can miss him – or at least the idea of him and his potential. But I doubt you'd actually miss this behavior you're seeing from him.
Think about that. You already know what to do because you've already spelled it out for him – and yourself.
Hope this helps.
Love,
Jane
How about you? Do you have anything to share with Rachel? Let's give her our support in the comments below!