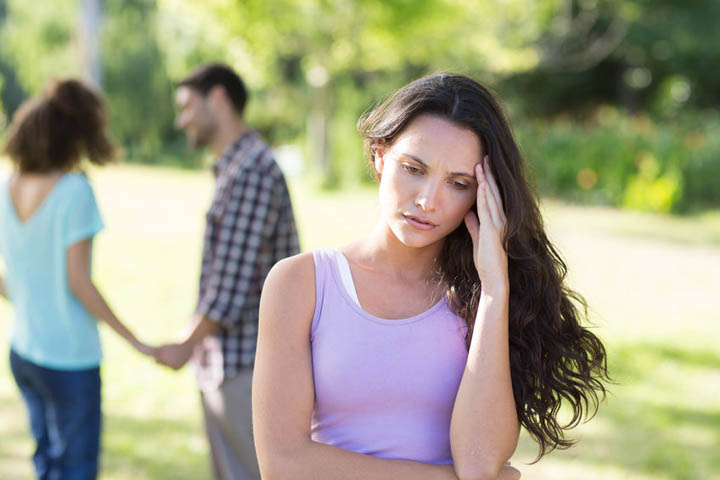 This week, I'm answering a letter from one of our gorgeous readers, who has chosen to call herself "Pieces of Me" (which I've shortened to Pieces). She feels like the guy she's been with for 6 years has only been playing her, with no intention of any real commitment.
Here's her story:
Jane, why is it so hard for me to let this guy go? Clearly he has moved on with his life... :((
This has been an on again off again somewhat relationship for the past 6 years. We met on a social dating site and the way he pursued me caught my attention because he seemed confident and consistent.
Soon after we officially met in person we instantly hit it off, but shortly after we became "official" the communication began to dwindle. I would bring it to his attention and because of our work schedules and me having kids it began to make it hard.
He never took me out all we ever did was hang out at his house, he always had an issue with money and he didn't have a car but I understood and really didn't make a big deal out of it, but after a while I began to feel insecure like did he really love me the way he said he did? Was he ashamed to be seen with me in public?
And to top it off I never met any of his family members or went to any of his family functions.
Yet, when I would try to break up with him from the lack of what I felt I deserved, he would hit the roof, like it was coming out of totally left field and he thought the relationship was going great.
We stayed off more than we were on and we would stop talking for 3 or 4 months and when I think it's finally over he would somehow randomly call or text me saying that he could never get over me.
I would catch him on profiles of other women on the dating sites and he would always say he's single and that he was looking for his "rib".
It hurt me because he would tell me that I was his rib and that he loved me, but did he really?
Jane, I really feel like I was played and I usually could see this type of guy a mile away but I guess what threw me is that he always kept coming back to me. I never pursued him even though I wanted to be with him, he always put his feelings out there to make believe that we probably were meant to be.
He was a man that had no actions to his words with me but when he was talking to these other women on the dating sites he was making an effort to take them out and get to know them, he talked about things with them that he never told me. I feel sad because I trusted him and that's very hard for me and it seems like I'm just left here in my feelings and he's moved on to the next.
I guess with my old-fashioned up bringing I still believe in true love in a world filled with some people who don't truly know what it means to genuinely love without playing games. I just feel stupid, at 37 years old I should've known better, by the way he's 46 years old so I thought for him the playing would be over.
- Pieces Of Me
My Response:
Oh Pieces, there's a reason you can't let go, no matter how much you've tried to. There's still something more for you to see. You're stuck in the "I feel stupid" part, the only part we feel like we have any control over, the part that's about you.
This guy has an established pattern here. He's predictable. You know what you're going to get with him. In the six years, he's established this pattern and he knows full well what your terms are and what he can get away with.
He's living the life, isn't he?
But you, this isn't the way it was supposed to be, is it? You look back, you look back on what turned into six years and you feel the weight of it all.
The playing is never over for those who only know how to play. He does what he does because it works for him. He knows how good he's got it. He wants you – but he wants to have his cake and eat it, too.
What this is really about, is you.
You feel like you should have known better. You're beating yourself up for what you should have done instead. You feel like your values are only reflected in a different time and place. You feel like who you are doesn't fit in here in this time and place you've found yourself in. How many of us echo your sentiments here!
Acknowledge every one of these feelings you're left with.
Write them down. Pour out your heart on paper. With every stroke of your pen, allow each of those feelings to be heard and felt and honored. It feels exactly like how you're describing it. Every one of those feelings are real!
We who live by our feelings understand you and what you're going through here more than you know. You're not alone.
What you're describing resonates with so many of us who can relate to those feelings, who've lived through a similar time frame where we, too, thought we could trust and believed what we felt and were left wondering how we ever got here.
What you feel, you can heal, Pieces.
Your heart that feels like it's being broken wide open is bringing you through to another place where you're going to find something so different from him.
We find our peace in accepting what we can't change. When we're in that place of peace instead of that anxious, crazy-making place where being with someone like this can't help but land us, we can think clearly enough to finally do the most loving thing we can do for ourselves. We find the courage to finally let him go.
You can't change him. You can't change the past. But what you can do is accept that you thought you could trust him, you thought he was different, and as different as he may have been, he still wasn't and isn't capable of giving you what he may have led you to believe he was.
It's so hard to accept when our hearts have been played, and especially when it's not the first time.
You're human. You deserve compassion and grace and understanding for what you couldn't see and didn't know how to see it before it had the power to hurt you.
Accept who he is. Accept who you are.
I can tell you that there is someone who's going to feel the way you do, who's going to have the heart and the will and the soul to be there for you and only you. Someone who will love you and only you.
Someone who you won't ever have to worry about catching online giving more of himself to someone else than he's giving to you!
That's not love. That's not commitment. That hurts! And he's taking away the time that you could be spending with someone else who shares your values, who's available right now and doesn't have it in him to ever play games with you.
Write him a letter you don't send pouring out your heart, getting down everything you want to say to him.
Write another letter to yourself. Write down everything you want to say to yourself. But then allow yourself to hear the voice of someone who stands up for that little girl inside you who's hurting right now, someone who loves you and accepts you just as you are.
Then I want you to look for those people who share your heart, Pieces. They're out there. We're out there. And one way or another, we always find each other.
Don't give up now. I hear this over and over again. We almost give up right before the good stuff happens. It doesn't matter how long it's been, it's never too late to do what you know in your heart of hearts you need to do for you!
What do think? Was Pieces played by a masterful player? Share your thoughts with her and the rest of us below in the comments!