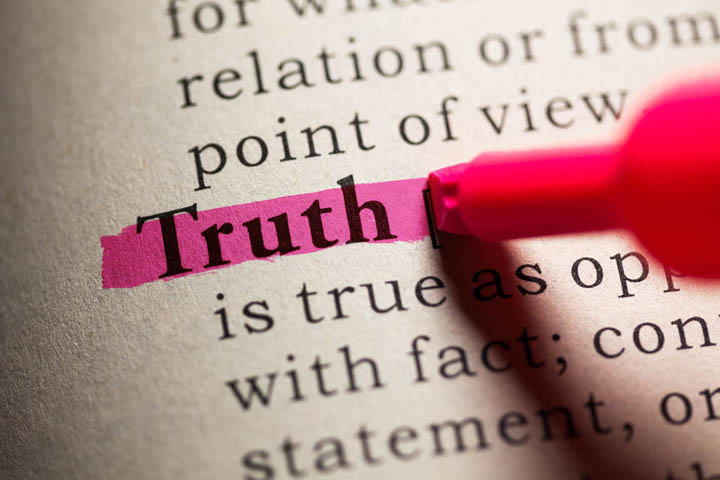 I used to be so afraid of the truth coming out.
The truth about whether he was really into me, the truth about who he really was, the truth about whether he was ready for a commitment and especially the truth about whether he would ever want to marry me and have children.
I'd always just assume we were on the same page because after all, we were having so much fun, and it was so much easier to keep enjoying what we had rather than ruin everything with reality checks.
So much easier to keep on going then rocking the boat with things that would surely work themselves out in the long run if we were meant to be.
Except that things don't just work themselves out when you're on two different pages. Except that reality checks are an important part of knowing what you've got – and who you're with. Except that we have to go through reality if we want a real relationship based on shared values and shared long-term views that will come through at some point whether we're ready or not.
Because life happens.
We find ourselves in situations we never expected to find ourselves in. We find ourselves needing real support, real love, in ways that we just assumed would be there for us.
Except they're not. Except that he's not. Except that it got too real along the way and now we're at a crossroads not sure what to do or say. With so much of our hearts and souls invested, where do we go from here?
Some of us stay. Some of us go.
But all of us learn.
We learn to listen a little more closely. We learn to watch with eyes open a little more clearly. We learn to  hear what isn't said as much as what is.
We allow ourselves to feel what we can sense behind the scenes even though the words may be there. And more than anything else, we learn to check in again and again with these very hearts and souls of ours that know so much more than we ever learned to give them credit for.
What we finally see comes out for a reason.
Not to hurt you. Not to throw your world into a tailspin because it was going so good. Not to punish you. Not because you deserve it. But for one reason only.
To show you what you need to see to know the truth.
The truth always comes out in the end. Who someone is always reveals itself at one point or another. Always.
We can resist seeing  it for a long, long time. We can deny it and keep sweeping what keeps trying to come through under the rug for an even longer time. But at some point, it catches up.
At some point, no one can avoid the truth. What we tried to keep neat and tidy is no longer neat and tidy but oh so real.
Don't be afraid of it, Beautiful. It's information. That's all it is.
Take that information and ask yourself if you can live with it. If it's worth it to you. If he's worth it to you.
Your answers matter. They tell you everything you need to know if you're ready to listen to them. The truth will always be there regardless of whether you want to see it or hear it or accept it.
What you do with that truth will always be up to you. But don't run from it. Don't be afraid of it. It has to come out. It's not happening to you, Beautiful. It's happening for you!
What do you need to see, to hear, to check in with yourself about? What have you learned? Every one of those things matters. Share them with us in the comments!