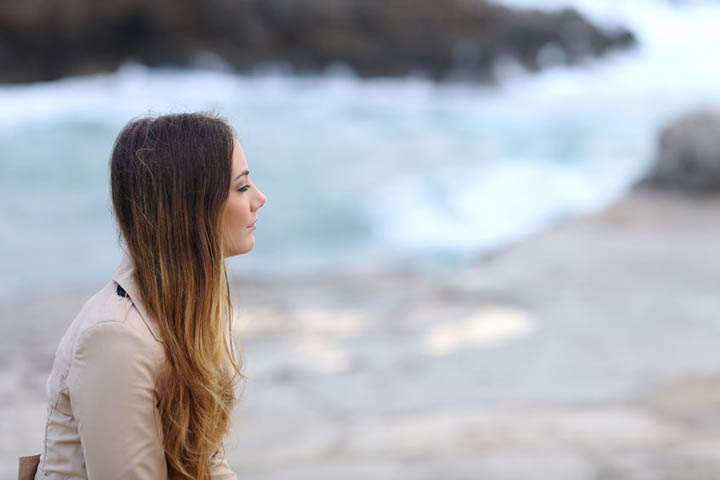 One of our gorgeous readers, who has called herself "RasberryRush", is feeling empty and sad that her ex has moved on, even though she knows he was not right for her.
Her story:
Hi Jane
I am baffled by myself, truly baffled.
My ex and I have been on-and-off for about 3 years now - he couldn't give me what I wanted in terms of a future together and I knew we were going in different directions in life.
We stayed intimate here and there (for the 3 years) and we would talk/text frequently every day. I think we fooled ourselves into thinking we were doing the 'friends' thing really well, but we weren't friends.
We were an oddly formed pair who acted like a couple in all but name.
Distance was a factor as we live around 3 hours apart - he's unwilling to move and for family reasons I can't. I feel like we knew we were each other's Mr/Ms Right Now as opposed to being the real deal.
So why then am I so totally crushed and angry that he's been out on a couple of dates with someone?
Since we met 4 years ago he's never dated anyone else, but he met a girl from my city online in the last week or two and traveled here to meet her. I gather things went well and I've made a conscious effort not to interact with him since.
Just before he met her I was chatting to someone online and my ex got very weird about it, saying he still had feelings for me (when I probed he said he didn't know if he loved me, just that he feelings for me and wished things had worked out). And now he's traveling to my city to go on dates with the new girl he's met.
This rage and emptiness is out of left field though.
I know he's not right for me, I know we want different things and when he first started chatting to this girl I even encouraged it because I want him to find happiness.
I wonder if part of me hoped one day we'd finally get it together and be happy?
How do I stop feeling so angry and empty and sad?
- RasberryRush
My Response:
Because what we know in our heads and what we feel in our hearts are two very different things, RaspberryRush.
There is nothing – nothing! – that gives us a reality check quite like seeing someone we didn't want to have to let go of – but knew intellectually that we must, move on himself. It bring out every possible emotion within us, even the ones that we didn't even know we had.
Allow yourself to feel these deep feelings. They need to be felt if you're going to move on from them.
It hurts. It feels so insulting. It feels  whatever it feels like to you.
Validate them.
Don't try to justify or excuse them away. Allow yourself to feel every one of them instead.
You may have told yourself that if he moved on, it would make it easier for you to move on. After all, you couldn't possibly have known what this would feel like without experiencing it firsthand.
Go easy on yourself here.
It's so easy to look back at what you could have done differently, but now is the time for compassion instead of regret.
This intense rage and emptiness usually comes out of what you're feeling more towards yourself than at him. Yes, he's the object, but there's always more when it comes out like this. Loving yourself through this, having compassion for yourself, accepting that you did the best you could with what you knew at the time will all help.
There's such a fantasy vs. reality part to this that we're rarely aware exists until something like this happens where he actually moves on with someone else and we see what's real and what no longer is the potential fantasy ending that he comes back to you fully capable of being everything you wanted him to be and wanting the same things.
Yes, this is exactly what a part of you still obviously was hoping for or you wouldn't be experiencing such an intense emotional reaction to his moving on.
What you're experiencing now is cutting through the fantasy of what could be to the reality of what absolutely is.
He's moving on. Without you. And with someone – ouch – in your own town.
That's painful!
Don't deny what you're feeling. It is painful. It absolutely hurts. How could it not? When you love like you do, when you feel like you do, could it possibly feel any less?
How do you stop feeling so angry and empty and sad?
Well, ironically, it's by allowing yourself to feel so angry and empty and sad. It's by writing out all those feelings as they come up for you, it's about journaling around everything you want to get out about those feelings as you feel them.
It's by listening to the music that makes you feel alive, and free, and expressive so you can feel not quite as alone in what you're feeling anymore.
You'll know those songs I mean. They're the ones written by the ones who experienced this, too. The ones who understand.
Find the tears behind the rage and anger and emptiness you're experiencing.
There's always our own fears behind such emotions as these and when you can find the fear, you'll find the release of tears that follow when you discover you're not as much angry as you are scared.
It's through our tears that the healing comes, the resolve comes, the strength to face the next moment comes.
He wasn't the one and you knew it, RaspberryRush.
Oh you might have tried to keep it going, you might have talked yourself into believing those differences could have been overcome. But in the end, the truth always comes out. That's why it hurts so much. That's why you're so angry and empty. You knew, but you didn't want to.
And you didn't want it to end like this.
Love, compassion, acceptance and validation. For you.
This is how you get to the good stuff. Going through what we always fight and never want, but always, always need to get there.
I hope this helps.
Love,
Jane
Do you have any other words of compassion, encouragement, and/or advice for RasberryRush? Please share them with us all in the comments!