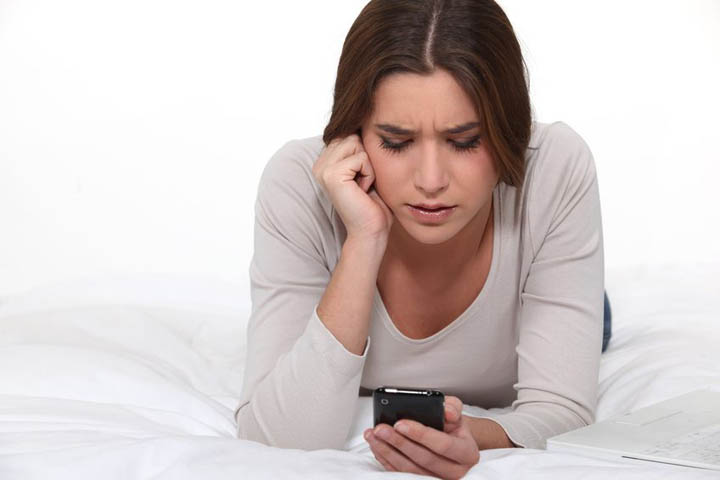 One of our dear, gentle-hearted readers, who has called herself "D", is an absolute mess after her long-time boyfriend simply disappeared on her, without so much as the courtesy of a phone call.
After over 2 years!
Her email:
My boyfriend of over 2 years has "ghosted" me.
Our last conversation ended with him saying, "Sweet dreams and have a good night".
All was good and thinking nothing was amiss, I called him the next night (we always spoke several times a day), and he didn't answer. I know he was on the other line because my call was placed "in waiting".
I called him the next day, and no answer.
I waited a few days (thinking maybe he wanted space??), blocked my number so it wouldn't appear on his call display and called him - he picked up.
I was so shocked that I just stared at the phone and hung up. He has made no attempt to contact me in 2 weeks. We were together for 2 years, and he's stopped all contact with me.
What should I do?  I'm a mess...
My Response:
How can someone just disappear after being together for over 2 years?
You know you wouldn't. You know you couldn't!
But it's not you we're talking about, it's him. How does he disappear without any explanation at all? Doesn't he realize just how much it hurts?
Let's take a closer look at what would make someone choose this kind of out, without talking to you about how he's feeling, about what's going on for him, about what he can't put into words, only into the action of ghosting.
How does it serve him?
Well, if he disappears, he doesn't have to talk about it. He doesn't have to deal with confrontation. He doesn't have to hear you tell him anything he doesn't want to hear. In fact, he doesn't have to listen to anything at all.
But doesn't he have to live with himself? Yes, absolutely he does!
So what this tells you is that living with himself for ghosting you like this must be less painful to him than having a dialogue about what's going on for him.
He ghosts you instead of talking to you because he doesn't want to talk.
He ghosts you so that he doesn't have to deal with your reaction because he can't handle it. After all, how can you NOT be emotional in your reaction if he's about to end things!
He ghosts you because it seems the better of any other way of ending this relationship.
But read what type of man we're describing here. This is what you can learn about him from his actions, which always say so much more than words ever can.
He doesn't want to talk.
He can't handle confrontation.
He can't handle any kind of emotional reaction.
Do you honestly want this kind of man? This kind of behavior? This kind of person to be the one you're in a love relationship with?
This is the point.
Whatever you may have thought along the way, now you know for sure.
What to do now? Look at this as a reality check.
Obviously things were not as they seemed. One day very soon, you're going to see that reality for yourself loud and clear, but now is the time to feel, to focus on you, to heal.
Take care of yourself. Every day, find something to do that reminds yourself how much you deserve to be loved and cared for.
Be compassionate, kind and loving to yourself. Make a list of all that you are and all that you have to offer someone. Just because it wasn't him, doesn't mean there isn't someone else who will be the perfect match for you!
Look at it as a gift. He's given you the opportunity to find what you really want, and now you're free to have it.
Don't overthink what happened. If there's something to learn from this experience, then take it and learn from it. But as for all those other things we always want to rehash and revisit until there's nothing left of our self-esteem, don't go there!
You did the best you could with what you knew at the time. Don't let his mess become yours.
I hope this helps!
Love,
Jane
Do you have any other gentle words of advice or encouragement for our dear friend "D"? Share them with her and all of us in the comments!