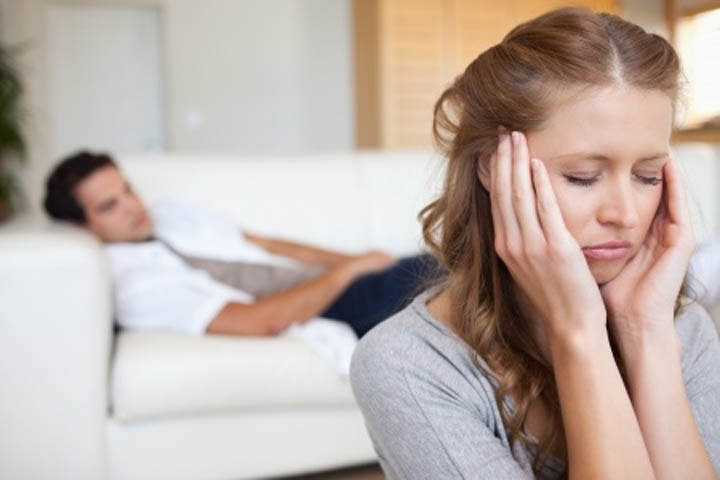 What do you do when your relationship seems to be perfect, then suddenly he says those words that you hoped to never hear again? Our letter this week comes from one of our beautiful readers who just experienced exactly that.
She has asked to remain anonymous, so I've decided to call her "Shocked", as I'm sure just about all of us can relate to how she's feeling.
Here's her story:
Hi Jane,
I hope you read this as I'm going to be as descriptive as possible.
I'm so confused.
I just met this guy about four months ago through some co-workers who are also his housemates. I am 23 and he is 29. I recently got out of a bad relationship which lasted a little over a year. He recently got out of a 3 year relationship a few months before he met me.
My co workers said he thought I was cute and everything but I had no interest. They left us alone and he asked to kiss me. I got so unusually nervous I didn't say anything an started laughing!
He kissed me anyway.
That night one thing led to another and well you know... afterwards I started laughing again and he asked why? We ended up talking about how weird it is to be with someone else after you're so used to someone else's body.
The next morning I wasn't sure what to do I thought it was a one time thing but we texted all day and I went over again we all hung out together and that's basically how it's been for the last three months!
I've met his parents. His sister and her husband. All of his friends.
Before I met his family I said it wasn't a good idea if he didn't see this going anywhere since every so often he would still talk about stories that included his ex. He expressed he wasn't ready for a relationship as did I.
I didn't want one either I knew we both just got out of things and it would just put more pressure on us.
He told me within the first month that it's crazy because he's never been like this with a girl and felt this way so fast and showed her off so quickly and that it was scaring him (his mom confirmed this) everything was literally going perfect.
We made dinner together, shopping together I'd help from his eyebrows and we were just weird together it felt so natural. I mean hell he even talked about marriage and kids and once even told me we should have a kid together!
Which of course I never really had much of a response other than my point of view as I didn't want to come off as the crazy girl talking about all this to quickly but then three weeks ago on a Tuesday morning he invited me to a wedding which was two in a half weeks away.
That Friday morning I bought my dress and that afternoon his texts became weird. He was walking about my question to meet for lunch.
I ended up going to his house after he got off work and after about 15 minutes he said "I think we should slow things down".
I instantly felt awkward and uncomfortable and he exclaimed how he's really bummed out and confused as to why he's feeling this way and that he's not happy with where is life is because he's almost 30 but that when he's with me he doesn't think of any of that and he said when he's not with me that he's miserable.
He said he talked to his friends about how he has the perfect girl in front of him and he feels stupid he doesn't know what he wants.
He still wanted me to go to the wedding. I said I had to think about it.
That following Tuesday I went over to talk to him and told him how it made me feel and that I just needed to know if he saw this going anywhere. He said he wanted to say yes but he wasn't sure (he's very upfront and forward which is not my excuse for him. He actually is.) He told me "I can seriously see myself with you" which is also told my coworker within the first month.
I asked if he wanted to be friends and he just looked at me all puppy eyed and said yes. He wouldn't stop texting me and I was so hurt I said I couldn't just be his friend and basically cut off contact.
I listened to our mutual friend that said that's a terrible idea. I opened that line of contact again.
We haven't talked about us (it's been almost three weeks since we've seen each other) but he still texts me.
He said he hoped my interview went well and was very excited I got the job he's telling me the steps he's making to make his business dream come true and he's thankful I'm excited for him etc. but being a woman I'm still here thinking so does he still like me? Was he scared?
I know he said he still needed time to grieve over his past relationship which upset me because I had talked to him about this before I met everyone and told him he needed to let me know if I should take a step back. He said no.
But up until that Friday when he said those 5 shocking words there was no sign at all. It was great...
So I guess my question FINALLY would be as before, does he still like me? Was he scared? Should I keep talking to him? Should I even ask to hang out?
The lot of questions I'm sure you can figure I'm thinking...
Jane, as long as this was I really need your advice. I don't want to say that I thought he was the one because I know that if it doesn't work out I'll still be happy either way.
I mean the first time I initially met him I thought he was so annoying. We laughed because neither of us thought that this was going to happen and that both of us would have so much in common.
I could see something special coming from this one and I just want to see if you can give anymore advice to me.
- Shocked
My Response:
Dear Shocked,
I chose your letter today because it hit so close to home. My home, that is.
And almost everything you've described here is very similar to my own story when I was right around your age. Except your story's going to be different this time because I'm going to tell you everything I learned about what to do in this situation after the fact; everything that I wish someone had shared with me when I was still going through it.
First of all, let's answer your questions.
Yes, he likes you. He still very much likes you.
Was he scared? Yes.
Is he still scared? Absolutely.
Does he want this to end? No, of course not. His actions and his words both line up to tell you that. But can he give you any guarantees? No, that's the one thing he is sure about.
He doesn't know and he can't promise you the words, the  plan that you're asking him to.
See, what happened here is you caught him off guard. He's almost 30. He feels the cultural pressure that by now he should know where his life is going, he should know what he wants to do with his life, and he should be doing something about that in a way that the culture expects that to look like.
But he's own his own person.
And probably a sensitive one at that. He feels that pressure. He takes on that expectation. And as he said, it makes him miserable.
But with you, everything's different.
You give him hope. You make him feel lighter.
The weight of this pressure becomes so much more bearable with you in his life. He didn't know. He couldn't have known. That's why he told you what he did.
That's why he introduced you to his family even when you said you didn't want to meet them unless there was a real reason to. He thought there was. And more importantly, he thought he was ready.
We're not the only ones who can do oh so much for a feeling, Shocked. So can he.
Until he can't anymore.
Until you bought your dress for the upcoming wedding that Friday morning when his texts became weird. He sensed what you were feeling even if you didn't say the words. He felt it, too.
And suddenly, in light of the event – a wedding, after all – everything came to a head. This was getting serious.
He knew you had been clear with him and he had been equally as clear with you. You both hadn't wanted a relationship – or expected to find one in each other – but it happened.
He hadn't been ready. And he thought you weren't either.
But as long as you were keeping it light and funny on the surface, you could both laugh about it even as it was happening. Until he couldn't keep it light anymore. Until he realized this was getting more serious and he was going to have to live up to his end of the bargain – the one where he doesn't lead you on, doesn't hurt you because after all, that would make him a terrible human being.
And that's what he felt when he said those words to you, "We should slow things down"
So here's my answer to your next questions:
Yes, you can talk to him. Yes, you can suggest hanging out. But most importantly of all, slow things down!
Way down.
You're playing house with him. You're sleeping with him. You're acting like you're already married to him.
Don't beat yourself up about it – because I get it,  I know  – yes,  he went along with this as much as you. But beginning today, back up. It's only been 4 months.  Three to four months is the most common time this happens.
Start today.
Get to know him better. Date him. Don't be so quick to sleep with him.
Focus on going out on dates – group dates would be best. Get to know him as a friend. Get to know who he is. Allow him to get to know who you are. The more you get to know him, the more he gets to know you, the more you'll know if he really is someone for you.
And you will know!
But don't ask for promises he can't make to you.
Here's my caveat; if you need those promises from him, if you need those guarantees, then this isn't the guy for you.
He can't give you those right now. And he doesn't know when, or even if, he's going to be able to.
If you can't stop yourself from putting all your eggs in one basket – him being the basket – then this isn't the guy for you. Don't waste your time if you simply have to know, if you can't be like this with him and still be true to yourself.
Because pretending you can do this with him, when you can't, only leads to resentment and more misery down the road. That's a whole other post – and yes, I wrote that one already.
Will this work?
I don't like the word "work". Because how you define this "working" may actually be the opposite of what it means to actually work the way you would want it to if you could see into the future. And what may make you say "it didn't work", may actually be it working more beautifully than you could ever have imagined it too. But that's another post, too.
You'll know more in time. So much more.
Don't stop living waiting for that time. Live your own beautiful life through this time. He's going to do what works for him.
It's up to you to do what works for you.
Love,
Jane