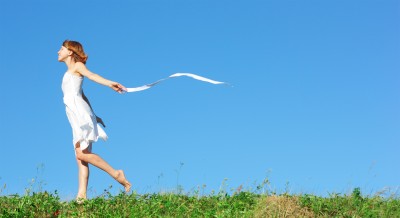 We all have times when we feel like I'm just not sure if I can do this, or Who am I to think that I can be like that. It seems like such a stretch to think of ourselves as strong enough, or good enough, or just enough in general to aspire to actually be or do something outside of our comfort zone.
I had felt this so many times when I was single, it was like an old friend. Who you do think you are that he would choose you? Why would he want to commit to you? What could you possibly have to offer him that would make him want to be with you? It was enough to squelch what little self-confidence and self-esteem I had managed to muster up, and once again I would find that I was looking outside of myself for someone to validate me. Someone to give me permission to be all that I knew deep down inside I really already was. Someone to set me free from the mold of pleasing and being what everyone else wanted me to be. Someone to give me permission to just be me!
Because it wasn't just about being enough so that he would choose me. It wasn't just about being with a man; it was about the feeling I got from being with someone who I felt gave me that permission that I was looking for, that I was craving. I could only feel confident, feel like I could be all that, when I was with someone that would give me the validation I couldn't seem to give myself!
I hadn't thought much about why I had been so attracted to men like this until just the other day, when I picked up a copy of Spirtuality & Health magazine while in the checkout line at the grocery store. A headline had caught my eye, and I picked it up and started perusing. I couldn't stop reading as my husband and children took over loading the groceries onto the belt, and I still didn't stop when the cashier leaned over with a smile on his face and scanned the magazine, still in my hands, as he said "If you're enjoying it that much, I can't let you walk out of here without it". I smiled back, knowing that he realized what I was reading was resonating with me on a huge level.
What I had been reading with such intensity was an interview with Elizabeth Gilbert (author of Eat, Pray, Love) where she was talking about how many of us tend to have this belief that we need permission to do things. She went on to discuss how she was brought up by unconventional parents who taught her the opposite: that she could do anything she set her mind to and didn't ever need permission.
Aha! No wonder she could eat, pray, and love so effortlessly!
She had been set free a long time ago by the messages she was given as a little girl. No matter what mistakes she felt she had made along the way, she could move on because she didn't need anyone's permission to do so! What a message! Everything she said resonated with me and I found myself wondering what I could have accomplished, what I could have been, how I could have learned so much of this without going through it all the hard way, if I had been given the message "you don't need anyone's permission" from the beginning. What a different journey my path might have been!
And it's the same for you! You don't need anyone's permission to be the beautiful, radiant, confident woman that you are. You don't need anyone outside of you to tell you it's OK to do those things you already know that you can do. That knowledge may be buried deep down inside under your fears and your programming, but it's there.
You don't need anyone to give you permission to try new things; to give you permission to fail; to give you permission to ultimately succeed. You have it all inside you, my beautiful friend. You can give yourself your own permission to do whatever you want to do or become or be! You know this inside. We all do.
You never, ever need anyone else's permission.