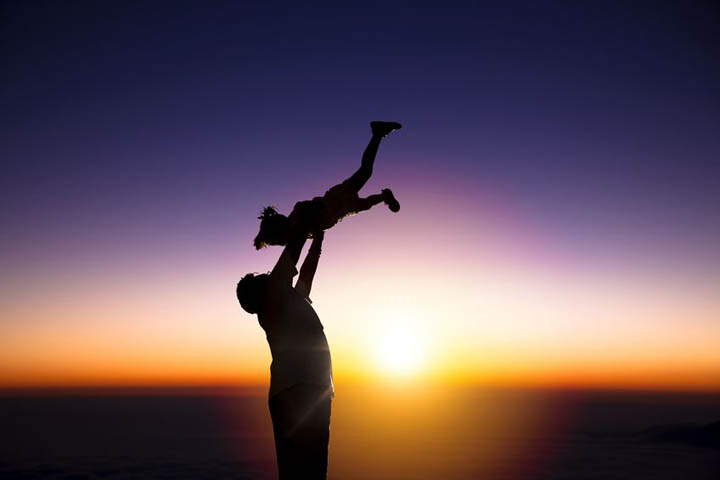 If you don't get to the root, nothing changes. If you don't find your "why", you can't know where to look.
And if you don't like where you are today, change it.
How? Find your why.
Why do you keep falling for the same type of man? Why is this man so attractive to you? Why him, and not someone else?
And more specifically, why do you believe so strongly that you NEED him? What is it about him that has you putting up with things you said you'd never EVER put up with before there was him?
Most of the women I work with discover right away that almost every single one of these questions has a common denominator – and it's not her we're talking about here. It's a specific man.
Namely, the man known as her dad.
And for as much as we have heard the term "daddy issues" before, the truth is this doesn't have nearly as much to do with our father's as it does to do with us.
The daughters.
We're the ones who fell in love with our dads as little girls – he's the first man we ever loved.
We're the ones who only ever wanted to be loved by him.
We did everything we could to make him proud of us, to be so impressed with who we became.
Except, Beautiful, this all came at a price.
That root cause you're looking for? It's all here.
The desire to please to be loved that became a habit.
The need to win an emotionally unavailable man's approval to feel like we were finally worth something.
Except it never came.
There was no approval, except in thinly veiled words that held no real or lasting weight and only lasted until the next time.
How much of this was ours, and how much was his? We can go around and around in circles on blame, but that's not my point here.
The point is, if you weren't the beautiful, soft, sensitive-hearted soul that you are, you would never have absorbed the messages that you did.
The messages that said you had to earn the right to be loved. The messages that said you had to be something other than your authentic self to earn something like unconditional love.
You've heard me talk about him before, this man who did the best he could with what he knew at the time – and what was modeled for him as a man in his own father and in the fathers in our culture – and how forgiveness is the only end result here that allows us to ever truly move on.
No, he doesn't change, or rarely so, but we can end the effect his actions and inactions in our direction continue to have on us.
It's called looking here. Looking at these patterns.
Recognizing that every single one of these men we've been choosing who have nothing more to offer us than potential that never pans out any more than our dads were capable of change, simply represent the dad's whose potential to love us unconditionally the way we longed to be loved for ourselves, never panned out either.
It's the chance to do it all over again with someone who shows that potential anew.
It's the opportunity to prove that we're still worthy, still worth it, still deserving of that unconditional love.
That's your root, Beautiful. Right there in front of your lovely face and even lovelier heart.
There's a part of you that's known it all along. That's why you can't resist. The thought of changing what you were never before able to change before has you all in. The very idea of proving to yourself a worthiness of love you were never able to prove before gives you every reason to try harder.
You can do this, Beautiful.
You can own your why even as you set yourself free from it. You don't prove your worth in achieving what someone is and never was capable of giving you. There isn't anything to prove and there never was.
There's only you, Beautiful, Confident, Radiant You.
EXACTLY as you are. EXACTLY as you were always meant to be!
Now it's your turn. Have you found your own "Why?", Beautiful? I want to hear from you! What is this going to change for you starting right now? Share it with us all in the comments below.