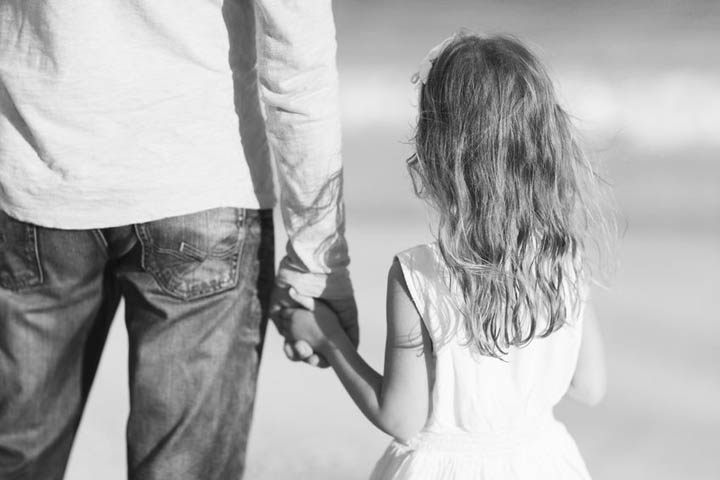 You're a little girl again.
He's coming in the door after work. You run as fast as your tiny legs can carry you to meet him. He catches you in his arms, picks you up and swings you around. You're daddy's girl; he adores you.
He comes over to your little play kitchen where you've made some special pretend cookies for just the two of you to share. He sits down at your little table and you pretend to eat them together.
You're growing up. You're a teenager now.
Your dad has just arrived home from work. He knocks at the door of your room. "I've got a surprise for you", he calls.
You open the door, and there he is, holding two tickets to the sold-out concert your favorite band is playing. "We're going!"
And no, it's not strange to be going with him. He's the coolest dad around because he's been with you from the start. Never letting you go, always being there for you, always showing an interest in your world and in all the things that matter to you.
It's your 21st birthday.
Your party with your friends is happening later, but right now you're meeting your dad at a very special restaurant. He's got reservations for the best table in the house.
He picks you up in his just-washed car, opens the door for you and hands you a beautiful bouquet of red roses.
Over dinner you talk about all your dreams for the future. He listens intently to you, and then tells you his own stories from when he was your age, when he had his own dreams and plans. Afterwards, he drops you off at the surprise party your friends planned for you. Yes, he was in on it, too.
It's your wedding day.
You're walking down the aisle with your father at your side. He's holding your hand firmly in his while you're holding his arm. He's the proudest father in the world right now. The man you're about to call your husband is waiting for you, and your father is so happy for both of you.
You've taken your time to really get to know him, and he's your best friend as well as your fiancé. He and your father have become good friends, too, because after all, these are the two most important men in your life.
With tears in his eyes, he gives you a kiss and places the hand he just held into the hand of your soon-to-be -husband. "I love you, Beautiful", he whispers in your ear. "I love you, Dad," You whisper back to him. It's the beginning of your very own happily ever after.
I'll never forget the scene from He's Just Not That Into You where Jennifer Anniston's character has just broken up with her long time boyfriend. She was at a family engagement party celebrating her sister getting married, and she runs out of the room in tears. It's her father who runs out after her, seeking her out, taking her in his big strong arms, holding her, reminding her of all that she still is, all that she still has to offer, and giving her words of hope.
How many of us have longed for that? How many of us would have given anything to have our fathers pursue us like that, seek us out like that?
Yet, in reality, it's just another fantasy for most of us. And instead, having never known what it feels like to be pursued like this by our dads, we set about chasing after men who remind us so much of our dads in the hopes that they will eventually turn around and pursue us.
It's our attempt to finally prove ourselves worthy of that first love we never could quite win over. And it's why we find ourselves in that all too familiar place time and time again.
Always about us, never about any "him". Piling on the rejections, proving to ourselves each time that there must be something wrong with us, without realizing that we could choose someone different, that it's not our role to make anyone love us, as if we ever could.
What is there about love in that?
It's time to accept the past as it was, to accept our dads as they were. It's in that acceptance we find our peace, and it's in that peace that we stop the endless seeking, the repeated choosing of yet another man who resembles that hope of trying to make someone love us the way we long to be loved even as he is incapable of doing so. It's time to set ourselves free from this need to do this to ourselves anymore.
You see, your father might not have been able to give you what he himself had never been given. He might have never been given any other script than the only one he knew, but if he had been able to, if he had been capable of something more than what he was, he would have.
Let's imagine that, instead.
Happy Father's Day, Dad. To the Dad you are. To the Dad you will always have your reasons to be.
To the Dad you will always be in my own mind to me. I love you.