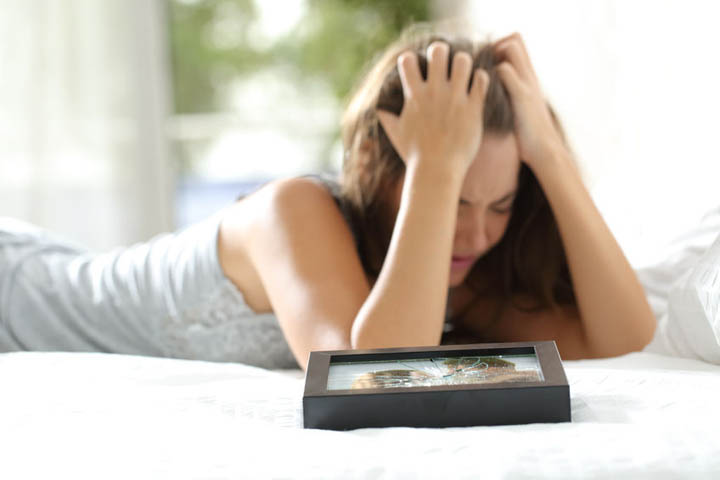 This week our letter comes from beautiful Rainie. Her on-again, off-again relationship recently ended over the holidays (why is it always over the holidays...????) and she's devastated.
Here's her email:
I met this guy online five years ago.
We both had not been in a relationship for many, many years. He was working 7 days a week in his own business and I had a son who had disabilities and was devoted to him. We both had our commitments that prevented us from seeing each other a lot but we would communicate each day, most days of the week anyway.
We were each other's support to a certain extent.
Two years after we first met we had a fight and went our own separate ways. I was devastated at the time... A year later he contacted me again and we ended up being in the same sort of relationship as previously which was suitable for both of us.
Two years have past since then and we have drawn closer to each other, more than before. We live a fair distance from each other, so with his work commitment and my commitment to my son we did not see each other that often.
We would just email each other all the time.
However, I checked on a dating site one night and found his profile was active on there. I asked him why this was, to which he replied that he worked long hours, seven days a week, and he was just using the dating site as a social outlet, as he often got lonely working by himself and just needed to socialize with others.
I was upset and said I thought I would have been enough woman for him. He said I was more than enough woman for him....and I was the one he came to see...etc..
I accepted this but it continued to play on my mind and did not feel that this was acceptable... So, the weekend before Christmas, I wanted to see him as I had not seen him for awhile. Work pressures had been bad and I emailed to find out if he was coming over.
When he indicated by email that he was not coming over, I lost it and was really angry with him, to which he responded "I am done with the way you speak to me, goodbye"..... and I have not seen or heard from him since...
I have apologized a few times for my behavior but no response....
I have since sent him a message telling him that I had thought about it and was not sorry for the things that I had said and told him I felt the friendship we had would have lasted through him seeing me have a meltdown at Christmas...considering he knew what I was going through then, but still no response....
I have now not been in contact since sending this message over a week ago...but am really hurting that he has not been decent enough to contact me and I'm finding it hard to stop thinking about him...
I have joined an online dating site but find it is difficult to be interested in someone else when your heart belongs elsewhere....
I would really appreciate your thoughts about this relationship (or lost relationship more like it!)
Many thanks.
-Rainie
My Response:
Dear Rainie,
When someone you're supposed to be in some kind of relationship with tells you they're on an online dating site solely for social connection, promise me next time you're going to run as fast as you can in the other direction. Because that would have been a totally appropriate response to his answer!
You simply can't lose someone who doesn't choose to be lost. And this is a man who was - and is - so lost. Lost to the point that he actually believed he could tell you he was using online dating for social reasons and that somehow made it alright. This obviously wasn't the only thing that was wrong here.
You're absolutely right that the friendship you had would have enabled him to handle your response to him IF he was on the same page as you.
But he wasn't. And he's not. He showed you that. Clearly.
And I have a feeling you sensed it as well to some degree, even if there was enough positive reinforcement to give you reason to believe you could make this work with him.
"I am done with the way you speak to me, goodbye."
That statement tells you everything that was wrong here. When you called him out on the truth, he couldn't handle it. When you confronted him directly and wouldn't accept yet another one of his fluff-filled answers, he turned it around and called you out instead.
This is called projection, Rainie, and it's what a man does who can't look within himself for reasons that have everything to do with him and nothing to do with you.
He knew he wasn't being honest with you about why he was still online. He knew that his answer was a weak one – and one he was ashamed of if he was able to admit that to himself.
Your response – aren't I enough of a woman for you? – speaks volumes. Yes, you were enough. You ARE enough. But only for someone who's on the same page as you.
I can't stress this part enough. In fact, it pains me that you even went there, because it's such a cultural enigma that this is the very first place we go when confronted with the idea that someone might still be looking at other women. Not to question whether he's enough for us. No, but right for the jugular where we ask if we're enough for yet another him.
It wasn't that you weren't enough. It's actually not about you at all. But what this really tells you is so much about him. This is a man who either needs to know that he's got options to prove himself man enough, or keeps that online database handy to keep some amount of space in your relationship, because he's not capable of getting too close emotionally to one woman who has so much potential for a real relationship.
Regardless of what his reasoning is – and I don't believe he understands it himself, because most men don't – what you've got is someone who isn't in touch enough with his own feelings. At least not enough to both admit them and be honest with himself.
And that means he can't be honest and upfront with you, either.
The way he said goodbye shows you the man he really is – and who I suspect you've known he is deep down, even if you didn't want to admit it to yourself because of the potential you saw in him.
What kind of man ends things, with no warning, when his excuses don't fly with you anymore and you finally call him out on his actions? What kind of man disappears completely after that and doesn't even respond to your emails after to smooth things over – or at least end things in a more civil manner?
A man who's scared.
I can't tell you just how wrong we've got our men, Rainie. We put them so high up on a pedestal, deferring to them.
We believe that they've got so much more to offer us than we do them, that we miss the fact that most of them are so ill-equipped to be in real relationships. Relationships where there's no sweeping under the rug all the messy parts that are always there in a real relationship between two very real human beings.
Men feel such pressure to perform, to be these macho, strong, unflinching men who handle anything and everything with calm, practical dispositions.
But the problem is, they're all very sensitive underneath, and unlike us who've been allowed to be more human in terms of how we experience and express our emotions and get support from other women, men not only haven't been shown how to do this, but they've been told there's something wrong with them if they do!
So closeness – and especially emotional closeness that comes from getting to know someone in a real relationship the closer you get - poses a problem for them because they haven't learned what to do with the feelings that come up for them and between the woman they're in a relationship with.
And if they can't handle or allow for their own emotional expressions, there's no way they can handle another human being, let alone someone who they're in a relationship with.
Instead of admitting this, or communicating about it – while some men are able to admit where they're at here – most men feel a certain amount of shame around this inability on their part and instead use different distancing means to cover up this lack in themselves, rather than expose themselves and their shortcomings in this area.
Ironically, it's because of that pedestal we've put them up on that they sense and feel such pressure to live up to.
It's so understandable that you're having a hard time not thinking of him, and that you have no desire to even think of dating anyone else when your heart still belongs to him. But that's because of his potential, Rainie, and it's important to remind yourself that if you could just stop thinking about him, you wouldn't have been interested in him in the first place.
The fact that you cared enough about him to have as much of a friendship/relationship that you did, is because of the many positive qualities he exhibited.
Most of these men are good men, who would make great relationship material, if only they were able to look within, to see the realities of the cultural male programming that has affected them and their relationships so deeply to their core.
But the fact that they can't or won't or are incapable of becoming more than mere potential, is the reason why we need to put them and the relationships with them that we started with so much hope, into the proper perspective to enable you to make the best decision for you.
The bottom line, Rainie, is that if your explosive response to him - that had obviously been building for awhile because you didn't have the kind of relationship where communication was easy and sharing your feelings and heart was easy - was enough to derail whatever the two of you had, whatever the two of you were building together, then there were obviously other underlying problems that needed to be resolved before you were ever going to move forward from this place.
If one of you wants more than the other, if you're both not on the same page, something will always cause it to eventually fall apart. You simply can't be the only one in a relationship who wants it to work.
I hope this helps, Rainie. You deserve so much more than someone who could end your relationship like this!
Love,
Jane
Do you have any advice to share with Rainie? I know so many of us have been here. Tell her what you'd like her to know in the comments below!