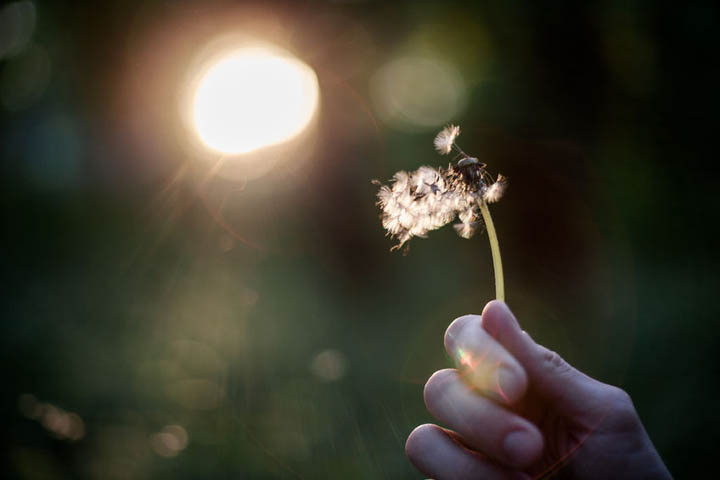 Keep going. Keep moving. Keep walking. Don't look back.
You're going to be okay.
You're going to get through this.
You've got this!
Whatever our mantra happens to be, they all say the same thing.
Let go. Leave it in the past. Don't keep holding on so tightly to what you should have said or done.
But the problem is that for all our well-intentioned words of inspiration and support, nothing cuts to the heart of how we actually feel.
As in trapped.
As in hung up. As in hopeless, helpless, desperate and completely lacking in the get-up and go determination to actually get through this moment in time!
And how can it be any other way?
When you feel so much when you're with someone, of course you're going to feel so much when you're not with him. It doesn't matter whether he ended it or you ended it because you had to; the truth is this was never the way you hoped it would end and nothing anybody can do or say can make this easier on you.
Especially when the one thing that haunts you more than anything else is everything you could have done instead!
What do you do with that?
Here's what you do.
You recognize something that most of us don't readily have on our radar.
You're not perfect.
No, not perfect at all. And this person you're having so many regrets over how you lost him - and what you lost him over - he isn't perfect either. In fact, the less he's able to tolerate your imperfections, the more this speaks about how far from perfect he is!
Read that again.
The less he's able to tolerate your imperfections, the more imperfect he is. And the more it reveals the only type of relationship he's able to tolerate; one that's based more on an image of perfection than on anything to do with a real, honest, imperfect definition of love.
This matters so much in how it contributes to your narrative around how or why this relationship ends or why it seems like it was so cruelly taken away from you. There is no place we bring more of our issues than to our love relationships because we all have such a deep innate desire to be loved.
And because we all also bring our definitions of love, our programming and responses to love and what it means to us, this is where our vulnerable selves come out.
Love is vulnerable. Relationships need to be a place where we can be vulnerable. If you can't be yourself (your true self) then what are our relationships for?
This is the perspective I want you to have. I've been in every kind of surface relationship where you have to be on your best behavior to make it work. Where you have to remember every day to check yourself at the door lest you let something get out of place.
Where you have to reign yourself in to make sure you're not too much or not enough of something in order to maintain the status quo and not rock the boat.
You know where these lead?
Just ask any of the heartbroken women on here and they'll tell you. It leads to smiling on the outside while you cry far too much on the inside. It leads to where you pretend everything is fine on the outside, while on the inside, a little more of you feels like it dies every single day.
Looking at the past in this light is how you leave yesterday behind.
You're so much more than who you were yesterday. You're who you are right now, today. You've learned so much. It doesn't matter that you learned them the hard way; it only matters that you see now. You've come so far and gone through so much already.
Now you're ready to see something real, to create something real. Today.
Love of the perfect kind, with two people wearing masks of perfection or whatever other masks they may be, doesn't work. The more we demand of someone else, the less tolerance we have for ourselves. The less compassion. The less understanding.
The less everything.
When you're with someone who holds you to an image, a standard, an idea, that you – the real you – will never be able to live up to in the long term, it doesn't work. You simply can't take someone who isn't capable of being what you want him to be and make him into what you want him to be. No matter how much you've been told you can, you can't.
This is what it means to let go of yesterday.
You see this. You wake up to this. You see that this is essentially the underlying reason that this wasn't working, that it hasn't worked in the past, and you see the way this was a thread woven through every one of your yesterdays.
You can't take nothing and produce something, much less any kind of something worthwhile that you've been waiting for your whole life. No matter how much this is precisely what we've been told to do, in the context of a real relationship with two real people, this isn't how that someday becomes today.
You're ready for something new because it's time. You're done with believing what everyone else keeps trying to tell you, because it's time.
You can't keep moving forward when you've still got one eye on the past, on yesterday and what you're still regretting you didn't do or say. None of us can!
So now, while there's still a little time left before you say goodbye to another year that didn't turn out the way you wanted it to, you let it go.
Goodbye yesterday.
No more looking back. Thank you for the lessons, yesterday.  You're moving forward from here.
Love,
Jane
And you, Beautiful? What do you need to let go of from yesterday? It's time! You're moving on now. Tell us all about your journey in the comments below!