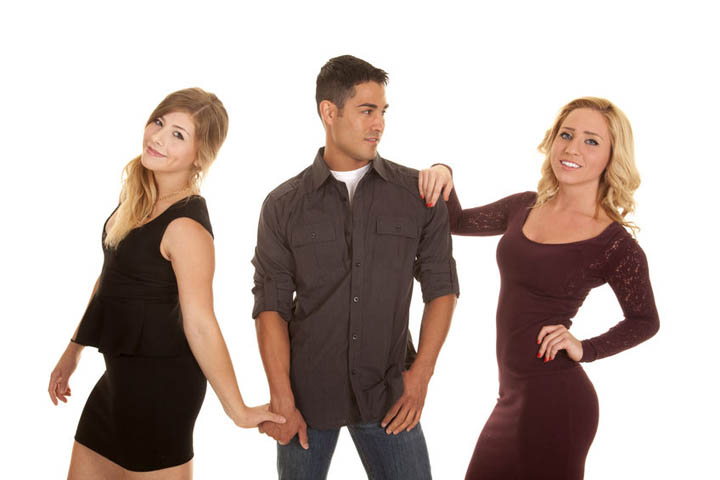 One of our gorgeous readers, who has called herself "A", has been dating a guy for a while, and now thinks he's dating other women. He says these other women are just friends, but she's not sure what to do next.
Here's her email:
Hi Jane! I am so glad I have found you.
I find this website very helpful and I think for most of us, its a relief, because from my experience I get really confused and that inner voice inside of me telling me "I don't think this is going to end well".
Well here is my question: from a guy's point of view what's the idea of dating?
Because I have been dating a really nice guy for a month now, he is 3 years older than me (I am 22), although age doesn't really matter and for once I thought, wow I think this is the one. This guy seems just right, with the way he treats you, takes you out, worries about you, talks to you everyday, I feel great every time I am with him and I think it's the same feeling from his part, anyway its the whole fairy tale.
Everything it's perfect.
Suddenly just out of the blue, I noticed on the social network that he is also dating other girls.
I felt horrible, because I have fallen completely for him, so yes it hurts. I was mad, and confronted him, he told me he never made fun of me and was not going out with anyone but me. So those pictures what? "They are just friends".
He also said he doesn't want to be with anyone at the moment, but we are still talking, although since that happened not with so much frequency.
So here's my question, if you are dating...do you have the right to ask for exclusivity, even if you are not in a serious relationship?
How do you set the cards on the table, without scaring him off? Because from my experience, when I am dating, I like to get to know that person, but just that person.
Everything seemed fine until I asked him what is it that you want with me if you don't plan to move to the next step (and I meant a relationship).
Thank you so much for your time, and will really appreciate if you could help me clear my mind.
-A.
My Response:
Dear A.,
I'm so glad you're here, too – and feeling that relief that finding something that finally resonates with what you know in your own heart to be true brings to you. Welcome!
This is such a great topic you've brought up here, because I've felt for a long time that every single one of us can benefit greatly from taking a fresh look at dating.
So let's back up for a moment and get into the background of what's going on behind the scenes here. We women, being the good little girls that we were positively reinforced to be, have been brought up to date one guy at a time.
To get to know him and only him, putting all our eggs in one basket and not dating anyone else until we find out if he's going to choose us.
No matter how far we've come as women in our culture, anything else still feels "slutty" even if we're not sleeping with anyone. And somehow we've assumed that he's doing the same thing if he tells us he is, if he tells us he's on the same page as we are, if he basically tells us everything we want to hear.
We don't question it.
And the truth of the matter is, most of us don't really want to know if it's anything different than what we want to believe it is.
But in our culture, there's a double standard that goes on. That men can date other women and it's OK. That they're almost expected to date more than one of us at a time if they can get away with it.
It's the old boys' club, guy thing that they prove how much of a man they are by how many women they can get.
So while yes, he's getting to know you better and deciding what he thinks about you, he's also keeping his own options open while he's deciding what's working best for him.
Not every guy does this, but it's important that we recognize that this is the general cultural mindset of this time and place we're living in so that we don't give our hearts and our bodies away too soon before we know for sure who this person is we've made into "the one", before we even really know him.
This is why I'm always concerned when I hear words like "fairy tale " or "perfect".
The reality is the only way to know if someone is going to live up to the potential you see, or be "the one" you think he is, or be capable of giving you the "fairy tale" you've always dreamed of, is by taking the time to get to know him well enough to find that out.
Anyone can promise you the world, anyone can say all the right words he knows you want to hear, anyone can put on an act to get what he wants, but it takes someone consistently showing you that he is who he says he is by his actions and his behavior over time, for you to know if it's the real thing.
And here's the most important part of all of this, A. You absolutely have the right to ask him for exclusivity.
But here's the catch. There's a way to do it.
You tell him what you're looking for. You let him know what you need from him. You own your own needs instead of looking to him to decide if you have the right to have those needs in the first place. Because you do!
That's the difference!
Because someone who's on the same page as you and looking for the same thing as you are is going to rise to the occasion and make sure there's no doubt that you're seeing that from him. But the guy who can't give you that – or runs away when you tell him what you're looking for – is making this so much easier for you even if you can't see it that way when you're in it.
He's showing you who he is. He's giving you a chance to see the real him. And that's huge!
It's not personal, A. We always think it is, but it's not. If he's not there, if he doesn't want the same thing you do, be so glad you're finding this out now before you've given any more of your beautiful loving, giving, believing heart away.
There's so much more I say on this subject in my "Beautiful, Confident, Radiant YOU" program, but I hope this helps for now.
You're doing the choosing, A., not waiting to be chosen by someone who isn't on the same page as you. It's not your role to settle for anything less!
Love,
Jane
What do you think our friend "A" should do in this situation? Share your thoughts with us in the comments!