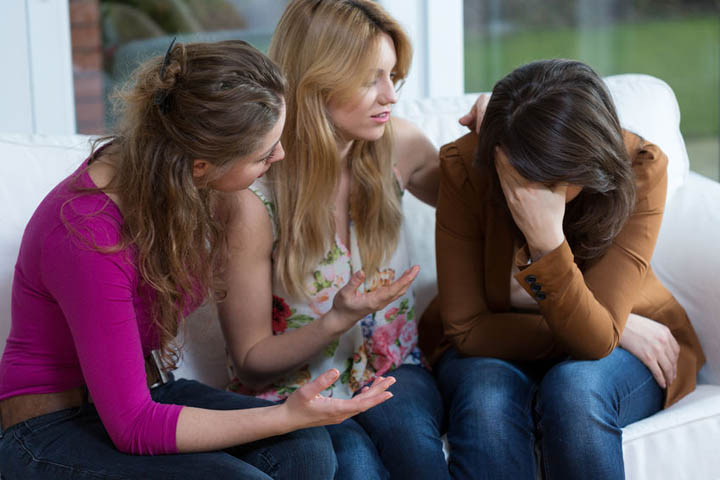 One of our beautiful readers, who has called herself "Stormy", has ended her 5 month relationship with an emotionally unavailable man, but now she's second-guessing herself.
Here's her story:
Dear Jane,
I'm thankful to God this morning for the person on my Facebook who shared your webpage.
You truly are a Godsend to me in this time of pain and heart-break I'm now going through. I've already been helped and blessed by some of the other questions and answers you've posted and I'm hoping you can offer a little advice for my situation as well.
Just yesterday, I decided to end an exclusive relationship of almost 5 months with a man I've fallen in love with. It was one of the hardest decisions I've ever made.
I'm now 28 and I have only ever fallen in love with a man once before in my life as a teenager through my early 20's. That took me years to recover from the devastation and pain because I believed God showed me that he was the man for me and the one I would marry.
Since that man, I've only ever experienced bad relationships that had bad endings and my friends never understood why I've been choosing bad men for myself when I'm worth so much more.
My first love landed me very hurt and burned and have caused me to carry severe insecurity and trust issues in relationships and I want so badly to break free from all of them and have a successful relationship and marriage.
I believe some of my own issues are the major reason I drove myself to end my relationship just yesterday.
The tension and stress from my insecurities and fears began to push my man away from me emotionally little by little. One major thing happened just last month that made me start to doubt if this was the right man for me. I fell pregnant unexpectedly and he freaked out because he's not ready to start a family right now and it's too soon.
So he told me he needed space for a few days and wanted to be alone.
I didn't contact him for almost a week and he never reached out to see how I was doing. I felt completely abandoned when I felt I needed him most. I tried to understand he just needed space because this was very hard for him.
A long story short I ended up miscarrying my very first baby and so I finally contacted him with what was going on. Once he knew there wouldn't be a baby in the picture he started up in the relationship again.
It was during that time he was alone that he got on a dating website and asked a girl out to coffee which they didn't end up doing. I found out about this later through his phone and was deeply hurt. We had never broken up according to him and so when I found that out I felt like I didn't know if he was trustworthy anymore.
My insecurities skyrocketed and I found myself almost going mad with wondering what he was doing when we were apart and wondering who he was talking to behind my back and wondering if he's been actually cheating on me.
I started wanting to look at his phone every opportunity I could.
He told me he never planned to meet that girl but that the pregnancy scared him so much and made him revisit some old wounds in his past. We were on vacation at the time and so I decided to just let it go with his explanation and enjoy the rest of our trip.
We just got back a few days ago and I realized I wasn't feeling secure with him anymore and he wasn't offering me any kind of reassurances to make me feel secure.
So a long story short, everything that had been bottled up came spilling out yesterday and I told him I didn't think I could do this relationship anymore and I needed a man more emotionally supportive and involved with me.
He told me he was very sorry for hurting me and didn't want to hurt me anymore.
He agreed that we should break up because there seems to be a lot of issues. He said my insecurities and suspicions of him from time to time have pushed him away. We had a very good open talk about so many things and we both cried and hugged and he told me he knows we both love each other but that isn't enough.
I asked him if we could both work on our issues and give it another try and he said he didn't know if it could be fixed and he felt it was the right thing to do to break up.
He is truly by far the best man I've ever dated since my first love in so many areas and does have a very kind heart. He's the first man my friends and family all like and we have a connection and chemistry.
I left his house with a very broken heart, torn between feeling like I had just made the worst decision of my life leaving a good man and thinking that maybe he really isn't the best for me and that he's right, there are too many issues to be fixed. I also feel like why isn't he fighting for the relationship and just agreed to let it end.
Maybe he's been looking for a way out and couldn't make himself make the first move?
Now I find myself missing him and wishing I hadn't let all my emotions spill out and make a decision to end it. Like maybe I just needed to give it all more time and learn how to let go of my fears and insecurities.
I wonder now, "did I make the right decision?" because I find myself praying he will ask me if we can have a second chance.
I love and miss him.
Any advice is welcome dear Jane.  Thank you.
- Stormy
My Response:
Dear Stormy,
Your beautiful words were so touching. Thank you. I'm so glad you're being helped and blessed by what you're finding here.
Oh how my heart goes out to you! I'm so sorry for your loss. What you've been through with this man in such a short period of time! However you find your way here, that you did, says so much about what you're ready to hear. We always find what we do for a reason.
There's something that happens to us loving, giving, caring women when we find ourselves ending something that showed so much potential, if only to us.
When all is said and done, and the dust settles, we allow the feeling of loss, of being alone, of being the one to finally speak up and say what both parties invariably already knew, to drive the fear that we've made the biggest mistake of our lives.
How familiar this feeling is to so many of us!
What this is about, more than anything else, is about trusting yourself, trusting your own gut instinct, your own intuition, to see that you do know so much more than you think you do.
There's a reason you had enough, a reason you couldn't continue this relationship anymore, with so many red flags, so many warning signs that we never want to admit are there when we're so focused on someone's potential.
With someone who's truly right for you, with someone who's on the same page as you are, who wants the same thing as you and wants that with you, the very things that make you so human will be the very things he loves about you!
You would never have been so insecure if you hadn't had every reason to be.
You would never have felt so compelled to check his phone if you hadn't been accurately picking up on some reason to.
You would never have been so mistrustful of him if he had shown you he was trustworthy in the first place.
Instead of questioning yourself, Stormy, question what you know to be true.
What are the facts? What was the reality of those 5 months you were together? When you needed him the most, was he there for you? Was this a relationship lived on both your terms, or only on his? What did he show you? What did he give you? What did he really do for you? What was there in reality to love? I know it feels like so much. And especially where you stand now without him, it always feels like so much. But what really did he give you - you who gave so much to him?
There's something far greater here to take from this that has nothing to do with him but everything to do with you.
You know what you know to be true even if someone tells you it's not. You sense what's going on behind the scenes of what he says or does on the surface. You can trust yourself, Stormy. Not just with him, but with anyone!
There's always something there if you sense it, always!
Love isn't complicated. You're not a tragic heroine destined to your fate. You're so very much in control here, if you allow yourself to be.
You choose the kind of love you want, the only kind you're willing to accept, and watch who shows up to give you exactly that when it's the only option you're offering.
Do what it takes to get to that place where no one can make you feel bad about yourself, where no one can cause you to question what you know to be true. That's where real love comes from. When your own cup is so full of the love that you give and bring to yourself that you're not so dependent on someone else to give it to you. It's simply a part of you.
Trust yourself, Stormy, by looking at facts instead of fantasies. It changes everything when you do.
I hope this helps.
Love,
Jane
Do you have any other words of encouragement or advice for our beautiful friend Stormy? Please share them with us in the comments!