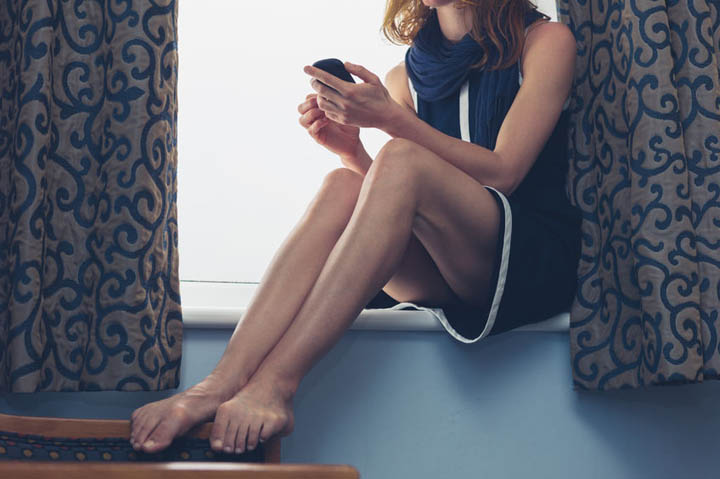 One of our many beautiful friends, who has chosen to remain anonymous (she has signed her letter "So Regretful"), is wondering if the emotional text that she sent to him caused their relationship to end.
Here's her story:
Dear Jane,
Someone I knew contacted me out of the blue after 20 years.
We were only friends then, never dated. He said he never stopped thinking about me and although he has a girlfriend  he said he wanted to spend the rest of his life with me. I had always thought about him as well.
Right off the bat he asked me to be patient with him so he could get things sorted out. He kept calling and texting me all the time. After 8 months of asking when I would be able to see him, I pushed the point and we finally met for lunch. It was great and the mutual attraction was definitely there.
We talked about being together in the future, our likes, dislikes, etc..
The holidays came and went and his texts became more infrequent and the calls stopped. He apologized and said he had so much going on but that his feelings had not changed. We continued to text but no calls.
Finally, valentine's day came and went without one text from him saying happy valentine's day.
We had been in contact for well over a year and he was professing his love for me yet couldn't take 5 seconds to text happy valentine's day. After this and him not having called in three months and essentially reducing our communication to text only and not putting any effort or attempt to meet me again - I broke.
I sent him a text saying good bye and that I wished him well. He did not respond.
Of course, I immediately regretted sending that text and sent him another apologizing. We talked a few days later (I asked if I could call him) and the last thing he said was for me to be patient and that good things come to those who wait.
It's been three months now without a text or call from him - he just disappeared.
I have not contacted him at all after that last call. I don't expect to hear from him again and know I have to move on, but I can't let go of the feeling that my impulsive emotional "good bye" text was the reason this ended!
Please tell me if that's even possible...
So Regretful!!
My Response:
Dear Regretful,
Oh, how my heart goes out to you.
There is nothing that keeps us holding on to the past than the regret of what could have been if only we hadn't done what we did.
No, your impulsive emotional "good bye" text could never have been the reason this ended! Never!
Take this harsh judgement and blame you've assigned to yourself and throw if off of you once and for all. You're free now, Regretful!
You were only saying what was already there.
Pointing out what he was already telling you by his words – and most of all, by his actions. Look back at the facts, of the real life realities of what your relationship up til that point actually consisted of.
Was it him communicating with you, initiating plans with you, letting you know without question that he was on the same page as you, sharing your own hopes and dreams and plans for the two of you? Did he give you no reason to doubt that you were both compatible in all the things that matter, and more importantly, that he was looking for the same thing in a relationship with you?
Or was this only the part you wanted to believe?
Did you imagine, especially now, looking back, that there was so much more there than there actually was? Was this one of those "potential" relationships that never got off the ground because you were the only one who in reality wanted it to?
Look at what you've written here.
After the holidays his texts became more infrequent and his calls stopped. And then the excuses began – too busy, so much going on. He didn't even have 5 seconds to text Happy Valentine's Day to you.
You knew, Regretful.
What you said wasn't some emotional, impulsive goodbye. Instead, it was your voice finally expressing in what you're calling that fateful text, what your heart and your soul – and your mind! – already knew.
How could you not?
His actions were so clear – to everyone else except us when we're the ones in a relationship like this.
We never see it until it's over. And even then, we spend more of our time seeing through rose-colored glasses what still might have been if only we hadn't sealed our own fate like we did.
You merely spoke the truth, Regretful. There was nothing to hold onto.
He wasn't there. He hadn't been for three months. No effort. No attempt to reach out. Of course your finally broke – or became strong enough to call it like you were finally willing to see it – for what it was.
It was already over in his mind. That's why there was no response. There was nothing to respond to that hadn't already been settled in his own mind. Not because of you, but because of him!
You deserve so much more than some cliché of how "good things come to those who wait". Good things come to two people on the same page who want the same thing with each other and are willing to do whatever it takes to make that happen.
Time to let this one go, Regretful. Time to free yourself in the process. You were never meant to be the only one in a relationship.
Love,
Jane
Do you have any other thoughts for our dear friend Regretful? Share them with us in the comments!