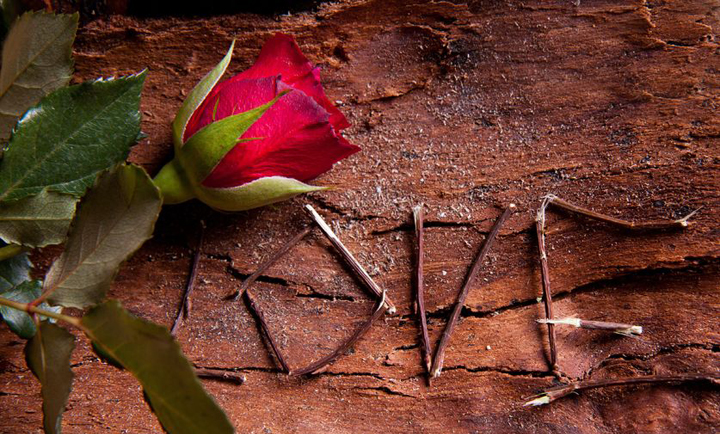 Love
What is it really about?
What are we spending so much of our time and energy trying to find? We say it's love, we're looking for love, but what exactly does that mean? And as one reader asked me in her quest to understand this subject, how do you know you're in love? How do you define the feeling?
For so many of us, we thought it was simple. You meet someone you feel all those excited feelings with, you're attracted to them,  you feel an attraction from them that tells you they feel something to, and you begin dating, getting to know each other better, and eventually commit to each other in an exclusive relationship which leads to marriage – if that's what you're looking for.
Except, if you're like most of us here, that's not how it went down. In fact, that's not at all how it happened.
Instead, you had feelings, he had feelings, it felt like you were falling in love. You got to know each other better in this cultural thing we do called dating, and then suddenly – or so it seemed to you – something changed and he became emotionally distant.
He pulled away, created more distance and left you with a broken heart feeling like you still love him and the feelings are still there. For you, but not for him.
So what is it?
What is it about this picture of love that gets played over and over again regardless of who we are, regardless of who he is, regardless of how strong our feelings may be?
Because more than anything else, what love is all about is an open-ended dialogue between two people who come together to learn about love with each other. To learn about how to love each other. To learn about loving two very human beings who are more about the little girl and little boy inside each of them than the adult version they present on the surface.
What love looks like to either one of two people in a relationship may look like something completely different to the other.
And yet, we don't have those types of conversations very often, if at all.
We don't readily consider when we first meet someone and feel that spark, those intense feelings of attraction that the love they were given as a child determines what they consider love to be. We don't think about the fact that this person we fall in love with is more about who they represent to us from our own past than about the actual person they are.
And the same goes for him – because he has his own version of love that was modeled or passed onto him, too.
More telling than our own stories of love we received from our own families, are the stories that we find ourselves surrounded by in our culture. The fairy tales that tell of a happily ever after based solely in fantasy, and yet so much a part of our psyche, it becomes the reality we aspire to.
From the time we're first old enough to listen to a story, it's everywhere around us, consuming us with its promise to give us our very own knight in shining armor if we can only melt his heart with our love.
Even if we skipped over those childhood tales, the media provides us with a similar message everywhere we turn. In the romance novels, the ever so popular romantic comedies, the magazines, the advertisements, the marketing campaigns, all directed at furthering this message. The happily ever after message we're told in so many subtle and not so subtle ways, over and over again. The message that says we must be that woman who shows her man a different way and inspires him to change from the fighter to the lover, the sensitive hero from the hard, cold, emotionally unavailable man. It takes all our feminine power to accomplish this feat, but if we're enough for him we can break through his stone cold heart.
This is the romantic story of love.
Because you can look up the technical definitions of love, the ones that note the differences between romantic love and all the other kinds, but it's not the definition of love we're really searching for as much as what the "feeling" of love means to us.
What does a definition mean, mean, after all?
To our hearts, to these beautiful loving, caring, giving hearts, love is so much more than what can be put into words.
But feelings, that's a whole other thing.
Love is something you feel for someone as well as something you feel from someone. Can you love someone who doesn't love you back, or used to love you but changes his mind? Sure. But will that kind of love serve you well? You know it won't because it doesn't feel right to you.
Because more than our definitions of love or what love feels like to us or doesn't feel like to us, it's about what it feels like and looks like to two people. The one you're with or the one you want to be with.
Look at the actions.
Look at the way he treats you. Look at the way you treat him. Look at your own actions. Does that feel like love to you? Does that look like behavior and actions you'd call loving?
Maybe to him or maybe to you. Maybe not to either one or maybe to both of you. It's this process of being open to each other, to sort out that kind of feeling of what love means to both of you, and more importantly, what you both want and need it to mean to both of you that matters most.
Can you accept what someone else calls being in love with you, being loving to you? Can they accept what love means to you?
It's one thing to have your own one-sided feelings of love towards someone. But when you take your one-person show on the road, it's there you find yourself face to face with another very real person.
What happens next is up to you.
If you're beginning to see just how muddy the waters of the concept of "love" can be, you're not alone. But there's something that's crystal clear about love if you're willing to take a chance on it in the first place.
You have to first know what love means to you. What it looks like to you.
Because if you don't, you won't know it when you see it. You'll think it's supposed to look the way someone one has told you it should look. You'll believe it can't be love if it doesn't have all the sparks and fireworks that the media would have you believing it has to contain for it to be anything worth calling home about.
How do you want to feel when you're loved by someone?
Happy? Content? Scared? Anxious?
The irony is that for someone who has only associated love with pain, their definition will seem such a paradox to someone else who has been loved in a healthy, loving way. Are you at one of the extremes, or somewhere in between?
Work through your own definition of love and you'll have that clarity that makes it so much easier to find exactly what you're looking for because you'll know where to look and what to avoid. Find the story behind that definition and you'll find a gold mine.
What about you? What are  your thoughts on love? I'd love to hear them! Please share them with our community in the comments so we can all contribute to this conversation on a topic so close to all of our hearts.