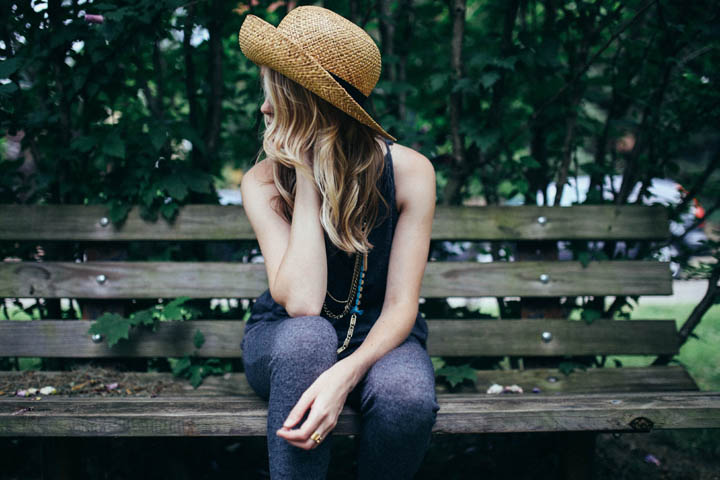 Beautiful Katie has been dating a guy who's suddenly gotten very hot and cold on her. He says he doesn't want a serious relationship, and now she's wondering if it will ever work out.
Here's Her Story:
So a while ago I started seeing this guy and things were pretty good.
I had been talking to him for a while before that and we had a lot in common. When we finally met up in person it was like I had finally found someone who understood me. He was extremely nice and polite and sweet - all qualities I never knew I wanted.
I was always reading a lot into the relationship though. I hate not knowing how other people feel about me.
We went on two dates and the second one went similarly, where we got along amazingly, better than I had with anyone else, and it felt really right. He made me extremely happy.
From the beginning I was worried that he wasn't as into me as I was in him because he didn't kiss me on the first date, but then he did on the second one. We were talking almost every day after that and would have long conversations about what we wanted in life, we have very similar wants for our futures.
On top of that we have a lot in common. A lot.
It feels like we're reading each other's minds sometimes. I got into a bad car accident after our second date and things kinda spiraled from there. I was really depressed and needed someone to be there for me in a way that was kind of asking too much of him since we weren't that serious and I got disappointed.
He was there for me but I wanted some stupid gesture like showing up at the hospital or coming to see me to make sure I was okay. That didn't happen but things were still going pretty well and he was there for me for a lot of it.
Then he stopped texting me back.
His responses became short and we weren't talking as much and then he just stopped texting me back all together.
I asked him if he was okay and checked up on him but he didn't respond. Then I got put in rehab very abruptly and had no communication with him for weeks. When I got out my friend had talked to him and he said he had been depressed and it wasn't personal that he wasn't texting me back and he told her that when we saw each other it made him really happy.
I know there are and have been mutual feelings but I also know he's not looking for something serious right at this moment.
When I got out of rehab we talked and I lied to him about where I was at first because I didn't know how comfortable I was with telling him but after a few days I did. The conversation went well and he was supportive and told me that he would never judge me but that he really hated when people lied to him.
We were back on good terms and talking about hanging out again but he started being wishy washy. We would have a great conversation one day and then it would be different the next day.
I decided to talk to him about it to see how he felt because I just couldn't deal with the inconsistency.
He told me that he doesn't want a serious relationship right now and that he needs to figure some stuff out in his life before he can do that. I feel the same way since I just got out of rehab and I need to work on myself.
We agreed to stay friends and come back to our feelings when we were both in less complicated places. I told him that I had feelings for him but a lot was happening in my life and I couldn't handle being in a relationship right now.
He said he felt the same way.
I didn't tell him that I wanted one though. Because I do, with him. I don't want to be in a relationship with anyone else.
I really have feelings for him and I want things to work out so that down the line we can be together.
Do you think it will? What can I do to give him space but make sure he doesn't forget about me? How can I work on myself so I'm not so insecure in the relationship?
- Katie
My Response:
Oh Katie, you're not alone in what you're asking here.
It's where we live so much of the time when we're in the throes of a new relationship with such a connection and so much potential!
How can we tame our anxiety, work on our insecurities so we don't lose yet another him? How can we keep those anxious feelings from getting the best of us so we don't push him away … forever?
And the follow up question we all want some kind of guarantee of, if I do this or that, will it work? Will he choose me in the end?
There's only one way through this and it's through building confidence in ourselves so that whatever someone else chooses to do with us, we'll see the other side that we only want someone who's on the same page as us, who wants what we want on the same time frame, who subscribes to a similar belief system when it comes to matters of the heart.
It's the kind of confidence that comes when we we're not trying to be someone we're not. It comes from looking within at who we are and deciding what you like, what you want to keep and what you don't like and want to change. With love, not with self-loathing, despising ourselves as we try to make those parts we've deemed unacceptable to go away.
There's another side to those parts we wish weren't a part of us because we've only been told we're "too this" or "too that" until we no longer know what we think about ourselves, we're so programmed to only see ourselves through someone else's eyes who has no clue who we are beneath those labels.
I'll bet you're very sensitive. I'll bet you feel everything more than most people do. I'll bet you have a gift for sensing what someone needs and how you can fill that need. I'll bet you have such a loving, caring, giving spirit such that unless you're doing something to love and care and give, you feel more than a little lost.
And with all those things you are, I'll bet you're used to hiding so much of yourself so you won't seem too anxious, too insecure, or too "not relationship material" for some guy.
While we don't want to come right out and scare someone away right from the start by overwhelming them with all our less than favorable qualities, the problem is that instead of keeping our anxiety at bay by having someone else who's not that person to talk to BEFORE you say something or do something you're going to regret, we send ourselves the message that there's something so wrong with us that we can't just be ourselves.
Even if that means your anxious, overthinking, insecure self.
And that's not true at all! You can be yourself. You absolutely need to be yourself! But revealing that beautiful true self which includes the anxiousness, that includes the insecurity and the overthinking that has you doing things you wish you didn't do, happens over time.
As you get to know each other, you both gradually – slowly – reveal more of who you're both about. You're strengths and weaknesses come through.
Like a dance, he gives you more of who he is and you give him more of who he is. Back and forth it goes, as together you discover all your questions being answered without having to come right out and ask them.
There's something about the men we're with when we're in this place where we're feeling anxious, insecure and unsure of what to say or do so he won't forget you, so he'll come looking for you when he sorts himself through. There's a dynamic that feels like you have to keep it going, like you have to do something – often anything – just so it will feel  like you've done all you can.
I want you to see something different.
A mindset that sees that you're already everything you are and everything you think you need to be. While it's great to recognize that you have work to be done, that you can be anxious and insecure, most of our insecurity and anxiousness is context based. Meaning that we find those people and things that reinforce our internal beliefs about ourselves without even realizing this is what we're doing.
It's subconscious.
And it keeps perpetuating our belief systems so that these beliefs become our truth.
Be with a different kind of people, the kind who love and validate who you are, and you create a new context for you to live your life through. Surround yourself with people who celebrate you and choose to be with you, not out of loneliness or dysfunction, but out of love and friendship and an affinity with you!
I've got a lot to say about how you can work on yourself so you're not so insecure in the relationship, - I go into detail on these in my "Beautiful, Radiant, Confident You" program, but these are habits that take building one step at a time in order for you to embody them so that you're not just merely reading them like a role in a play where you recite your lines without becoming your character.
Don't be afraid of what the future holds where he's concerned, Katie.
If he doesn't get there, you don't really want him anyway. Who you want is someone who embraces all of you! But give him a chance to get to know you first without expectations that can't be met because there hasn't been enough time to build that kind of relationship yet.
I hope this helps.
Love,
Jane
Can you relate to what Katie's going through? There's so many of us who've struggled with this. Click here to share your advice for her in the comments, or just let her know she's not alone in what she's going through!