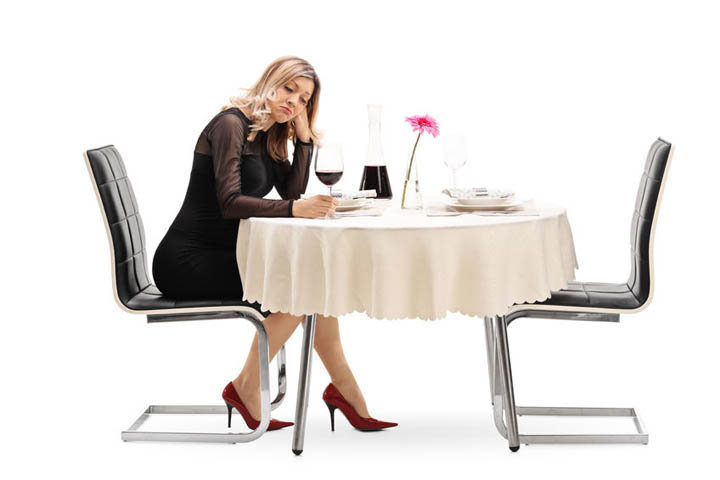 Our beautiful friend, Jade, was stood up and she's wondering if she should confront him, or just walk away.
Here's her story:
I normally don't write...but I find your blogs to be extremely helpful and on point.
And I'm in need of some advice. Or just clarification on what might have happened.
I dated a guy off and on for a year. Each time we took a break it was because I wanted a relationship and he did not. His excuse was he just got out of a long term relationship before he met me and wasn't ready.
We started talking again after three months of no contact. He stated he was thinking of me and wanted to meet up for dinner soon.
I was a little reluctant but agreed.
We planned to meet on Friday and he even confirmed the day before. Friday came and went and he was a no show.
I got stood up and I'm embarrassed, very confused and hurt. I called that night cause that's not like him I was concerned. I didn't bad mouth him. I just said we had plans. Let me know if you're OK.
He didn't answer my call.
What do you think went wrong? Why would he make plans and not show? Should I confront him of his actions and see if he responds? Or cut my losses because I'm ready to never speak to him again?
- Jade
My Response:
Dear Jade,
I have one word for you: "confusion".
Whenever there's confusion, the answer is clear. Crystal clear.
Unless you want to be confused, unless you want to live in a state of confusion, overthinking and second-guessing and wondering what might be or could possibly be, cut your losses and instead choose you!
There are men who are confused, and then there are men who are not confused.
Before I met the man who would become my husband, I would have emphatically told you there was only one kind of man – the confused kind. The kind who would call and make plans and then disappear never to be heard from again. The kind who would come on so strong, and then slowly but surely become distant without any explanation.
The kind who would hide behind so many different excuses or reasons that I never knew who or what I was dealing with.
But when you make a conscious, deliberate decision to leave all these kinds of men behind, something happens. You take back your own power, you create a new kind of essence for yourself, you become the woman who knows what she wants and refuses to settle for anything less. You become you again!
Most of us don't even know who we once were or where we've come from. Few of us have any clue that we used to be different or that our birthright is one of power, not of living in a state of confusion.
Don't give in. Don't give out. And never, ever give up.
What went wrong is that he wasn't in the place he thought he was. What went wrong is something that he has to figure out for himself – if he's motivated to. But it's not up to you to provide that motivation if he doesn't first have it within himself!
You've reached out with genuine concern for him because, after all, he confirmed with you the day before. It doesn't make sense to you that someone would go to all that effort only to stand you up. So you did what any caring woman would do. You checked in with him. You've done your part.
No more confronting him is going to change this. In fact, it will only push him further away if he's not ready to hear what you have to say.  And I can tell you he obviously isn't if he can't even return your phone call or step up to the plate and let you know he wasn't able to meet you after all.
Remember that it's one thing to think of you and a completely different thing to actually be ready to have a real relationship with you. You deserve more than to be thought of, you deserve to be actively pursued, to be wanted, to be shown with real life actions that don't leave you guessing whether or not someone wants to be with you.
Don't hold onto the label of being "stood up."
There's nothing to be embarrassed about. You took someone at his word and he couldn't live up to it. That tells you so much about him and where he's at!  Take that information and use it to make your decision. From your own place of power, not from a place of defeat. It's a gift.
There's someone else out there who's going to adore you, Jade, who's going to love the very things about you that this guy wasn't able to see or value the way you deserve to be loved and valued.
Information. That's all it is.
Now you know more. Now you can clarify whether you want to be confused or whether you want to end the confusion. He did what he did because it was where he was at and it was all he had to give you. Now it's your turn.
The confusion ends here. Enough.
Now let's go out there with a clarity that will find a crystal clear match who knows beyond a doubt that who and what he wants is a real relationship with you! Look for it, expect it, it's going to be exactly what's waiting for you!
What do you think our beautiful friend Jade should do in this situation? Share your thoughts with us in the comments!