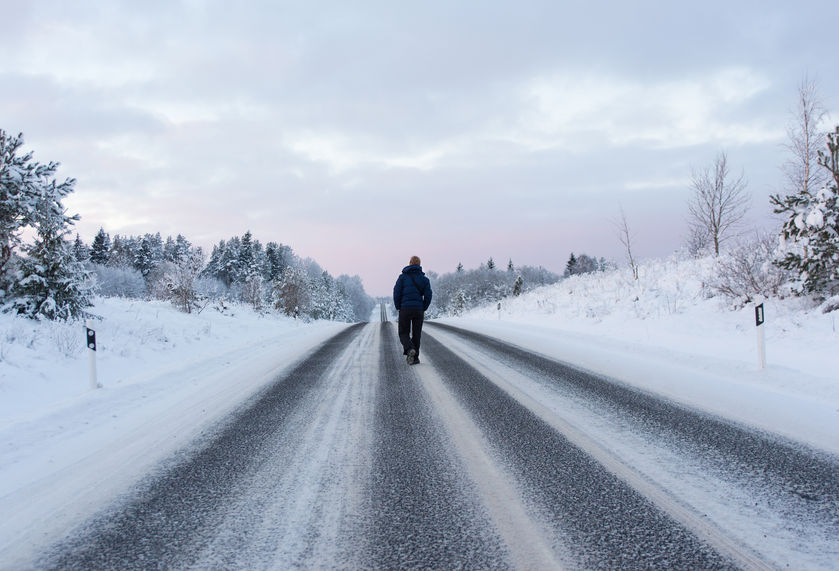 Our beautiful friend, Tracy, has just gone through a devastating experience with an emotionally unavailable man.
Here's her story:
Hi Jane,
You helped me with my first break up with a emotionally unavailable man and your articles inspired me to keep my eyes open while dating.
I must admit for 4 months I was involved in a little mess here. But with your knowledge and clear look for signs I can now recover faster and be stronger.
Our story started with the dead end. But it could have change with the happy ending.
I met a wonderful man while he was travelling. We jumped into romance and adventure and soon after realized that this is something more than just a summer fling.
Even from the start I could see a red flag rising. He was from States, I was living in Australia. In beginning he thought he will stay here but after exploring his future options he couldn't see his career and life here in Australia.
All the immigration laws was against us.
In his perspective only way to be together was to live in US what would mean  getting married (US doesn't have a partner visa as AUS does)  OR we could travel around the world,  live in Australia/ Europe but he didn't wanted to sacrifice anything for our union. He could stay here for a year where we could get to know each other but one day he just messaged me that he bought a ticket back to States...
I had two serous relationship before and this one seemed like a heaven.  Even if he was travelling he messaged me and called me every single moment, he told his parents and friends about me, he called me " the one ".
He uploaded cute photos of us on Facebook.
I was in heaven. He was such a charmer. Looking for all the signs I wouldn't say he was emotionally unstable, he came across as confident and smart person, so confident of who he was. Also he was positive about his future with me until...
I let my guard down and let him in my life.
As he said he was " all in " with me, so regarding where our relationship was going I stated questioning our future because I knew he won't be traveling around forever and soon enough he will have to settle down.
I asked him simple questions as: "So when are you gonna settle down? What's the next step?" he kept saying: "I don't know, we will figure it out ".
It didn't made me feel any better.
Sometimes words means different things than actions. I was so in love with him so I stated to come up with solutions.  I was ready to leave my life behind and start a new life with him in States.  Wherever he goes, I wanted to be with him. Because I wasn't afraid to make a sacrifice for a good thing - him. More time I gave him to figure out things, the more solutions I have found (going studying to States, working for my family's friend in US),  more complications he could see.
We could both go to Canada and start out life there but his excuse was "winters there are too cold "... !!! what?
Because I came across Jane's blog before I could sense the end coming and I was ready to get hurt. But there always is a hope,  isn't there?
Yes, I know it - I met this guy in a wrong place and wrong time but we did care about each other. Because of the "wrong time and place" if only we could figure out our relationship to work so it could grow into something strong and solid and no other problems in our lives could surprise us. I knew that magic happens out of the comfort zone so I put all my energy and strength to prove him that this is possible and real. As they say - there is no wrong time for the right person.
He came to see me for Christmas and New Years. As always he was charming but when I came across to discuss our future he became distant and cold. This was the worst holidays I ever had.
Every day seeing him fighting in his head, fading away and looking for answers what to do in a future, keep traveling or go back to States. He was in transformation. Like he was dealing with a deep dark psychological underlying. I told him he can trust me and talk but he became more and more lost in his indecisiveness.
Day after New Years he told me he bought a ticket back to States..
I was devastated.
We had long discussions what to do in our situation. He said he didn't want to do a long distance relationship, he wasn't ready for a fake marriage for visa, he didn't wanted to move to other country, he didn't wanted for me to be in States illegally.
When I told him that this is classic "he is just not that into you" situation and he got angry and upset with me. I told him that things should be simple and if he would like to be with me he would be here now next to me and we could work out our future as a team. Last conversations didn't made any sense anymore and all I could come across was that he DIDN'T WANT ME.
He stopped calling and caring.
His leaving date was coming closer and closer and more distant and cold he became.
I stopped messaging him just to see if he will reach out. He didn't. I could see this amazing man I once knew turning into a stranger. I was missing and loving different person.
I finally came across who he really is. A selfish commitment phobe. I stated to do my research on him. one of his friends who was travelling with him told me that I am not the first girl he leaves.
He said he has seen it before and thought it will be different this time of  how highly he was talking about me. "He always bails on girls who have a great  potential. He runs away from every situation what is not 100% perfect".
I found out he had at least 7 girlfriends in the last 10 years, he has been moving form city to city and has changed his job every year. For me is was hard to see it before, because he was traveling and from different country.
His friend helped me to move on, to see the real face of my lover. I put all the pieces of the puzzle together. Finally I could see the whole picture. I was falling for a man who was running from himself, who was selfish and scared.
Needless to say ...He is gone now. The worst thing is that he didn't even said goodbye.
He just left. Without saying the word.
No letter, no message, no call. I don't know how what he feels now? Do you think he is hurt as well?
I am not even sad. I am confused. I keep asking myself why it's always me who is ready to fight?  I have so much strength in me. Just sad that no one is fighting for me. I am confident and smart and 100%  happy of what I am. I know that he will never find someone like me but why did he give up and how could he leave without saying goodbye?
- Tracy
My Response:
We've got this so backwards, Tracy.
It's because we want to fight for someone, to fight for a relationship, that we only see the ones who give us reason to fight.
A real loving relationship isn't about fighting, it's about loving. This is where our subconscious programming plays such a role in who we find ourselves falling for – and how they find us in the first place. They want to be someone's hero.
They want to be the man you want him to be, the man you need him to be.
We've bought into the idea that love has to conquer all to be real love. We believe that real love is about two people fighting for that love, regardless of circumstances, regardless of what it takes to get there.
There's something so passionate about that fight, about knowing that we're worth someone fighting for us, about knowing that we're not the only ones fighting for something when all odds seem to be against it.
But, Tracy, that's what sells movies! That's what makes for a best-selling book you can't put down, and for a movie that you can't wait to see!
It's not what makes for a healthy, loving relationship with two people on the same page who are choosing to make that kind of relationship happen.
Yes, he could have made it work, he could have worked around what you were up against with immigration laws the way you came up with solutions and answers for every roadblock. But he didn't because he didn't really want to. That's why he got angry when you called him on that, when you confronted him that this was sounding like a "just not into you" scenario.
There was a reason he was a charmer, there was a reason you were the one asking all the questions. He couldn't hide who he was in the end. That's what came out. Reality. The truth. And as hard as that was for you, it's what you needed to know.
You're confused because it doesn't make sense.
It doesn't make sense to him either. But for him, it doesn't have to. He's not looking at why he's had "at least 7 girlfriends in 10 years" or why he moves from city to city or changes his job every year.
I'm sure if you confronted him on that, he would have had a ready answer to give you that he's been telling  himself, too. He's searching for something, Tracy. And without knowing him personally, I'd say he might be running from something, too. Like himself.
Yes, this is a man with all kinds of potential. A man who's so obviously confused himself. That's why you're confused.
You're feeling his own ambiguity.
You're sensing a man on the run, a man looking for himself and a place to call home without a clue as to where to look or how to find it. This is the kind of story that reels  us in. We want to fight for him. We want to take up his fight that he's not willing to engage in, and make it our own.
We know we've got enough fight in us to make up for him. And this is why he finds you. This is why you find him. You've got something to prove through him. And he's got something to try to prove through you.
But it never works without the both of you. You can't be all in with him getting stuck in the beginning part. He can't go further than the beginning because he doesn't have it in him to go deeper. That's what's been going on. That's the pattern he's been repeating with at least 7 women in the last ten years.
He can't be what you want him to be. It's not that you're not wanted, it's that he doesn't know how to give you more than what he's already given you and he's not ready to find out. Usually, this is where we keep going. We keep fighting. And yes, it's where we keep holding out for hope.
He got closer with you. You gave him a beautiful gift.
You gave him a chance to go there, even if in the end he couldn't. But there's a lesson here for you as well, as sick as we are of all these lessons, there was something you needed to see, too. To stop trying to save these guys from themselves.
To stop trying to pull them out of something they don't want to be pulled out of to the detriment of your own beautiful self. You've got a gift in that kind of love you're got in your wide-open heart. It's a beautiful, beautiful thing! But when you love like you do, you've got to keep something back for you.
You've got to take your time to see what's really there. You've got to take your time. Especially when it seems like you don't have any time. Especially when circumstances are making you feel like you have to speed things up instead of slow things down.
Especially then.
That' s when the real stuff a man's made of will come out.
It's not personal, Tracy. Don't make it about you. He couldn't say goodbye because he knew he didn't have it in him to. He knew this was his fault, his choice and he couldn't face you without facing that part of himself that he doesn't want to admit to himself or anyone else.
So if he just slinks away, it will be easer he thinks. It never is, but it's all he knows to do. Yes, he's hurting. How could he not be with a track record like his? But he can't admit that to anyone, including you, and especially not to himself. Then he might actually see the role he plays in his own destiny here, and realize it's he himself who holds the key.
I hope this helps in some way, and especially in a way that allows you to release yourself from whatever you're putting yourself through because of him.
Love,
Jane