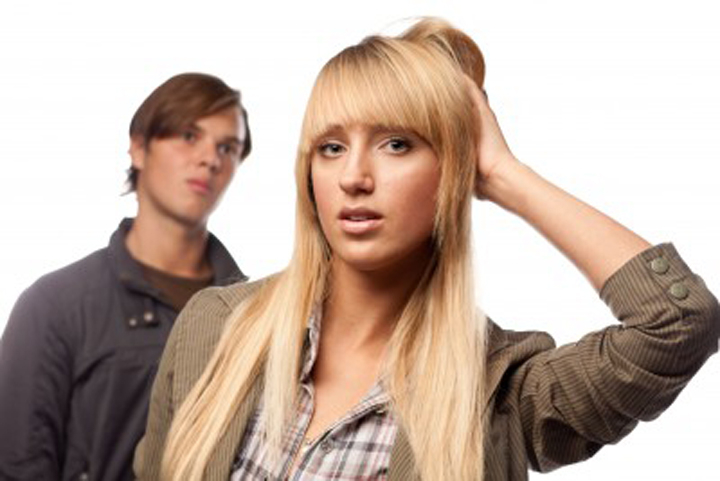 I hear it so often. "Everything's going so well, but he tells me he doesn't want a relationship".
Sound familiar? Our lovely friend Ezi is going through this right now, and she's wondering what to do.
Her email:
I met this guy online and we seemed to connect really well.
We messaged each other about everyday, then he asked for my number and then we could talk about two days for 3 hours and sometimes we'd text. We'd take turns communicating with each other.
Then we finally met in person and it worked out well. We met two more times (one of them more recently).
Since we met online, he says he likes me and says I'm awesome (I guess it's because we have similar interests and I'm "good with words"), though he says he's not ready for a relationship because he's not over his ex from 3 years ago (he feels bad for how he treated her back then), he has too much baggage, he feels I am going places in life (in terms of career), and  he feels I deserve better.
Even though he mentioned he'd like us to be more than friends.
Heck he kept mentioning (when we were online) how we could get married and how we'd have smart kids. I didn't look into what he said, but why would he say that knowing he's not looking for a relationship, when on my relationship I said I was specifically was looking for a relationship?
If he thought I was too good for him, didn't read my pursuits on my profile?
Despite all of that,he doesn't want me completely  out of his life, even though I told him I'm looking for serious relationship. Though ironically I like him, but deep down part of me wants to have a relationship.
I know I should date other guys, but I'm not sure I am ready for things like right now. Not to mention I'm tired of dealing with heartbreak...I'd rather use the energy of looking for dates to focusing on school and my jobs.
I called him yesturday to see if he wants to meet up the next day. But I haven't heard from him all day!
Then again he told me he has been dealing with things, I told him I had a cold and I was helping my family with things... Ugh! I'm so confused... And I don't know whether to just end it with him seeing I can't the relationship I was seeking online in the first place: a loving and serious relationship!
He treats me well and encourages me to pursue my dreams... We always have a good time with one another... Sigh... What should I do?
- Ezi
My Response:
The real question is: What do you want to do, Ezi?
I'm hearing a lot of mixed feelings from you, which makes it not so surprising that you're getting a lot of mixed messages from him!
You have to decide what you want.
You have to first get clear yourself on what you want – and what you don't – before it will become clear whether this is someone who fits into your life and what you want, or not.
Of course he doesn't want you completely out of his life! He knows you have so much to offer and he'd be crazy to let you go, but that doesn't make you both on the same page and looking for the same thing in a relationship.
It still leaves a disconnect between what you want – a real relationship – and what he doesn't want – that same real relationship.
We rarely ever want to date other guys when we've got someone we're in a "kind of" relationship with, but the reason why you're feeling like you should, is because you know deep down you don't have anything you can count on with this guy.
Trust your intuition here. Trust your gut instincts. You have them for a reason.
The bottom line is that he's not ready for a relationship.
He's telling you that. Hear him. Believe him.
If you enjoy his company, if what he can offer you is enough for you, then be clear with yourself and enjoy. But if you can't do that, if you would only be fooling yourself that what he wants and what he can offer you is enough, then let him go so that you can find someone who does want what you want.
The key here is for you to find out first, Ezi. You have to end the confusion within yourself first. It's always easier to get clear on what we don't want, but where we start attracting what we actually do want, is when we clarify that part.
End the confusion within you, and no one else will be able to confuse you. They will either be in or they won't. They'll sense it. They'll feel it, and they'll see that you back up what you say.
They'll know they're either in or out. They'll know they'll have to either step up to what you require of them, or they're out. That's something that comes through only when you know what you're willing to accept, and what you're not.
But again, this has to first come from you.
Sit with all this, Ezi. You know the answers already. They're clear somewhere already within you.
Set aside the fear inside you that says he's the best you're going to find. Refuse to buy into the programming that says you want too much or expect too much or are never going to find someone who accepts the too muchness part of you.
Those are all lies that we allow ourselves to believe! Don't!
There's someone who's going to love everything that this guy says makes you "amazing", except that this other someone isn't going to be telling you he's not ready for a relationship or doesn't quite know what he wants, but still wants to string you along.
No, we only get that when we'll accept those kind of terms. There's nothing wrong with being with someone like this, as long as you don't want a real relationship. From what I'm hearing, that doesn't sound like you.
You can do this, Ezi. Don't leave it up to him. Make it clear within you!
Sending you love and light to see your own beautiful light.
Love,
Jane
What do you think Ezi should do in this situation? Share your thoughts with her (and the rest of us) in the comments!