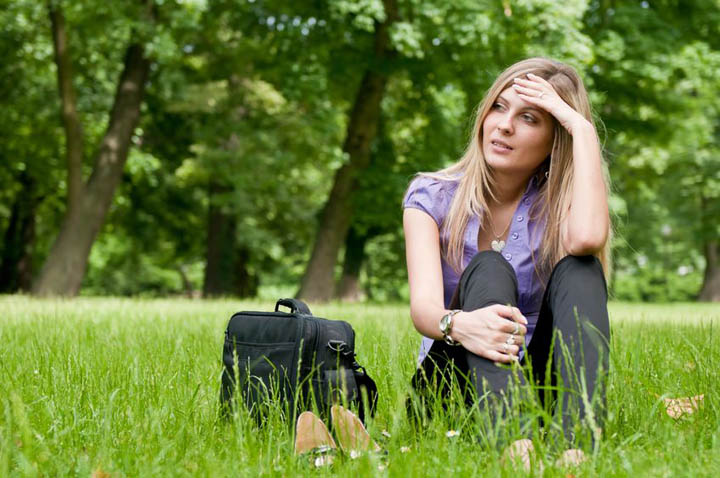 Our beautiful friend, Ally, has been burned recently in her online dating life, and now wonders if she can trust her new guy.
Here's her story:
Hi Jane,
I've been reading your blog and watching your videos with interest. You seem like such a kind woman and the advice you give really does make sense to me.
It's just so hard to follow. The willpower needed is extraordinary.
I recently split up with my boyfriend of 12 years. It was my decision. He wasn't abusive or unkind. We just grew apart. Something wasn't right. We didn't want the same things in life.
I've since started online dating.
I got badly burned with the first man. He pursued me for months before I slept with him. I didn't even like him that much. I liked the attention. Gifts, dinner, romance (the whole thing), but he was very self-absorbed and I thought time and time again that he wasn't right for me.
Then, when he got his prize, he text dumped me ( the typical "I just want to be friends") the next day.
I was full of self-doubt. Devastated. I didn't even like him. He pressurized me into sex. I thought I was stronger than that. But, I can't handle the rejection. Was I not exciting enough in bed? Is it because I'm overweight?
I then decided to quickly get back into the game and met another man.
We got on very well on the first date. The first man was a dark, broody poet, the second guy is a giant happy-go-lucky puppy. Total opposites.
We had a second date.
He cooked me dinner at his place. I told him I wanted to take things slowly. He was a gentleman. We kissed and then slept in separate rooms. He made me breakfast. All very sweet.
Lots of text messages afterwards. Then it slowed down for a couple of days (he says he's sick). Now, it's back on again.
He wants to see me again next weekend. But, I feel like I'm falling too quickly again.
Can I trust him?
Why was he slow at getting back to me? Is he blowing hot and cold? Is he really sick or does he have a few women on the go at the same time? Why am I so desperate? Will he dump me if I sleep with him? I'm so nervous about it all.
I have a very fulfilling life.
I translate novels, I'm invited to speak at events, I'm the president of a charity, I travel, I have lots of friends and a wonderful family. I know I don't need a man to complete me, but I still want someone to love me.
When I don't hear back from him, I cry!
Then I try to sort myself out and make plans about losing weight and making myself happy, but then a text message comes through and I get reeled back in again. How do I stop myself going through this cycle of behavior? Checking my phone all the time? Wanting something so much?
I'm allowing my work to suffer because of this. It's getting in the way. I don't know whether to give this guy the benefit of the doubt now that he says he wants to see me again, or to just sort myself out first.
Thanks for your help.
Ally
My Response:
Dear Ally,
Thank you for your beautiful words, Ally.
I'm so glad you're here, that you're finding what resonates with you, even if it seems so hard to follow the advice you hear right now. I say "right now", because this, too, is a temporary state. It will change.
You sound like so many of the women I work with. Some of the most intelligent, beautiful, accomplished, successful women I've ever met. And yet they almost all have in common something that I would call "rejection sensitive".
They can deal with everything that happens in their lives, except when someone finds them incompatible. That they can only see as yet another rejection of them.
And this is what I'm hearing from you.
You so want to be loved, to be accepted for who you are, to be with someone who you can share this life you've worked so hard to create for yourself. You want someone to come home to, to call up when you're away on business, to end the night with together.
But instead, you're reaching for your phone to see if he – whoever the current he that you've placed on that familiar pedestal happens to be - has texted you.
Am I interesting enough? Am I attractive enough? Am I lovable enough? These questions are what this is really about.
Am I enough?
Of course you are, Ally.
But it's so difficult to see it when you don't see it within yourself. When all the validation has to come from somewhere outside of you, instead of within.
That's why you feel "desperate". There's nothing desperate about you, but you feel that way because it's such a desperate feeling to need to be loved by someone outside of yourself who isn't capable of loving you like this, or needs to be convinced of "why" he should love you.
The ones who love you will love you just as you are, Ally. They won't need convincing.
They won't need you to do anything except be yourself. But this isn't what we believe. These were never the messages we're given. Instead, we do the worst thing we could do to ourselves; we give them the power to reject us.
As if they could ever be worth more than we are, we give them the power to reject us or accept us. And on that basis, we determine our self-worth. How ironic it is when we look at it like this; that another mere mortal can hold the key to our worthiness!
Look at what you've got.
Look at the life you've created for yourself!
Look at who you are, all you have to offer someone who proves himself worthy of you. Don't settle for those crumbs! You're worth so much more. But until you accept yourself, by accepting everything about yourself, the good, the bad, yes, even the ugly, and embrace this fully human person of you, every crumb will seem like more than you've got.
There's nothing to hide. There's nothing to shame yourself for. It's in this acceptance of yourself that you'll find someone who accepts you, too.
Yes, we all have things we don't like about ourselves that we want to change, and go ahead and take steps to change those things into what you want yourself to be. But not with shame, not with loathing, but with loving compassion for even those parts of you.
There's nothing to be nervous about when you're the one who holds your own beautiful power, Ally. There's nothing to be desperate about when you're the one who chooses what you want and what you don't for your life – and when you realize that you are always the one who does the choosing.
And there's nothing anyone can do to you to take away your enough-ness, your worthiness, your you when you don't allow them to.
Come back to you, Ally. That's where all your answers will be found, including what to do with this guy. Not coming from a place of lack, but from a place of your own cup being full.
That's the only place where the love you're searching for is found.  And it's exactly how the ones who are capable of mirroring that love back to you will find you.
Love,
Jane