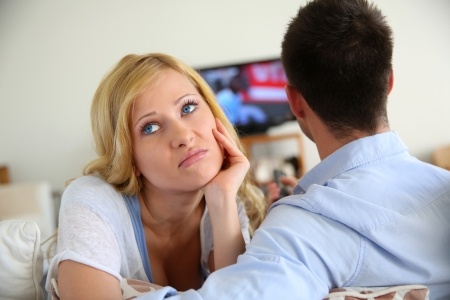 A letter from our beautiful friend, Vicki, who has fallen for a guy who seems to be battling commitment phobia (sound familiar?).
Her story:
Hi Jane,
I've been following your website for several months, and amazed by your laser focus insights.  So, now its my turn to reach out to you.
I've been dating him for three months.
He's a fascinating man, we can talk for hours and he compared us to Plato's Symposium - split souls who have found each others missing half.  He says we're similar in many ways.  He owns a large business and has a packed schedule.  I was very busy the first month, so I only accepted a few of his date requests.
After a month and four dates, I told him I was used to long term committed relationships, didn't like a casual dating, but was seeing several guys (no sex) until something clicked.
He said it was too early for a commitment, he likes me "more each time", and lets see where it goes.  We started seeing each other on weekends (would stay at his home) and one weekday night.
Every Tuesday, he would attend the opera (corporate box seats for four), but never invited me.
Between dates we never talked except to confirm timing.
He introduced me to his business partner over lunch, entertained my business partner twice, and I've met the man he most admires.  He wants to meet my parents "when you think the time is right", and talks about vacationing together to Europe.  He hasn't vacationed in five years.
Yet, there's been no talk of exclusivity, so last week I asked him to describe his ideal relationship - not just saying things for my benefit - but to be truly honest with what he needs, wants.
I explained we'd never fall deeply in love, have that intimate connection without commitment.
He said he likes being with me, sleeping with me, and its a process with him.  I thanked him, said our weekend dating is making me unavailable for other men, and I needed to make decisions for myself shortly.  He was silent and looked devastated.
He can talk politics, economics and philosophy - but can't talk emotions well.  He just clams up and looks clueless.  He was raised my nannies, married briefly when young, no children, a workaholic who has built a remarkable business.
The next morning he said, "we will be together, and please never say this again.  I. get it."
I replied," so should we still see each other this weekend?"  He said, "of course!" Since then, I've continued to assert my independence, and am not as available for dates.  By the way, two weeks ago, he became unavailable on Fridays and mentioned a symphony he attended.  So, I filled up my Fridays ever since.
Last night, we entertained one of my guy friends who I thought he would enjoy. My girlfriends thought I was crazy, but they were very similar and could possibly do business together.  It was a mutual admiration society, and he was impressed and jealous (under his smooth exterior).
I want a committed relationship, yet am independent, have plenty of options and honor your advice.
What do you see here, and what can I do next?
My response:
You have to decide for yourself if you can live with someone who is only as emotionally available to you as he is, Vicki.
The interesting thing about men like this is that this is the very reason they are so good at what they do; they can be so financially and professionally successful because they are able to keep their emotions in check!
So you know what his terms are, you know what you're dealing with, you just have to decide if you want to live like this with someone like this.
Is he worth it to you?
Are his good points, the things that you are compatible with, enough to outweigh this other side of him that you are not going to be able to change? Only you can know that, only you know yourself and what you need for this to work for you.
You're doing everything I would recommend you do; you're living your own life, focusing on you, filling in the times that he's not available with your own new activities and events, even seeing other guys - without the sex! - which is exactly what I always recommend to keep this all in balance.
So what you do know is that this is working very well for him, and he also is seeing that you very much have your own life, which I suspect is very attractive to him as well because it means you are not looking to him to meet all your needs - which he knows he can't because of his own issues, and that's probably what would usually scare him off by now.
But with you, he feels safer than he ever has with someone because you have your own life as well.
But are you happy?
Is this working for you, is the question? That's what it comes down to, Vicki.
He may be able to continue like this indefinitely because it works so well for him because it is a very slow process for him of getting more emotionally involved than he's typically comfortable with.
So while you're with him, while you wait for whatever time period is acceptable to you before being exclusive or having what you need from him to continue this, you have to be honest with yourself first and foremost.
He's not worth bringing you down if you're going to feel like you're the one on the begging end, always wanting more than he's willing to give. Of course none of us knows the future, so you have to make your decision based on what you have, what you know, and what is right now.
It sounds like you're strong enough to handle this, Vicki; like you know what you're doing by staying true to yourself and remembering you're the prize and doing the choosing and not letting him dictate the terms of your relationship. It sounds like you'll know if there comes a time when you need to say "enough" to protect your own beautiful heart. But if there's any doubt, choose you first and go with your gut instinct.
And always remember you're the one doing the choosing, and this guy is so very lucky to be with you! 🙂
Hope this helps a little to have an outside perspective, Vicki. It's always hard to know what's really going on from a distance, but follow your heart, listen very closely to your gut instincts, and remember to always check in with your head for a reality check.
We can only go for so long on potential but eventually, what is becomes everything!
Love,
Jane
What do you think Vicki should do? Tell us about it in the comments!