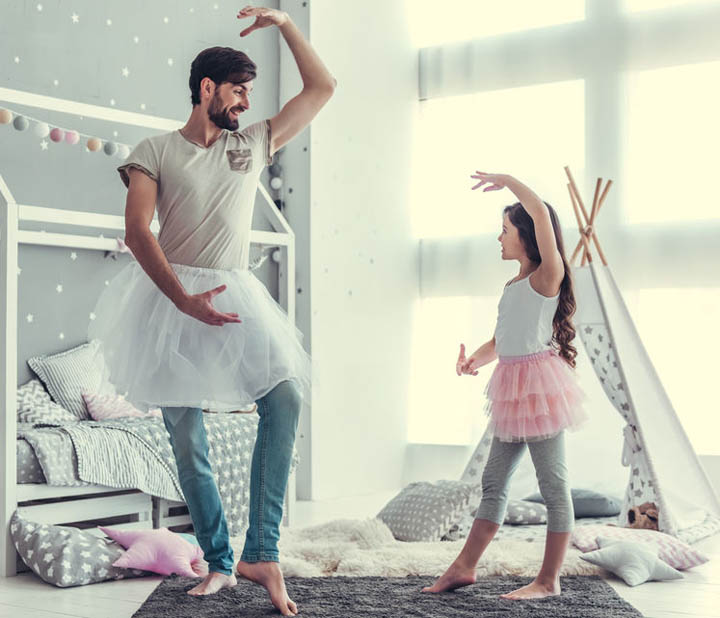 My husband got up at 4am to stand outside in a line outside my daughter's dance studio, to register her in a first-come first-served registration system (plenty we could say about that type of system, but for now, it is what it is). He let me sleep in and switch with him later.
He was the only dad there.
Why? Because he's the guy I chose.
Oh I chose a lot of men before him, but only because I didn't know myself well enough to know what I actually wanted, and would continue to want years down the road.
I can't imagine any of the men I dated previously doing the same thing, and that's precisely why none of them worked out.
After so much heartbreak chasing after all the wrong men for me, who of course seemed so right at the time (they always do!), I finally realized I wanted the family man. For real. Someone who puts his family first.
I wanted a man who did more than talk about what a great dad he'd be; I wanted a man who actually showed me that through his actions!
My husband was a big brother in BigBrothers/BigSisters of America when I met him. He was volunteering his time to make a difference in the life of an inner city boy. That was an action.
He tutored my nephews in math when we were dating. Even when he was away on a business trip. That was an action.
He supported my work doing suicide prevention workshops in high schools and respected and admired me for it. That was action.
Not all of us want kids, you have your own individual priorities, but regardless of what they may be, I know that the only way to be happy in the long term with someone you're choosing now, is to get as clear as you possibly can on what those are.
For years I chased after qualities in men that I thought I wanted. Qualities that were fed to me by the media and pop-culture as things to look for instead of what my own heart was trying to tell me. Those things will only make you happy if they're actually YOUR priorities.
How do you know?
You look at what values matter the most to you. You look at what are long term goals for you and your life and what are short term ones and you decide if you're choosing someone for now only, or for the future you as well.
You choose that!
Then, once you've got that figured out, actually choose that.
Don't make excuses for someone.
Don't try to stretch reality to reflect what you want things to be instead of what they actually are.
Don't set yourself up for heartbreak down the road by pretending you can settle for something and someone that you absolutely can't.
Knowing yourself may sound like a cliche, but it's not. It's a process. It's a journey. It's deep work that's worth every second of it when you find you have exactly what you've been looking for your whole life.
And one day, years down the road, you'll look back and realize you, too, made the right choice. No matter how long it took, no matter how much you had to go through before you realized what that looked like for you!
And I know you will.
Love,
Jane
What about you? What kind of guy are you consciously choosing? Let's share who we're choosing in the comments below. This work is so worth it. If you can't see yourself with this person AS HE IS 5 years, 10 years, 20 years down the road, why are you spending all your time on him now? If you need help with this, I'm here to help you gain this perspective so you can start actively choosing instead of passively accepting. Check out my "Work with Me" page and we'll walk through this journey together starting today!