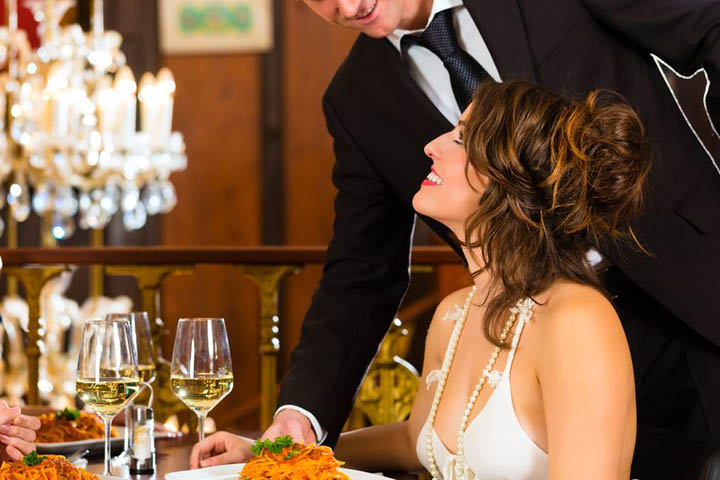 She was the woman everyone noticed as she walked into the room.
"I love your dress", said one of the women at our table. "Something seems different about you", said another.
I couldn't have agreed more.
I vaguely recognized her from somewhere, but it took me a while to remember where I knew her from.
Then I remembered. I had met her a month or so before at a mutual friend's party when she had overheard me talking with another woman about what I do.
When my conversation had ended, she wanted to know more about what we were talking about, the emotionally unavailable man and the reasons we stay so long in places we're never meant to be.
Just an insignificant moment in time was how it seemed to me, but then, are there ever any real coincidences?
Apparently not.
Now here she was, certainly the same person, but there was something so very different about her, which is why I hadn't recognized her.
Was it her striking dress? Her hair?  No, while those things were certainly noticeably different, it was so much more than that.
There was an unmistakable confidence about her.
She's not going to remember me, I thought, for she had that essence about her that made her memorable but made everyone else, including myself, pale in comparison. I had been invited to join some friends of a friend, and so she was here as well.
Introductions were made to the ones that didn't know her, and when she came to me, she said, "Oh, I remember you, Jane".  And then after she finished some small talk with the rest, I asked her how everything was going with the friend we had talked about that night.
"You have no idea", she said. "Your videos changed my life. I looked back on all my relationships and realized I've been choosing emotionally unavailable men my whole life. I've been deferring to everyone else, concerned about what everyone else thinks of me, taking everything so personally, letting everyone else dictate who and what I was.  It was such a wake-up call!"
I stopped her there. Wait. "What videos?" I asked.
Because even when you know this stuff really works, seeing the results firsthand right there in front of me in such an unmistakable way, it shocked even me to see the power of her transformation.
"Yours!" she said emphatically.
"I've got so much to tell you", she said. Then she and some others left to place their orders. When she came back, she had so much more to say.
She told me about the men who had suddenly appeared out of the blue who were calling her, texting her, and pursuing her. And how she was stepping back, looking at what each of them had to offer her, and coming from a place of choice - her choice - instead of need.
They would need to prove their worth to her this time, instead of her jumping at the attention of a man or settling for so much less than she deserved. And so of course, with this new mindset, she had her pick, her choice of men.
They kept calling, kept coming back, keep seeking her out and pursuing her.
She told me about a difficult situation at work where normally she would have been offended and taken the actions of a person with a very strong personality there personally, and once again gone into her fall-back "pleaser" mode.
But instead, this time, she realized she was in control, that she was the one doing the choosing, and without making it personal, she was able to respond to the matter at hand instead of taking on what wasn't hers to own.
In the middle of our conversation, the food arrived. No one had silverware.
No one, that is, except this woman talking to me.
They give it to you downstairs when you place your order, we were told. And as she held up her silverware wrapped in a crisp white napkin – the only one at our table - the rest of the story became clear. This new found confidence she had discovered in herself had set her apart from the rest of us, so of course she had been the only one to be treated differently.
I smiled to myself. I knew why. It was so obvious to me, even if the others didn't realize it.
She finally realized that she could be the one doing the choosing. Now, she knew. And so did everyone else.
Once you have it, it's not something you can hide. It just comes through. It touches everything, every area of your life.
She now discovered it, just like I had discovered it, too.
She's not the only one. I hear her story in different variations every single day in your emails, your comments, and on our phone calls. But to see it live right there in front of me like I did with her on an evening when I hadn't even expected it, made it that much more real.
Yes, it happens.
Yes, it can happen for you.
When you take that first step, even if it's only by hearing something that resonates in some way with where you're at or what you're going through, there's a shift in energy, in momentum that's about to become real.
You don't have to be perfect. You don't have to be anything more than you already are. In fact, all you need to do is to stop suppressing who you really are.
Isn't it time to stop settling for those crumbs you've told yourself are the best you're going to get?
Step out of that story. Step into your new life. The one that begins and ends on your own terms.
Today is a brand new day, and if you're willing and open to seeing it this way, it's the beginning of a whole new you!