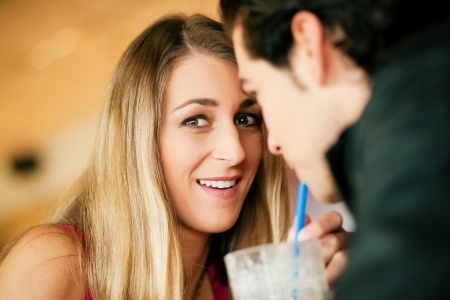 I've gotten several questions about how to let a guy know that you like him, that you want to be more than friends, and that you're interested in a romantic relationship with him, so I wanted to delve into that today.
This is the kind of situation where you already know him, maybe you have mutual friends or you work together, and you're just trying to figure out how to let him know you like him. That you want to be more than friends.
As we all know, this is a bit of a sticky situation. On the one hand, you want to let him know that you find him attractive and that you're interested, but on the other hand you also know that you'll be seeing him again, and you may not want to risk being rejected and feeling embarrassed every time you run into each other in the hallway or at a party.
Here's the thing. If he's interested in you, he's probably feeling the same way – maybe even more so. He may be feeling very nervous about asking you out or letting you know about his feelings also, and for the same reasons.
So what's a girl to do?
The only way to handle this without risking taking a devastating shot to your self-esteem is to remember one word:
Subtle
But what does that really mean? And how subtle is too subtle? It's that tricky balance between being too coy and being overly flirtatious.
Here are three simple things you can do that will convey the message that you're interested in being more than friends to all but the most oblivious of men:
Touch him
As human beings we all crave being touched. It gives us that sense of being connected to others, that sense of bonding.
I'm not talking about sexual touching, but things like simply touching his forearm when you're talking to him, or putting your hand lightly on the side of his shoulder when you laugh at his joke. A little bit of touch goes a long way, and in these hurried modern times, we can all use more than we're getting.
Of course the opposite it also true – don't overdo this one, because as I said, a little goes a long way. I would say a few touches over a thirty minute period is plenty to let  him know you're interested.
Compliment him
A well timed compliment can really send him message that you like him as more than a friend - but keep in mind, the same thing applies here – you don't want to over do this one or you'll come off as a bit too obvious or desperate.
It's all in the delivery – make sure you feel confident and that you're feeling good about your own attractiveness. Make sure you're feeling fairly sexy and desirable, and that you know that you're the one doing the choosing.
Then give him a compliment that's subtly obvious that you don't mean it in a friendly way. For example, if you like the shirt he has on you can say something like "That shirt's very sexy" as opposed to "I really like your shirt". Or tell him that he really knows how to make you laugh, and follow up with something like " a good sense of humor is very attractive".
Flirt with him
But just a little. If you're out with a group, and you're standing near him, lean in to him to say something to him that's just meant for him – maybe you're people watching and want to point out a couple and you lean in to him and ask him if he thinks they're on a first day or if they've been dating for a while. You're not really whispering, but you're leaning in to him and quietly saying something like "What do you think their story is – first date?" It works well to couple this with touching his forearm while you ask (see number 1 above).
This does two things – brings him closer to you (he can smell you, he gets that feeling of closeness, and you're touching him) and also puts the idea of a date in his mind. It's also playful, like a game to see if you can figure out who's on a date in the room and who's not, which is always flirty and fun.
Remember to smile and make eye contact, and of course keep reminding yourself that you aren't sure if he's the right guy for you (this will keep you from getting too nervous – after all, you're still not sure if you really want to be with him or not).
If, after trying these subtle techniques, he still doesn't get the hint and ask you out on a date, then he's either not interested in you, he's interested in someone else more than you, he's already taken, or he's not interested in women in general.
There's also an outside chance that he's so painfully shy that he's still too nervous to ask you out. I don't generally recommend this, but if you're pretty sure this might be the case (and you like the quiet, reserved type who errs on the side of caution), then go ahead and just tell him that you're interested, or ask him out yourself. There are rare occasions where this happens and the relationship works out, but just be prepared that you might not get the answer you're hoping for.
The key is to put yourself out there and give him enough subtle hints to let him know you're interested without becoming the initiator to the extent that all he has to do is respond. If he's interested, he'll want to pursue you, to convince you that he's worth your time and energy, and he'll respect the fact that you're confident enough in who you are and what you have to offer that you're willing to give him the go ahead to show some interest too, without worrying about being rejected himself.
Remember not to take his response - or lack of one - personally. Regardless of what he does or doesn't do in response to your subtly letting him know you're interested,  what he does with this is always about him and his preferences and are no reflection on you - or your self-worth!
Just like you don't want everyone who approaches you, you too only want to be with someone who wants to be with you.
How about you - what do you think is the best way to let him know you like him? Tell us in the comments!