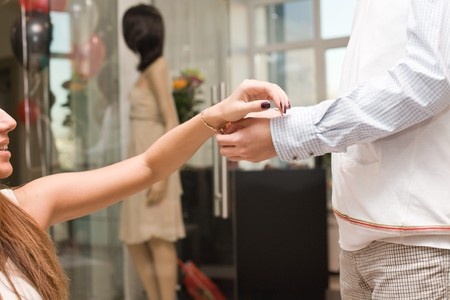 Ah, the high price we pay for someone to take care of us.
Because we think we need someone to take care of us. But the truth is, we don't.
The crazy thing is that we've been taking care of everyone else for most of our lives, but for some reason, when it comes to relationships, we'll put up with too much, way too much, if he'll just take care of us.
Please, just take care of me. Do it all for me. Tell me what I need to do to be with you so you'll just take care of me, please!
You're forgetting something so important here; the price you're paying for being taken so well care of on the surface is not worth the price you're paying with your soul!
Ah, you say...but he takes care of me.
He buys me things.  He makes sure I'm all set.
Girls, there's an important point here. He's not your daddy. He's not supposed to take care of you  like that.
It's about taking care of each other; a shared experience of taking care of each other. That means both of you.
Do you see the difference?  Because if you don't, it really matters and you're not going to attract anything different until you see that a relationship is not about Prince Charming coming to your rescue (as if you even need to be rescued – trust me, you don't), taking care of you financially and materially, buying you things, getting you all set up.
No.
That's what a daddy does; but your guy is not your daddy! 
As much as you need your daddy to do these things and maybe he did and maybe he didn't. Chances are, your dad did the best he could with what he knew about being a dad. But chances are also that he came up short and you didn't get what you needed from him.
And that's why many of us are looking for a father figure.
The reality is that looking for a father figure in your guy and choosing someone based on that subconscious need to find someone who can fulfill that need is not going to get you your dream guy.
Why it's a problem
Just because our own dad wasn't there for us in the way we needed him to be doesn't mean that our need for that goes away.  Needs don't go away just because there's no one there to meet that need; they just get buried deep down inside.  And then they resurface when we're in a situation where we might have a chance at getting that need met this time.
It's often why we find ourselves attracted to older men.  There's nothing wrong with that, as long as you're not finding yourself in a relationship with something who's so much older that it's out of balance.  Like if he's older and acting like he's the dad and you're younger and the daughter.  Read: he's taking care of you and you're on the begging end without a whole lot of say in the relationship because you're younger and he's taking care of you and you're the one being taken care of and it's not healthy.
You see, we can be pretty convincing that we need someone to take care of us like that, someone who makes us feel like they love us by how well they take care of us, but the reality is that usually there's a lot of control that goes along with that kind of care taking.
And one-sided living.  And calling the shots.
And usually we feel pretty small.  Like the term little woman.  And big daddy.
Yeah, those might be jokes, but they can be pretty real and telling if we take a closer look at the relationships we've gotten ourselves into.
We can take care of ourselves
This isn't the dark ages; we're not living in a time where women can't vote, get a job, make a living, have a life, get ahead, make something of themselves.
We can do what ever we want to do and we can do it without a man!  Do you hear that? You don't need a man to have a world to fit into. You don't need a guy to feel like you can start living. It's what you choose to make of it.
You can keep waiting, hoping, praying for the right guy to hurry up and come along and rescue you from your current life because you think it's easier to find yourself in someone else's ready-made life than make one of your own.
But the price you pay for that is your self-esteem, your worth, your confidence, your you.
Did someone forget to tell you that you can be anything you want to be?  Because you can. They just forgot to tell you one of the most important things: you can only do anything, be anything, achieve anything. As long as you believe that you can. That's the difference between the girl that's holding out for someone to come along and make it all better and the one who really gets it and knows she can create her own happiness in her own life. And that's exactly who you are.
So start creating your happiness!