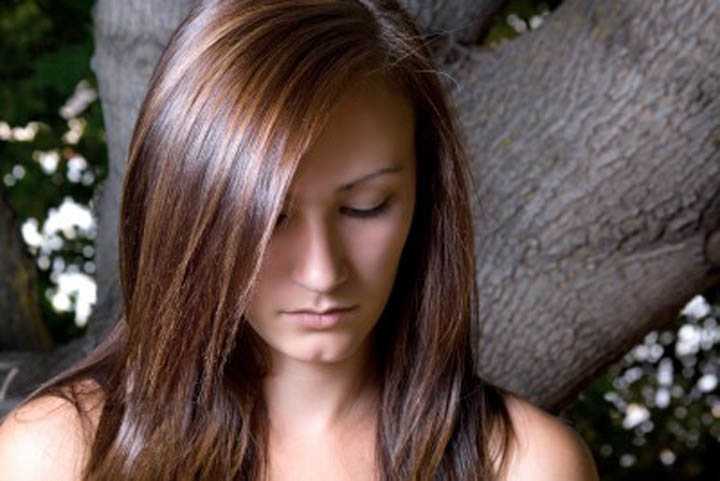 Beautiful Lara is wondering if her man is seeing someone else behind her back (her letter has been edited for readability):
Here's her story:
I've been with a man for 4 years. We used to laugh, go out together, be intimate. He would communicate.
He used to spoil me. Now he doesn't.
Now he comes over at 11 PM, and all he wants to is watch movies. He doesn't text, rarely calls. He used to come over on Friday's, but now I often don't see him all weekend.
I've never been to his house, I've only met 3 of his close friends, and I've never been invited to any of his family events.
Am I crazy to think he's with someone else?
I feel like he wants to leave me, but doesn't want to be the bad guy. I feel absolutely sick. How do I get out of this hell hole?
-Lara
My Response:
What do YOU want here, Lara? That's my question for you.
Reread your email to me. Reread your words.
What are you getting out of this relationship? Is it worth what you're not?
No, you're not crazy to believe he could be with someone else. Not at all. I hear far too many stories from women who thought they were crazy for thinking such a thing, but had a strong intuition that they were right, and in the end found out they had been right all along.
Have you asked him? Have you talked to him?
You've known him for 4 years. I'm assuming you've talked and communicated about all kinds of things during that time. So I have to ask you the question that if after all this time you're not comfortable or you're afraid to ask him the questions you've raised in your email to me, what do you really have with this man?
I don't know you. And I don't know him.
But I do know that when someone comes to me asking me my opinion of their relationship, one of the first things I look at is how they communicate. And more precisely, how you feel about communicating with him.
This is such an important and integral part of every relationship, Lara.
Relationships are about two people, two unique individuals. It's not realistic to expect that you're always going to agree on everything and won't need to have some very real and difficult conversations some times.
It's not realistic to expect that there won't ever be any conflict between the two of you.
That's why communication – or a lackof – is such a telltale sign of the health of a relationship. If you can't tell him how you feel and trust that he's going to hear you, and be honest with you in his own communication - even if it's hard, even if the truth may hurt one or both of you – if it's the truth, you both need to know.
Without the truth, without open communication where you can hear and be heard, where you can be honest with each other, the truth is still under there, regardless of what's being said or covered up on the surface.
So when you sense you know what's going on, when you sense that there may be someone else or this man may be cheating on you, you need to know so that you can decide where you want to go from here.
Not him. You.
You're obviously in something bad. We don't call something a "hell hole" if it isn't. If talking to him is off the table and not an option you're comfortable with, then ask yourself if where you're at now with him isn't worse than having a conversation with him.
The truth matters. Honesty matters. Trust, more than just about everything and anything else matters. If you don't have that, if you can't trust him, if you can't believe what he's going to say to you, that matters.
You've got two choices here, Lara. You can either leave this relationship now because you know enough and have seen enough to know this isn't working for you and you know you don't belong in anything that could ever resemble a hell-hole, or you have an honest conversation with him and tell him you need to know the truth.
Tell him he won't be a bad guy for telling you the truth. He'll be someone you can still respect for being honest with you.
The truth is already what's there, Lara. Asking him won't change that.
But it will give you a chance to hear his side, to hear what he has to say. You deserve nothing less than someone who's on the same page as you, who doesn't leave you wondering what's going on with him, who doesn't give you reason to mistrust him.
If that's not him, you need to know. Whichever choice you choose.
I hope this helps.
Love,
Jane
What about you? Do you have any advice for our beautiful friend, Lara? Share it with her in the comments below.