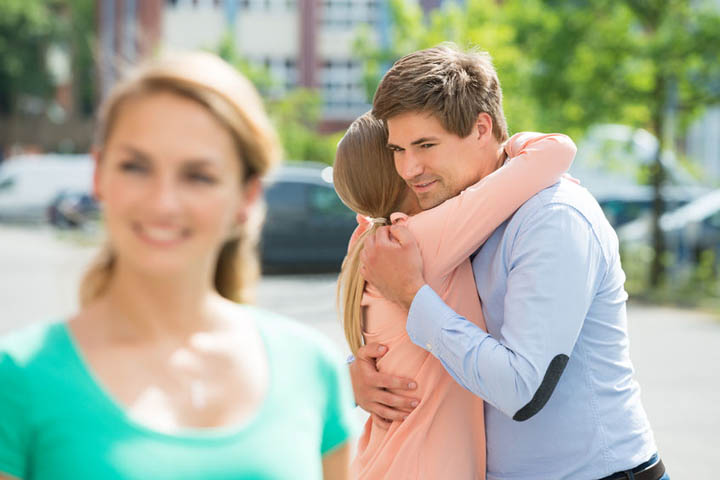 It wasn't the first time it happened.
He told me I was everything he wanted in a woman. He went so far as calling me the perfect woman for him. And then he chose her.
Her.
The first time it happened, I was naïve. So naïve.
Unbeknownst to me, I still had so much to learn. He told me he couldn't believe his luck that he found me. The more we talked, the more in depth we got, the more we got to know each other, the more I was sure that I had found my soul mate.
Naïve, I know.
But what was even more significant was that right around the time we were getting to know each other on such a deep level, he confided to me that there was another woman who he was interested in.  I was devastated.
What did she have that I didn't?
Whatever it was, it was enough for him because not too long after, he broke up with me. He still didn't know why or what it was that was drawing him to her, but he had to see where things would go with her.
It would happen again.
Years later, right when I thought things were going well with a guy who seemed to have so much of what I was looking for, he started pulling away. Slowly, but surely, there were changes, until I couldn't deny that I was in this relationship almost by myself.
And when I stopped initiating contact completely, I knew by his lack of response that we were officially done.
Shortly after that I got a call from him. He had news. Yes, that kind of news we never want to know. He was getting married.
Yep.
With someone who once again couldn't be more completely opposite of me. Déjà vu all over again.
Perfectly ordinary, nothing extraordinary, and yet somehow, someway she's got something you don't; him.
Is it any wonder we want to change who we are? Should we be at all surprised that we look at all the ways we're so sensitive, so emotional, so deep and so introspective and want to throw every one of those parts of ourselves away?
Haven't we uttered these words in some form before?
I hate my sensitivity.
I hate how emotional I get.
I hate how deep I have to make everything.
It's not a stretch to hear the next words that usually follow; I hate myself.
Who of us hasn't gone there? Who of us hasn't taken a look at ourselves through his eyes and come up with everything that's so wrong with us and everything we have to change?
Through his eyes, is my point here, Beautiful. This is what I don't want you to do anymore. Every single time you look at yourself through the eyes of someone who doesn't want you, who isn't compatible with you, who doesn't have it in him to see you the way someone who loves you sees you, you can only see one thing.
Everything that's wrong with you.
But what makes anything so wrong about you? Because one person doesn't appreciate this quality in you? Because one person can't handle these qualities in you?
You say, but it's not just him, it's every man I've ever been with. Yes, but haven't they all really been the same man? Haven't you chosen your men so well that they're all really the same kind?
If being you is that bad, then go ahead and begin your work on changing those things that keep you up at night. Learn from the mirrors that you draw to yourself to take a good, long look at those qualities you've taken on that were never yours to begin with.
But after you're through doing that, take another good, long look at what you're left with. Isn't it this sensitive, tender-hearted woman who feels what she feels and loves how she loves? Isn't that beautiful face that looks back at you in the mirror worthy of a love that loves her back as much as she loves?
Never compare yourself to who she is. You're not her - whoever she might be, real or imagined - and you wouldn't want to be.
You're you!
You live your life by feeling; you construct your reality by sensing. Honestly, what he has with her could never be the kind of love you're going for. If it were, you would have had that easy kind of love a long time ago.
When you tried before and couldn't, it was because you knew in your heart of hearts that you were made for so much more!
I see you. No matter how much you try to hide behind what everyone else seems so good at hiding behind, you still stand out to me. I speak your language over here.
Bring everything that you've tried so hard to get rid of that you have to conclude is still here because it doesn't belong anywhere else but right here with you. We're making room for you. Every time you accept yourself and stand up for your beautiful truth, you show him the way.
The ones who are ready, show up. The ones who aren't, stay right where they are. But you, Beautiful, you thrive.
In the midst of the pain, in the midst of the tears, you stand your ground and know that there's a different kind of love coming your way.
He can't see it. He doesn't know it. But every time you accept and celebrate every one of these passionate parts of you, you're setting yourself up for him to do the same.
It's new. It's different. It's absolutely terrifying if we've only ever believed in the status quo!
But you're not a status quo kind of woman, and you know it. No matter how much you try to be like everyone else who's blindly following the rules to fit in! That's not you and it will never be, and most importantly, you - and the one who's been waiting for someone exactly like you - wouldn't want it any other way!
Ok, I know this spoke to you. The light's beginning to dawn. I can feel you out there reading these words, shouting at the top of your lungs even if it's a silent shout "I knew I wasn't a status quo kind of woman!" I knew it, too! Now go ahead and tell me right now  -  in the comments what kind of woman you are - the kind of woman you're going to start celebrating! - before you lose this feeling. Yes, I mean you!