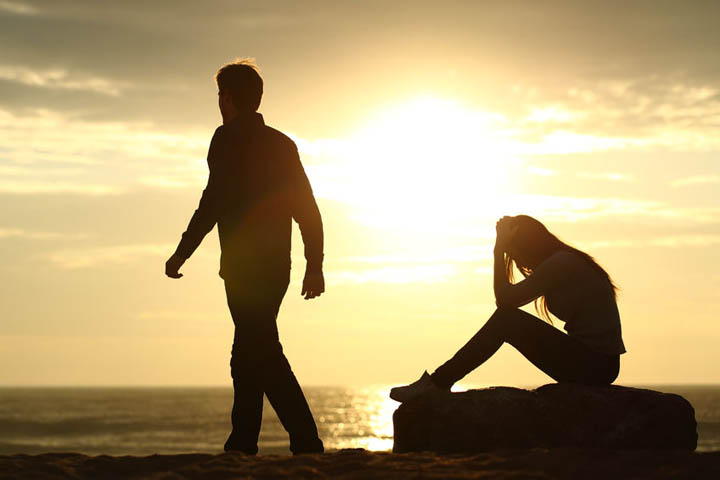 This week, our gorgeous friend, Elise, is second guessing herself and wondering if she did the right thing.
Here's her letter:
Dear Jane,
I broke up from my boyfriend 6 days a go. We met a year ago and started to like each other very quickly. I am 26 and he 27.
Upon discussing values and life goals we realized some key differences, I am religious and eventually I want to settle down with children. I was resolute about not wanting to go further unless we were clear we wanted the same things.
He said he couldn't say if he wanted those things for his life and we decided to stop seeing each other. But 2 months later he got back in touch with me and after mentioning how he had visited friends during holidays and the children had loved him we entered a relationship.
We were together for 9 months in total, at 6 months he invited me on holiday to meet his family who live abroad. We stayed with them for a week and everything went perfectly. At our 1 year of meeting, he was talking about when he's married and when he has children etc.
I asked at what age do you see this?
He said in about 3 years and I said OK.
We had a very comfortable and affectionate relationship. He called me every evening even when out with friends.
Then out of the blue we were out having drinks 2 weeks after the conversation and he told me he'd recently had a talk with a friend who'd returned to town and upon reflection he realized that he really didn't see children as a part of his plan.
He left and 3 days later we exchanged our possessions with minimum drama from me. I deleted him his number and our connections on social media.
I'm really hurt because I tried to avoid this situation :(.
I love him very much and don't understand what happened. Please help me realize I did everything right and was open from the beginning. And how to avoid this situation in the future 🙁
- Elise
My Response:
Dear Elise,
How my heart goes out to you! You did everything you knew to do to avoid exactly the situation you found yourself in. Of course that hurts. Now it's not just about two people on two different pages, but it's also about you second guessing yourself, wondering what you missed, how you could have avoided a second heartbreak. It adds insult to injury and leaves you reeling. He came back proclaiming his love for you, telling how much he missed you, and even went so far as saying he even wanted kids. It was the perfect scenario and everything you dreamed of. You even went on vacation with him and met his family. No, before you second guess yourself too much, know that we would have all been right there with you, having such a similar response as you!
If only he hadn't come back! Right?
But here's what I want you to remember so you can give yourself some closure here. Sometimes no matter how much we watch someone's behavior and listen (and believe!) what they say, sometimes they show up with things that still surprise us and catch us off guard.
So yes, you had a big red flag in the beginning the first time around when he said he didn't want kids and you unequivocally told him you did. So you recognized irreconcilable differences when you saw them and ended the relationship.
Done.
Except for the part where he came back wanting kids.
Here's the thing, Elise. Confusion happens.
And it happens a lot to men in their twenties. It still happens in their thirties and forties, but especially in their twenties when they're balancing what the world expects from them, what their parents expect from them, and what they're all about themselves.
We do a whole lot of growing up and changing in our twenties from both a biological and psychological perspective!
One way to look at this is to dismiss entirely anyone who says very clearly early on that they don't want kids – and you do. After all, if someone feels that strongly about not having them, chances are they're not going to do an about-face without something significant going on for them.
And that "something significant" is so subjective, it really depends on who someone is, where they're at in terms of personal growth and how open they are to something specific like this – with this being having kids.
Most of the things we feel strongly about come from a pretty deeply buried subconscious place, so he may not even be aware of why he feels the way he does, only that he does.
That's why talking or reasoning about something like this can be such a mute point because you never get to the underlying motivation behind the surface – the subconscious part that makes the decision for him that he can't – or won't – address.
What you can do going forward, beginning right now, is to stop looking back at what happened.
You're a beautiful woman, Elise. You've got so much to offer, so much to give someone who's truly  (and I do mean truly) – worthy of you. You can look back and say I shouldn't have done this or I should have done that, but at the end of the day, the only thing that matters is what's going on right now.
Be so  proud of yourself for recognizing you were both on two different pages, for not staying in and trying to change him, but looking with the eyes of reality at what you have, not through the fantasy at what you could try to change or try hope to make happen.
It's going to hurt. I wish I could take all the hurt away, but there's something so healing and deep that happens to us that can only happen when we go through it. So I've learned that there's something on the other side that taking all the hurt away would take something of that away, too. You love, you feel, you give and you can't do any of those things without also feeling that hurt when it doesn't go the way we expected it to. But without that loving, giving, feeling part that you put into this, you'd never have a chance of it working, of finding out if someone is on your page and worthy of you. Don't lose sight of that part. That's what's coming. Somehow, somewhere, I promise you, when you look back one day, even this is going to all make sense to you!
Love,
Jane
What do you think about Elise's situation? Did she do the right thing? Share your thoughts with us in the comments!