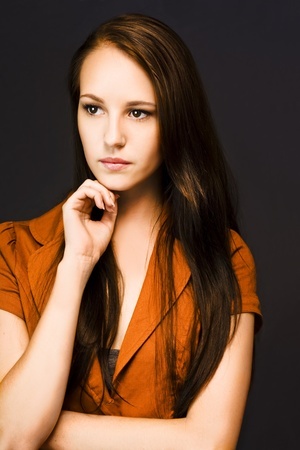 Here's an email from one of our beautiful readers who is afraid that she may have made a mistake by holding him off for too long.
Here's her story:
Jane -
I love reading all of your articles and have been incorporating them into my most recent situations, including one in particular.
I started dating someone about three or four months ago, and at the time, was really busy and focusing on myself while getting over someone else, which obviously made him like me more.
He would ask me out on dates and I had to cancel a couple of times.  I only went out on one or two dates with him up until about a month ago when we started seeing each other more.  He initiated this with his kind words, asking me to hang out with him before I completely slipped from his mind.
He even met some of my friends and gave us free tickets to a sporting event and sat with us.  He had pursued me for so long, and still kept persistent even after I had put him off.
I realized that I should not have put him off for so long, but it seemed all was going well and I could tell from his behavior and even the way he looked at me, that he really liked me.  My girl friends even discussed how into me he seemed.
A couple of weeks ago, we were intimate for the first time, which I was pleased about because I was happy I had waited.  The weekend after, he had friends in town, which I assumed were male friends visiting him as he just moved here four months ago from another city.  We made plans to go to a sporting event together, his treat.
On the Saturday after his friends arrived, he indicated to me that one of the people in town was his ex, and he didn't know what was going on, but that he had a bad dream the prior evening and wanted to be upfront with me.  I assume from this revelation that he had probably been intimate with her.
I let him know I knew we weren't exclusive at this point and it was early, but that I wanted to keep seeing him.  He absolutely agreed and said he just wanted to be upfront.
Throughout the next week I sensed a distance growing and decline in communication, the harder I pushed the harder he pulled back.
The next weekend, we were supposed to go to the game he promised me and he had to cancel on me hours before we were supposed to see each other because he works on the weekends, but I think he knew about it way before he cancelled.
Call it a woman's intuition.
I let him know I was not happy and that I wish he had told me right when he found out, but I had come up with other plans for the evening.
He apologized profusely and told me that he felt his communication with me had suffered because his ex came in town and he was confused about what had happened the weekend before.
I indicated to him that we were not exclusive at this point, and I had other prospects (truth, I had not been intimate with them however), but was disappointed because I hoped things would go somewhere.
I told him I did not think he should ruin a possibility with someone new and in town for an old ex who lived miles and hours away.  I also told him to contact me if he wanted to make up for the cancellation (in a very nice way), and to take care otherwise.
Inevitably, I do think this is the best way to have handled the situation, to avoid being hurt in the long run. I have let things drag on in the past with others who weren't right for me, and that only hurts more.
However I can't help but be upset and disappointed as he pursued me for so long!!  What was the point of all of that if he was only going to continue things with an ex from a while ago?
Maybe our timing was off, and he told me her trip here was planned before him and I had even went on a second date.
I never did get a response and that was a couple of days ago.  It upsets me that I may never hear from him again, which I know is normal.  I just can't help but think that maybe I did something wrong with the way I handled it, even though I think this has nothing to do with me.
What are your suggestions?  Completely move on?  Follow up again?  Give him time?
Did I scare him away?  And if he does come back into the picture, what's the appropriate plan of action?
He seemed to have everything I wanted and I'm disappointed I waited to give him the time of day as I think the ex would be out of the picture if I had showed interest sooner...
Please keep me anonymous!!!!
My Response:
(I'll call her Anon, as she wants to be anonymous)
First of all, don't go there, Anon.
Don't go to that place we go where you look at what you should have done, could have done, would have done if only you could have known better.
All that does is set you up for the worst possible treatment; the kind we deliver to ourselves.
There is no one who has higher expectations, or holds you to such impossible standards of perfection than you yourself. And so, instead of putting all this back on the person who it belongs to – this guy in your case – you hold onto the idea that if you had only done something different, it would be completely different and you would be with him right now.
This is the first place we always want to go!
We do this because it makes us feel like we have more control than we do. We do this because we want to believe it could be different. We do this because we think that if we were responsible for it, we can somehow change it back and do a do-over.
And we falsely believe it's because he's all that and we've somehow missed out on something that has so much potential.
But here's why that's not true.
This isn't about you. It's about him.
If you're with someone who's on your page, who wants what you want, who's looking for the same type of relationship you are – and with you – there's nothing you can do to mess that up.
You always have two powerful forces working for you; love itself – whether you want to call it the Universe, Fate, or God – and the person who wants to be with you.
If he wanted this, if he was sure that he was ready to move on from this ex, she wouldn't have been in the picture like this in the first place. He would have been confident he was ready to see you.
In fact, it's often when men are the most unsure of what they really want that they pursue the hardest and the longest simply because as long as you're not taking them up on their pursuit of you, they don't have to decide what they want.
It makes it easier for them!
So what I want you to see, Anon, is that it was precisely because you took so long to give him the time of day that you were together as long as you were!
Because for someone who isn't sure what he wants, who's going back and forth, this is his ideal situation. You living your own life and not wanting much from him, and him being able to keep pursuing you with no commitment involved.
Someone can have everything you think you want, Anon, but if he's not there where you are, if he doesn't want what you want, then it doesn't matter. The only reason it's bad timing is if someone doesn't want it to be the right time! That's the part we don't want to believe until we find out for ourselves just how true it is.
But it is.
There are always two sides to every story, and you only ever know your own. No matter how much potential, no matter how wonderful things seem, if it really was that good, if there really was that much potential, you'd still be together now.
This wasn't about you and him. This is about him and his ex. It's not up to you to fix it. It's up to him to figure out what he wants.
Trust your gut instinct here. When you say you have a feeling it has nothing to do with you, that's exactly it and you do know this! Do what you need to do for you; you can't go wrong listening to what you need here.
You can give him time and space, you can follow up with him, you can do anything you want to do as long as it comes from a place where you know all this so that what he does or says or doesn't do or say in response to you doesn't change the way you feel about yourself.
You can't scare away someone who's right for you!
This isn't about waiting for him to realize how great you are and why he's crazy to not try to keep you in his life, it's about you living your life and knowing that if and when he figures out what he wants, you'll be the first to know. And then you can see where you're at and decide what you want.
You're the prize, Anon. You're the one doing the choosing. No matter how hard it is to believe this, you absolutely can't get it wrong with someone who wants to be with you!
I hope this helps!
Love,
Jane
What are you thoughts - do you have any words of wisdom for our dear friend Anon? Share them with us in the comments!