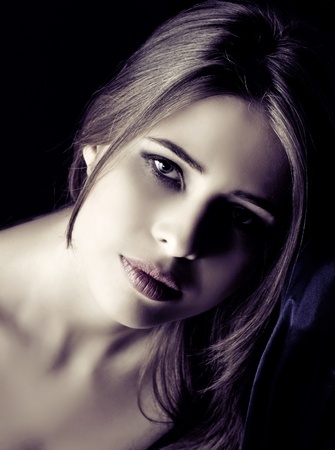 Dear Jane,
First of all lots of love to you for the wonderful work of yours.
Your articles give me so much support.
Today here I am at this stage want to confess something which no one knows. I think you are the only person and your page where I can tell this dark secret of mine. I really need your help regarding this.
Here goes my story!!!
I entered med school as a very innocent girl, full of ambition and dreams. Met a guy from my batch. He approached me first. Did all things what a guy do to catch any girl's attention. That was the first time I fell for someone so hard.
He was my first love of course. But the reality was harsh. He was never committed for me. I found out he used to sex chat with other girls as well. I was so much in love with him that I didn't want to lose him at any cost.
LOVE CONQUERS ALL.
Believing this I thought I will make him a better person and one day he would fall in love and commit to me.
I was so madly in love with him that I even went to the extent of sleeping with him. I laugh at myself now. I lost my virginity, my first dream kiss wasted on a boy who never loved me!
I was scared. I could not share this with anyone. He kept on ditching me. Finally the time came when we broke up. I was devastated. I could not study for my final exams and as a result I flunked. He cleared.
My one whole year wasted. I ruined my life myself. I repeated one entire year again. Cleared it.
During the second year of my MBBS course I met one of my seniors who was aware of my bad times. He supported me, guided me and helped me to overcome all this. I was lonely, heartbroken with one year wasted. He was the only person in my life who was there for me, who stood up for me during my bad times.
One day he proposed me. He loved me a lot. But I already heartbroken could not see love in him. I was deeply in love with the guy I met in 1st year. But with passage of time I moved on and forgot him.
During 3rd year of my course, i.e, last year, I met another guy...again the same story goes..texting, chatting, chasing games. We started hanging out. He seemed to be into me. He too helped me in studies. Seemed to be a decent guy. However people alerted me about him that he is not good as he flirts with every girl and then make fun of them in front of his friends.
Assuming all this as rumors I kept being friends with him. He used to accept gift from me. He never ever gifted me any thing. All these things never mattered to me. What started bothering me was that he never used to invite me with his friends, never introduced me to them as his girl (after we started going around).
Earlier we used to go out for movies that too we both used to go dutch. Later on our hang out became limited to his flat only and then making out with him. A soon as we were done he used to say that he had got some work to do or he had to go somewhere...all these behavior started disturbing me.
Our fights increased. He started shouting on me.
He told me he can't commit and he would marry according to his parents' wish. I waited for him one whole year hoping that one day he might change. I did the same mistake what I did in 1st year.
I tried to change him. I wanted to make him commit.
I prayed all day and night. Hoped for some miracle to happen. His shouting became severe. He started taking me for granted. I was again miserable. We broke up this January 2014. He called me psycho, impatient and told me that if he'll stay with me he would have to see a psychiatrist. But i am not a psycho. He didn't understand my love for him. And I am not impatient.I waited for him for one whole year.
My friend who supported me last time is still with me. standing by my side. After knowing all this he is still in love with me. But the fact is I consider him as a friend. But I don't want to hurt him. He never left me.
I don't know how to handle this situation. I am not over this guy. I keep on updating my fb status so that he could read and understand how much in love I am.  And I miss him so much. I cry at night.
In my prayers I ask god why can't he return back to me. I blocked him from fb, deleted his contact. Still can't get over him. Even after knowing that he never respected me. Even after one month he didn't call me to ask how I am doing. Still I miss him. I cry so much.
On the other side my friend who is always supporting me is still ready to be in relation with me. He says he doesn't want any commitment from me and he would wait for me.
I am so much frustrated as what to do.
I don't want to hurt his feelings as I don't love him. I take him as a good friend. Even now he is supporting me so much. I don't want to use him as a rebound.
I am in final year of my course now. I have finals after 6 months.
Plz help me Jane. I am guilty. I committed stupid mistakes. What should I do?
I am an emotional fool. I trust people so badly and then they leave me devastated. I met a guy..fell in love..he left me! Another guy who is my friend loves me but I don't love him. I consider him as a friend. Third guy I met did the same thing. Used and left me.
I am again devastated. I can't share all this with anyone. No one will be able to understand what I am going through. I have crossed all limits. I don't know what to do next.
When I see him at school I feel so sad. He doesn't talk to me. I am unable to forget him. Please keep my identity secret. I know only your kind words could give me relief.
Thank you.
Love.
My response:
You're not guilty, S. You're human!
You're a beautiful woman who's learning about life and love and finding out that giving your heart away to someone who isn't worthy of you can hurt so painfully.
I've learned everything I've learned the hard way, S, and I completely relate to what you're saying here.
But being so hard on yourself and beating yourself up like you are, condemning yourself like this with such harsh judgment, isn't what you deserve. You deserve grace and love and forgiveness for being so human! We all have our regrets. We all have things we so wish we could do differently. But we all do the best with what we know at the time.
Shake all this judgment and especially this self-judgment off you, S. You don't deserve any of it. These guys who left you and treated you this way and put all the blame on you aren't the ones for you. They're doing the best they can with what they know, and that's why they didn't handle it very well either.
There are other ways to end relationships that leave both people in high esteem, but when we don't know how to do this or we haven't had this modeled for us, or we don't have the support we need, we can behave in pretty extreme ways. It's never personal, it's always about two people being on two different pages and wanting different things.
You think you need these guys to move on, to get over them, but you don't, S.
You can do this on your own by accepting the reality of what really went on here - that you were saved from getting any more involved with someone who wasn't right for you in the ways that you need to be compatible with someone in a real relationship that's loving and giving and caring and all about what real love.
It's not about all this drama, all this other stuff that it seems to be. That's just our programming, our belief system, our stuff that has nothing to do with real love, the kind you're looking for and what you deserve.
We're all hurting little boys and girls deep down, S.
Even as we walk around like adults and pretend to not show our true hurts, they always come through either when someone loves us or when they leave us.
These behaviors elicit so many feelings in us that we don't even realize are there until we experience them. And then it's as if the only person who will ever love us is leaving us, so of course we're desperate to keep them with us and get them back when we believe that story.
But it's not true!
And this new guy, your friend, if you're honest with him, then what he chooses to do with your honesty and the page you're on is up to him. You're not responsible for him, you're only responsible for yourself and being honest and upfront with where you stand, the rest is his to decide and choose what that looks like for him.
You can do this, S; you can have all those feelings you feel, have all those tears and cry until they've flown into every part of you that feels so broken and cracked.
Let them heal you.
And then, when you're ready, in your own time, pick yourself up and dust yourself off. There's a beautiful woman in you that's got her whole life ahead of her. There's so much there. There's such a richness of love to be given to someone truly deserving of you and not one moment before you know someone is worth your you. You're not the begging kind, you're the loving kind.
Take some time for you, explore your own beautiful life, and let everyone else find what they're looking for.
You're not what they say; you're who you know you are, deep down, you know exactly all that you are, and all that you have to offer someone who's worthy of you! And until you know this for sure, S, don't give any part of yourself away. You deserve to be loved the way you love; no more settling for crumbs.
This is your life!
Love,
Jane
What do you think? Do you have any thoughts, words of encouragement, or advice for our beautiful friend, S? Share them with us in the comments!