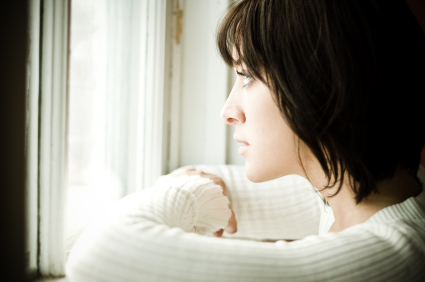 Our dear friend Sara has been dating a man for almost 2 years but she's not getting the kind of commitment from him that she wants. She's wondering if she should keep waiting (on his timeline) or move on.
Her email:
Oh Jane where do I start?
I met a lovely guy after my divorce and felt instant hope, an instant spark. I have two children who mean the world to me, and he had a child a similar age too, I thought things would be so easy...we could do thing together with the children and make life so much fun, but I found myself chasing him.
He would always text good morning and text throughout the day if we weren't together, I felt so special in the beginning, but he had separated from his wife a few months before and he said he wanted to take things slow, I didn't go to his house for months he always came to me, he had his child most weekends, so the once a month he didn't have the child at the weekend he would see us.
My children see their dad every other weekend, so eventually I started staying on a sat night when I didn't have my children, so we were seeing each other 2 weekends a month, that wasn't enough for me, but his child came first he made that clear, I said but couldn't we all be together?
Its been almost 2 years and he is reluctant to spent weekends together, I have had to push all the way, he has only just allowed me to spend the Friday and sat night when he has his child and I don't have mine!
When I told him I wanted commitment, this is what I had been looking for, I was looking for a future husband or at least living together he fobs me off as desperate and nothing is good enough for you, he finally said we would live together in 2 years time.
I am now forced to move out of my home and it is on the market and he still won't offer to let us move in with him or for us to buy a place together, he sees us as totally different, I said perhaps my house move has happened for a reason and he just says his thoughts and timescales haven't changed.
He said he couldn't see himself getting married for at least another 5 years. Is this to keep me hanging on or does he mean it? will we live together in 2 years as he says? I said I will rent then and he was like oh no don't do that on my account - which made me suspicious!
We went on holiday last year with the children and it was him and his child me and mine, like we were totally separate and his child can do no wrong. But I do love him get on well with his child, he says he loves me but takes things slow, he doesn't really make an effort with my children.
He hasn't got time for them so it seems.
He goes on holiday with his family and doesn't include us because his parents pay for everything, we can both have days off with the children and he thinks nothing of him being at his house and me being at mine when I think we should be together in my opinion.
Him and his child will do things like go to the pantomime and not invite us, I feel hurt by this, rejected. My children haven't met his family, even after almost 2 years. Last Christmas he planned Christmas day without me because he had his child, when I bought up the subject he said that he couldn't accommodate us as he had his family coming around for the day, those were his words, so I tried to end it, but he talked me around.
I am scared to be alone, I really thought he was the one but now I am realising perhaps he isn't. We saw a friend only at the weekend and he sent me back to the car quickly so his friend didn't see me, his excuse was he hadn't seen his friend since before his divorce and didn't know if he knew what had happened but he hadn't asked about his step child so he must know.
When pushed he said he was ashamed because she had left him and it doesn't usually happen that way. I felt so rejected and confused.
What do I do? Do I move on or wait to see what 2 years brings?
- Sara
My response:
Dear Sara,
There is nothing quite like the pain of unrequited love. When you want so much for things to be different, for this man who you so wanted to believe was the "one" but who now you're realizing isn't, to be the one. I hear your heart aching for there to be more; you want to believe there's still some hope of him seeing what you can see, if only he could see it for himself.
But Sara, one of the hardest lessons for us to learn in this life, is that pushing or pulling or any other actions we engage in to try to make someone do something other than what they choose to do for themselves, is futile. His words and his actions tell you where he stands, and it's not in the same place that you stand.
Of course he doesn't want to end it, because you make it so easy for him to be with you. He has it so good with you, why would he not try to talk you around? He can live his life on his own terms, and still have a woman like you whenever it works well for him without having to make a commitment.
He has no reason to change when he has it this good.
Everything that you are choosing, everything that you are putting up with, everything that you are settling for in order to be with him, can be understood so clearly in the phrase that stood out in your words here: "I am scared to be alone".
Wherever there is fear, you find yourself doing things you would never otherwise do. Fear leads us to see things that aren't there, to stay in places we don't belong, to be with people we would never otherwise consider being with.
We lose ourselves when we let fear control our lives.
Don't let that spark tell you a different story than the one that actually is. Don't let your dream of what it could be if only he would come around and commit dictate how you allow yourself to be treated. Don't let the begrudged promise of a 2 year timeline give you reason to put any more of your life on hold living by someone else's terms when you have your own.
Only you know what being with him – what waiting for him – is worth to you. But two more years of your time and energy and your beautiful you spent on waiting for someone to get to the point where they can give you what you want is a long time to wait for anyone.
It may seem easier, but is it really?
Or could you take a step into that fear? Could you expose it for what it really is – the unknown? Could you give yourself a little taste of it and see if it might just mean your freedom? To live your own life on your own terms without looking to someone else to make you happy?
It may seem scary to you right now from where you stand, but I've never known anything scarier than being with someone who wasn't on the same page as me, as my life was wasting away right in front of me.
It's always a choice, Sara. There are pros and cons to every decision we make.
But you can never ever be wrong when you choose you, when you choose to do what brings you the most peace and happiness and leaves you with the least amount of regrets. Someone who's truly right for you will always clearly show you with a consistency in their words and their actions that they actually want to be with you.
He's shown you that he's going to do what's best for him.
Now it's your turn to do what's best for you.
Love,
Jane
What do you think? Should Sara wait it out, or move on? Tell us in the comments!